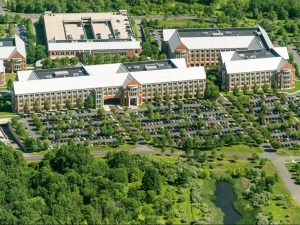 The Birch Group, in partnership with Lionstone Capital, has paid $70 million for Princeton Place at Hopewell, a three-building, 307,510-square-foot office campus in Hopewell, N.J., in the Princeton Corridor submarket. Lindy Communities sold the Class A asset, according to CommercialEdge information, with the assistance of Cushman & Wakefield.
The transaction represents Birch's second acquisition in the Princeton submarket, following the $47.3 million purchase of 600 and 700 Alexander Park in August 2021.
CommercialEdge data shows the company's New Jersey portfolio currently amounts to some 3.3 million square feet of office space; more than 1.2 million were added in the spring of last year, in two transactions involving Morristown and Short Hills properties. The deals' price tags totaled $332 million.
---
READ ALSO: CRE 2.0: The Office of the Future
---
According to the same data provider, Princeton Place at Hopewell was the only office property larger than 25,000 square feet to change hands in New Jersey since the beginning of July. The market saw more than 8.3 million square feet of office space trade in the first two quarters of 2022.
A Princeton-area office campus
Lindy acquired the Class A asset in 2017 for $73.6 million, financing the purchase with a $51.4 million loan from Wilmington Trust. The seller, American Real Estate Partners, continues its role as property manager. Following the purchase, Lindy launched a renovation program to create more leasable space at the property and transform a 30-foot atrium into collaborative workspace.
Located at 1700, 1750 and 1800 American Blvd., the two- and three-story buildings came online in 2000 around a central plaza with water features, a pedestrian concourse and outdoor dining areas. The property also features structured parking, wind-driven electricity, a conference center, a fitness center, an indoor basketball court and multiple cafeterias.
Princeton Place at Hopewell was 96 percent leased at the time of sale. Notable tenants include Merrill Lynch, Horizon Blue Cross Blue Shield, Janssen R&D (a Johnson & Johnson company), Geosyntec Consultants and HDR Inc.
The 14.4-acre property is some 12 miles southwest of downtown Princeton, just north of Interstate 295. The location is also close to the Route 1 Corridor, known for its corporate presence and highly educated workforce.