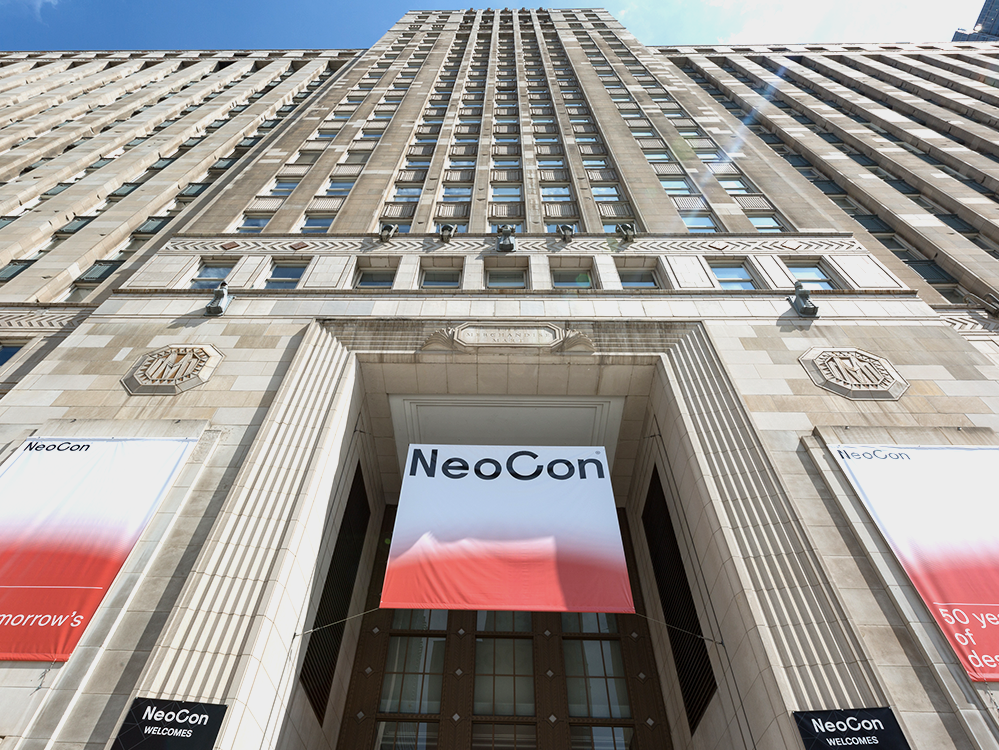 Since launching in 1969, NeoCon has served as the annual gathering place for the commercial design world's manufacturers, dealers, architects, designers, end-users, design organizations and media. This year, the three-day event held from June 10 to June 13 at The Mart is once again showcasing game-changing products and services from leading companies and emerging talent.
The Mart was the largest building in the world when it opened in 1930 and it's still a behemoth by today's standards. The massive 25-story Art Deco structure spans two city blocks along the Chicago River. This year, NeoCon boasts nearly 1 million square feet of exhibition space. More than 500 brands are represented across vertical markets including workplace, hospitality, education, healthcare, government and residential.
With so much ground to cover over three days, it's no surprise that many attendees rely on the results of two high-profile award programs to help narrow down the list of must-see products as they finalize their itineraries.
HIP Awards
First out of the gate on Sunday evening, just hours before NeoCon officially opens, is Interior Design Magazine's HIP Awards. With the awards in their sixth year, the winners were announced by Editor-in-Chief Cindy Allen during a ceremony at Marshall's Landing at The Mart. Judged by an Interior Design editorial panel, the HIP Awards showcase products and people across 50 categories.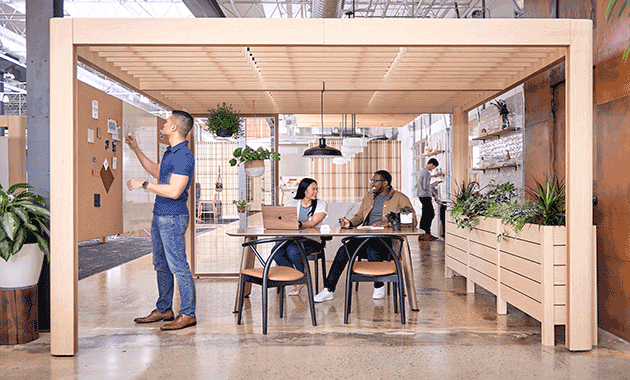 This year's HIP winners range from wireless charging surfaces to sit/stand furniture including Clean Impact Textiles by Duvaltex, Back-Wing Seating by Haworth and the Xorel Artform Baffles acoustical application.
In the challenging HIP Technology category, winner Intentek Wireless Charging Surface by Formica Corp. took top honor competing against environmental purifier Pure Cool Me by Dyson and Roam by Steelcase, a system of mobile stands and easy-to-install wall mounts co-developed with Microsoft. Intentek Wireless Charging Surface is a Formica Laminate surface that can wirelessly charge Qi-compatible mobile phones simply by placing devices on it. Intentek uses charging coils embedded in the laminate, so there is no interruption in the design.
Best of NeoCon Awards
On Monday morning, opening day of the show, the winners of the Best of NeoCon competition were announced at the annual Best of NeoCon awards breakfast. Now in its 30th year, the Best of NeoCon Competition is presented by Contract magazine and sponsored by NeoCon and The McMorrow Reports. The program is judged by an extensive panel of facilities executives and interior designers who scour the The Mart for three days preceding the show. Eighty-three awards were distributed in 42 product categories including eight Innovation awards and six Editors' Choice awards.
Obeya by OFS—named Gold winner in the Architectural Products Category—was named Best of Competition. Obeya also took home a HIP award in the Architectural Products category and OFS LeanTo was awarded a Best of NeoCon in the Acoustic Privacy & Modular Solutions category. This trifecta of NeoCon wins has surely increased OFS foot traffic at The Mart as well as on their website.
If you couldn't make it to Chicago this year, check out OFS—and all the winners—online.