By Keith Loria, Contributing Editor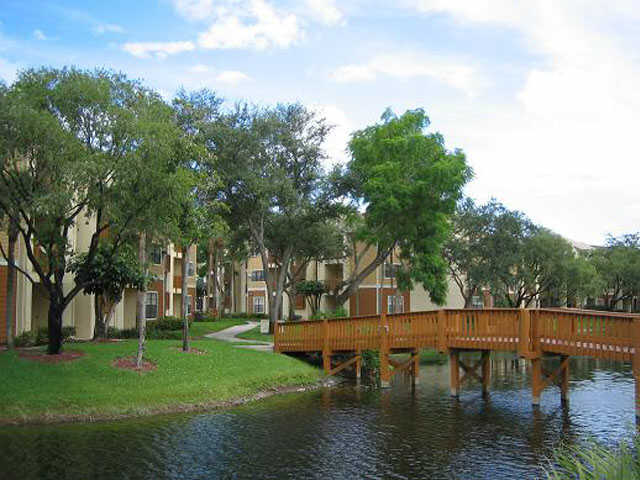 Behringer Harvard has sold Parrot's Landing, a 560-unit multi-family community situated on a 29-acre site in North Lauderdale, Fla., to a Toronto-based real estate investment company.
"Several factors have contributed to make this an opportune time to market Parrot's Landing for sale," Jason Mattox, Behringer Harvard's chief operating officer, told Commercial Property Executive. "Apartment market fundamentals in South Florida are improving, job growth has returned to the area, and institutional investor interest in high-quality multi-family properties has strengthened."
Located at 7900 Hampton Blvd., the community comprises 24 three-story buildings that sit 15 miles northwest of Fort Lauderdale-Hollywood International Airport.
Parrot's Landing was developed in two segments, with the first phase yielding 17 three-story structures encompassing 408 units in 1987, and the second phase adding seven three-story buildings featuring 152 units in 1997. The property sits on a wooded site with lakefront views, and had an $8.4 million multi-year renovation program completed in early 2010, which upgraded the interiors and exteriors of most of the property's Phase I apartments.
Behringer Harvard acquired a 90 percent ownership interest in the property in September 2010 through a joint venture between Behringer Harvard Opportunity REIT II, Inc., and Grand Peaks Properties, a Denver-based real estate firm that acquired a 10 percent ownership interest and managed the property.
"Parrot's Landing is an excellent example of our investment strategy at work, from acquisition to disposition," Michael O'Hanlon, Behringer Harvard Opportunity REIT II, Inc.'s chief executive officer said. "We acquired it at a compelling basis and have been pleased with its performance in terms of sustained occupancy and net operating income, which exceeded expectations."
Apartment units average 927 square fee and feature up to three bedrooms and two baths, with private patios or balconies, vaulted ceilings, ceramic tile in kitchens and baths, oversized closets and extra storage.
Community wide amenities include a fitness center, three swimming pools, a car-care center and a lighted tennis court.
Parrot's Landing is surrounded by a wealth of retail, office and industrial space within the expanding Fort Lauderdale market.
"In addition to these property-level performance factors (listed above), heightened investor interest in the multi-family property sector has been compressing cap rates," O'Hanlon said. "These conditions combined to make this an opportune time for us to market Parrot's Landing and capture an attractive return on our investment."
The Boca Raton office of ARA brokered the sale of Parrot's Landing, which was managed by a team including Avery Klann, Marc deBaptiste, and Hampton Beebe.
Per company policy, the sales price was not disclosed.