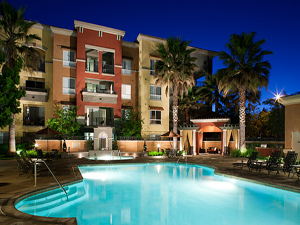 By Barbra Murray, Contributing Editor
Behringer Harvard just sold Waterford Place, a 390-residence apartment community in Dublin, Calif., to an unspecified institutional investor for approximately $110 million, including the buyer's assumption of a $58.6 million mortgage. The transaction resulted in a tidy profit, as Behringer Harvard snapped up the suburban San Francisco property for $79.7 million in 2009 through a joint venture involving Behringer Harvard Multifamily REIT I Inc. and PGGM Private Real Estate Fund, a real estate investment vehicle for Dutch pension funds.
"Our real estate team identified Waterford Place as an institutional-quality asset that had the potential to provide attractive income as well as capital appreciation for our investors," COO Mark Alfieri noted in a prepared statement.
The doors of Waterford Place's five four-story apartment buildings first opened to residents in 2003, offering a location near a BART station that provides easy transportation to San Francisco, which is just 35 miles away from the property. As of the close of the first quarter, the complex was 93 percent occupied.
Despite the disposition, Behringer Harvard remains interested in the San Francisco market. The joint venture utilized part of the proceeds from the sale of Waterford Place to acquire other multi-family assets, including Argenta, a 20-story apartment tower right in the city. The 179-unit luxury property came with a price tag of $94 million. San Francisco's apartment market is thriving, having closed out 2010 with an average vacancy rate of 4.9 percent, according to a report by Marcus & Millichap Real Estate Investment Services Inc. And 2011 is looking even better, as vacancies are expected to drop to 3.4 percent this year.