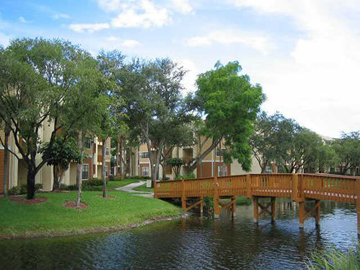 By Barbra Murray, Contributing Editor
Acting on behalf of Behringer Harvard Opportunity REIT II Inc., Dallas-headquartered Behringer Harvard has acquired the 560-unit Parrot's Landing Apartments in North Lauderdale, Fla. The commercial real estate company partnered with Denver-based Grand Peaks Properties to purchase the complex in a deal that leaves Behringer Harvard with a 90 percent ownership stake.
Parrot's Landing last changed hands in 2005 in a transaction valued at approximately $58 million. Behringer Harvard is not disclosing just how much the partners paid for the asset; however, the company did put the purchase in perspective. "We were able to acquire Parrot's Landing at a compelling basis and a significant discount to replacement cost," Jason Mattox, chief administrative officer , told CPE. While transaction volume has increased in the Fort Lauderdale-area apartment market and bidding activity has become more competitive, price tags continue to drop, according to a midyear report by Marcus & Millichap Real Estate Investment Services.
Parrot's Landing occupies a 29-acre site with the address of 7900 Hampton Blvd. The apartment community was developed in two segments, with the first phase yielding 17 three-story structures encompassing 408 units in 1987, and the second phase adding seven three-story buildings featuring 152 units in 1997. At the hands of the previous owner, the property underwent an $8.4 million makeover that was completed earlier this year. As of the transaction's close, the occupancy level at the apartment complex was 94.6 percent.
The asset caught Behringer Harvard's eye for a few reasons, price tag notwithstanding. "Market researchers are forecasting upside potential in rental rates in the major Sunbelt market of Fort Lauderdale," Mattox said. "Parrot's Landing is a high-quality property in a desirable infill area of that market. We also believe this asset's attractive cost basis provides a potential for favorable risk-adjusted returns. In addition, we had the opportunity to invest with a partner with a long track record of success."
Behringer Harvard financed part of the purchase with a Fannie Mae loan. The company is generally loath to identify its acquisitions as short-term or long-term holds, given market fluctuations, but as Mattox noted, "The investment program that purchased this asset generally has an anticipated holding period of three to six years from the close of the offering."