September 26, 2011
By Barbra Murray, Contributing Editor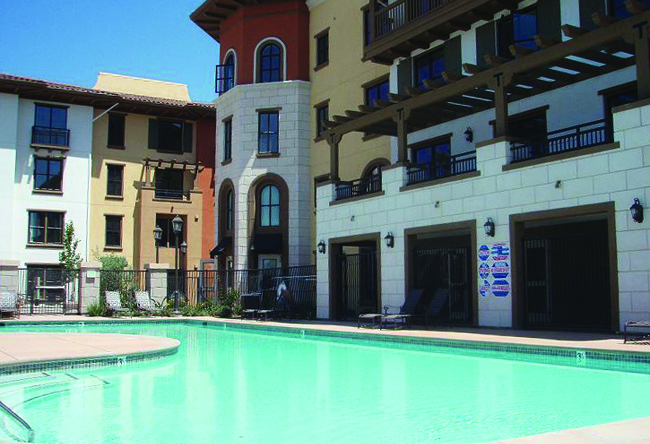 Acting through a joint venture involving Behringer Harvard Multifamily REIT I Inc. and PGGM Private Real Estate Fund, Behringer Harvard has added 132 residences to its portfolio with the purchase of Renaissance, a luxury apartment community in Concord, Calif., within metropolitan San Francisco's East Bay area.
Renaissance's status as an upscale, well-appointed apartment home development can be attributed to the original concept for the property. Developer Signature Properties had planned a 309-unit condominium complex, but ramifications of the housing market downturn altered the vision for Renaissance, which ultimately debuted in 2008 as a high-end apartment destination.
Carrying the address of 1825 Galindo St., just 30 miles outside of San Francisco in Contra Costa County, Renaissance is well-positioned to take advantage of a booming apartment market. With employment on the rise in the Bay Area and would-be homebuyers turning to rentals, demand for apartments is on a major upswing, according to a report by commercial real estate services firm Colliers International. The average occupancy level increased to 96.2 percent in Contra Costa County in the second quarter, and asking rents rose nearly 2.8 percent. Behringer Harvard can help close the growing gap in accommodations, as the Renaissance property encompasses 2.7 acres of land already destined for development.
Investors are taking notice of the positive numbers in the area. Sales volume during the second quarter in Contra Costa County and neighboring Alameda County was reminiscent of the high-flying days of 2007. The 49 transactions that closed during the period marked the highest number of deals since the third quarter of 2007.
Behringer Harvard has not publicly disclosed just how much it paid for Renaissance; however, according to the Colliers report, the average price per unit for apartment properties in Contra Costa during the second quarter was $99,622.