By Barbra Murray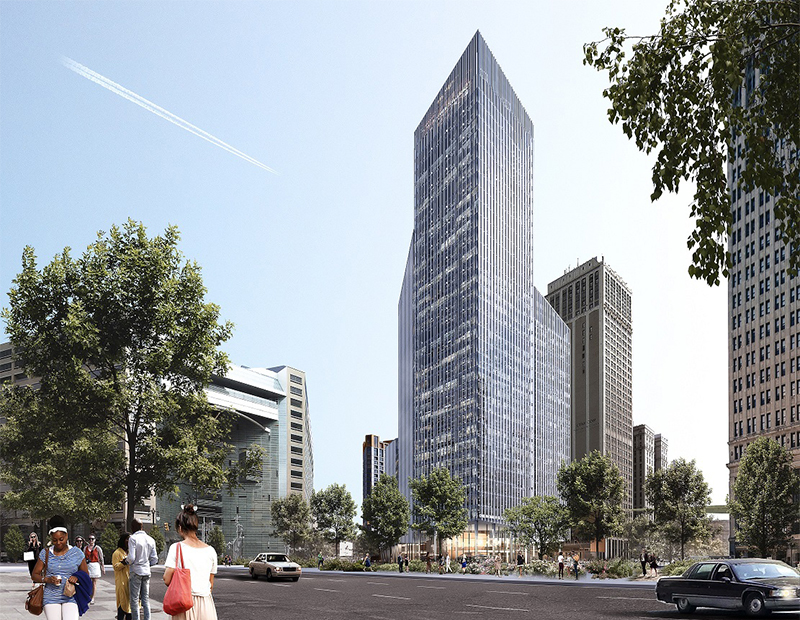 Change is afoot in Detroit and Bedrock is behind some of it. The local real estate firm recently announced plans for four transformative developments that will bring millions of square feet of office, residential, retail and other commercial offerings to the city at a total cost of $2.1 billion.
"Detroit is going vertical," Dan Gilbert, Bedrock founder & chairman, said in a prepared statement. "In fact, that is the only way to create any type of significant expansion in the city because we are virtually at full occupancy for residential and commercial space in both downtown and midtown."
The largest of the projects is the 1 million-square-foot redevelopment of the Hudson's Site into a landmark designed to put Detroit on the map in the national and international arenas. The $900 million undertaking will produce the city's tallest tower, with residential, retail, office and exhibit space.  Another project, Monroe Blocks, calls for the $830 million conversion of a series of blocks to feature a 35-story, 814,000-square-foot tower; 482 residential units; retail and restaurant offerings; and three public plazas. Bedrock will also restore the historic Book Building and Tower, adding 95 residential units and 180,000 square feet of office and retail space to the market, as well as a hotel. The fourth project calls for the $95 million expansion of Bedrock's One Campus Martius, which will yield an additional 310,000 square feet of premier office space. Bedrock lured a commitment to One Campus Martius from Microsoft Corp. earlier this year; the tech giant agreed to relocate from the Detroit suburbs to 40,000 square feet in the 1.1-million-square-foot building.
"Transformational projects like these are necessary to both accommodate the expansion of current downtown businesses as well as making Detroit a legitimate competitor for new businesses and massive opportunities, like Amazon's HQ2, and attracting vital talent from all over the country and world," Gilbert added.
Financing change in motor city
Bedrock will take on responsibility for the bulk of the big-ticket price tag on the four projects. The company plans to invest approximately $1.9 billion in equity and, potentially, outside debt. The remaining $250 million of the development cost will be financed through bond funding via the Michigan Thrive Initiative. A new state legislative endeavor, MIthrive expands local Brownfield Tax Increment Financing programs by providing additional state support to back notable development opportunities.
"One of the Senate's top priorities is to pass legislation that supports an economic environment ripe for growth and investment," Michigan Senate Majority Leader Arlan Meekhof said in prepared remarks, adding that MIthrive "positions Michigan to attract development and jobs that may have otherwise passed us by." If all goes as planned, Detroit will be the first city to utilize the state financing vehicle.
Detroit is slowly going on the upswing following its exit from bankruptcy in 2014. As noted in its comprehensive annual financial report, the City of Detroit closed the 2016 fiscal year with its second consecutive balanced budget, as well as a surplus totaling $62.9 million.
Image courtesy of Bedrock