By Gail Kalinoski, Contributing Editor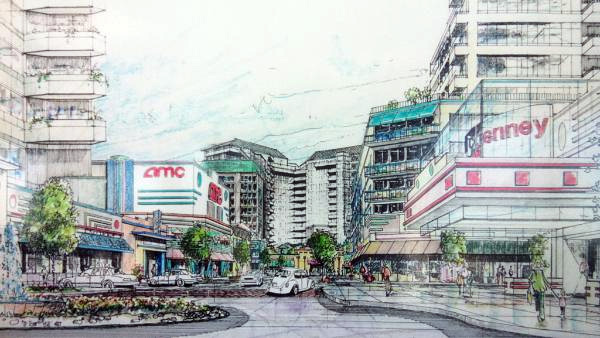 The 39-year-old Valley View Center, a mall located on 1.65 million square feet of property in North Dallas, will be transformed into Dallas Midtown, a mixed-use lifestyle project, as part of a $2 billion redevelopment project planned by its new owners.
Beck Ventures, a Dallas-based full-service investment management company, bought the regional mall and outlying parcels this week from LNR Partners of Miami for an undisclosed amount. Anchored by J.C. Penney, the mall is located at the northwest corner of Preston Road and LBJ Freeway. The freeway is currently undergoing a $2.7 billion construction project. When it is complete, more than 360,000 cars a day will pass Dallas Midtown, according to Beck Ventures.
Jones Lang LaSalle's capital markets team led by managing directors Jack Crews, John Alvarado and Evan Stone, handled the transaction.
"The Valley View site offered one of the best locations in the city of Dallas," Crews said. "As locally based owners, Beck Ventures truly understood the opportunity here, and will be able to capitalize on it almost immediately."
"We look at this project as an opportunity to modernize, reenergize and transform this property. Dallas Midtown will bring vitality back to the heart of North Dallas," said Jeffrey Beck, founder and advisor emeritus of Beck Ventures.
The family-run business includes his sons Scott and Jarrod. Scott Beck is also a founder and the president while Jarrod Beck is a managing partner. The firm's other big real estate project is the Trophy Club, a 5,000-acre master-planned community west of Dallas-Fort Worth International Airport on Highway 144.
In addition to retail, restaurants and entertainment offerings, the Becks are planning a five-star hotel, high-rise Class A office buildings, and multi-family and luxury residential towers at the site.
"There is currently no other project like what we are planning within the Dallas city limits — especially not in North Dallas," said Scott Beck. "Dallas has been missing walkable retail and entertainment options. Dallas Midtown will provide that experience in a convenient location."
The current mall, which is about 55 percent occupied, will remain on the site as the owners begin working with the city to develop the mixed-use lifestyle center. Built in 1973, Valley View Center was renovated in 2004. Beck Ventures also purchased several outparcels along Montfort Drive and Alpha Road, including Chuck E. Cheese and Sportsplex, according to Crews.
In 2010, LNR Partners, which specializes in distressed properties, became the special servicer for a $125 million loan that had gone unpaid by the mall's previous owner, The Macerich Co., of Santa Monica, Calif., Crews told Commercial Property Executive.
Crews said Jones Lang LaSalle, the largest third-party mall management company in the world, had also been leasing and managing the mall while it was in Receivership.
"JLL was hired by the receiver for the court, which was established by LNR Partners as special servicer for the loan," he said.
The capital markets team had been working on selling the property for 18 months with formal marketing over the last six months, Crews said. He said there were other parties interested in the site but declined to name them.