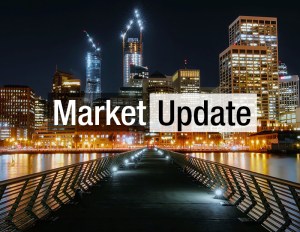 San Francisco office construction activity remained elevated, CommercialEdge data shows, even as the metro struggles with rising vacancy. As of May, the San Francisco-Peninsula market had 5.3 million square feet of office space under construction.
The amount of space underway accounted for 3.3 percent of existing stock, down 180 basis points year-over-year, but still above the national rate of 2.2 percent. San Francisco trailed national trends, with new office construction activity on an overall downward trajectory.
A single office property broke ground in May, in the Belmont-San Carlos submarket. Presidio Bay Ventures started work on a 147,000-square-foot R&D facility at 777 Industrial Road. The developer benefits from a $118 million construction loan from Square Mile Capital Management.
Of the total amount of space underway, roughly 1.6 million square feet are in South San Francisco, comprising office development dedicated for life science use. Healthpeak Properties, Alexandria Real Estate Equities and Kilroy Realty are currently working on some of the largest such projects in the Peninsula.
Bay Area Office Development Up
The Bay Area market—comprising the East and South Bay—recorded an increase in construction activity from the previous year. As of May, there was 7.8 million square feet of office development underway, representing 3.8 percent of total stock. The rate of construction grew 150 basis points year-over-year. CommercialEdge did not record any construction starts or completions in May. Adding planned and prospective developments into the mix, the Bay Area pipeline grows to 14.1 percent of stock, the third spot across all metros.
San Jose's CBD had the most office space underway, at 5.5 million square feet in May. It is worth noting that the above total also includes office space which is in redevelopment, and not just new buildings. The largest such project is Jay Paul Co.'s CityView Plaza, which is planned to offer 3.8 million square feet across its six office towers.
Other Bay Area submarkets with significant construction activity included North Sunnyvale (1.4 million square feet underway), West Berkeley (648,000 square feet) and West Sunnyvale (539,400 square feet).
CommercialEdge covers 8M+ property records in the United States. View the latest CommercialEdge national monthly office report here.