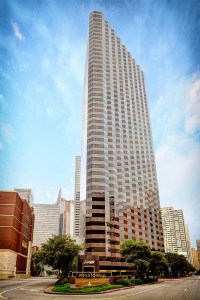 After securing accounting and advisory organization Grant Thornton LLP at Ross Tower at the beginning of the month, Bandera Ventures has landed three new tenants at the office high-rise totaling 1.1 million square feet in the Dallas CBD.
Law firms Godwin Bowman PC, McGinnis Lochridge LLP and Steptoe & Johnson PLLC agreed to occupy more than 45,000 square feet across multiple levels of the 45-story tower.
HPI Real Estate Services & Investments represented the landlord in the transactions, which involved:
Steptoe & Johnson PLLC establishing its first Dallas office by occupying 14,300 square feet of Class A+ office space on the 32nd floor
Godwin Bowman PC relocating from the 1.7 million-square-foot Renaissance Tower and agreeing to occupy more than 24,000 square feet starting January 2023
McGinnis Lochridge LLP expanding within Ross Tower and signing a new lease for more than 7,000 square feet on the 22nd floor
The brokerage team working on behalf of Bandera Ventures included HPI's Dallas Partner Hunter Lee, Vice President Ben Cuzen and Leasing Agent Luke Aviles.
Meanwhile, on the tenant side, Savills represented Steptoe & Johnson PLLC and Cushman & Wakefield worked on behalf of Godwin Bowman PC.
A downtown office tower
The LEED Gold-certified tower at 500 N. Akard St. features 26,006-square-foot floorplates, 25,000 square feet of retail space, as well as 3,266 parking spaces at a ratio of 3.00 spaces per 1,000 square feet, according to CommercialEdge. Built in 1984, the multi-tenant building underwent a cosmetic renovation in 2009.
Ross Tower also features conference centers with private board rooms, a tenant lounge, cafes, a five-star restaurant and a fitness center. The tenant roster includes the U.S. Department of the Treasury, HPI Real Estate Services & Investments, Scheef & Stone and Frank Recruitment Group, among many others.
As of April, the office vacancy rate across the Metroplex remained flat month-over-month, at 17.3 percent, surpassing the national average by 160 basis points, according to CommercialEdge data.
In the same month, Kessler Collins inked a 13,745-square-foot lease at Ross Tower, relocating from the 843,728-square-foot 2100 Ross, less than half a mile away. Recently, Newmark agreed to occupy 46,350 square feet across two floors at The Link at Uptown in Dallas.