December 14, 2011
By Nicholas Ziegler, News Editor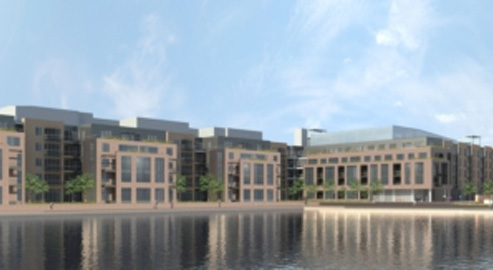 In a spot of good news for Baltimore, the Bozzuto Group yesterday broke ground on the city's $72 million Union Wharf project, a mixed-use waterfront development. The project is slated to bring 281 upscale apartments, 4,500 square feet of retail and nearly 500 parking spaces to the city's Fells Point neighborhood.
Located on the eastern edge of the Fells Point peninsula on an undeveloped site overlooking the Inner Harbor, Union Wharf has been accepted into Maryland's Voluntary Cleanup Program and is being built to achieve LEED Gold certification from the U.S. Green Building Council. Penny Pritzker, CEO of Chicago-based Pritzker Realty Group, called the project "a prime example of Class A urban infill multi-family development." Pritzker is partially funding construction on Union Wharf.
Like most of the nation, the Baltimore metro area has been lagging in its economic recovery. The city's unemployment rate jumped in the third quarter, according to a report by commercial real estate services firm Jones Lang LaSalle, indicating that uncertainty will likely persist through 2012. At the end of the third quarter of this year, the rate stood at 7.9 percent, an 0.9 percent rise since April. "Declines in payrolls and an increasing number of homeowners behind in their mortgage payments are anticipated to weigh on the economy for the foreseeable future," the report concluded.
According to the Baltimore Sun, last month Bozzuto started work on an apartment project in nearby Crofton, and executives hope to begin construction on a complex in Odenton in February.
The project is financed in part through a partnership between Bozzuto, CIGNA and Pritzker, and a construction loan from PNC Real Estate.