By IvyLee Rosario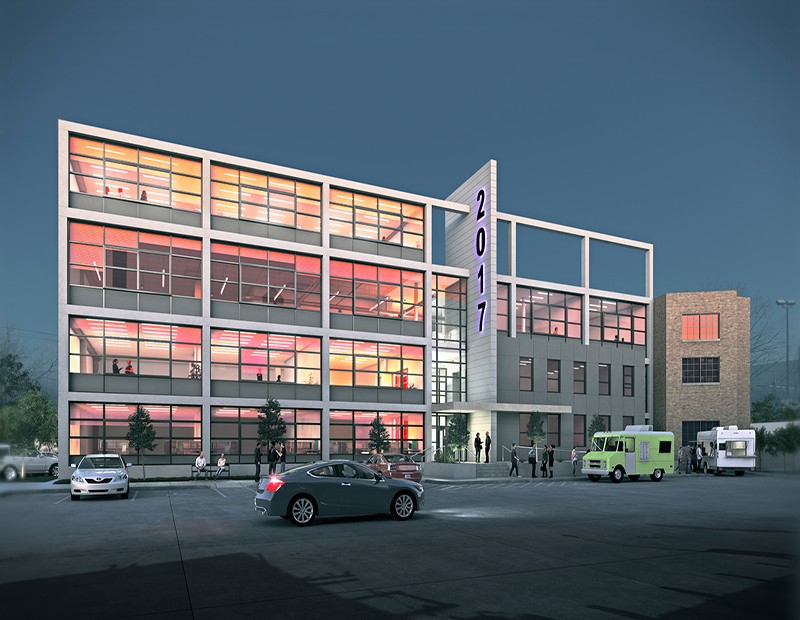 Baker Development Corp. has completed the shell and core construction of 2017 N. Mendell, a Class A loft office redevelopment in Chicago's North Branch Industrial Corridor. This project marks the first completed development in the area since the adoption of the large-scale zoning changes in 2017. The redevelopment included repurposing a century-old industrial building between the Chicago River and Elston Avenue, in order to bring together technology, industry and art into one office environment.
"With 2017 N. Mendell, we anticipated a demand for Class A office space in an area where development seemed inevitable as the city began to explore new land-use guidelines for the North Branch Corridor," said Dan Slack, principal at Baker Development, in a prepared statement. "Today, entrepreneurial companies are looking beyond the central business district to attract young employees who want to work in loft-style creative spaces close to where they live and play. Until now, the cutting-edge infrastructure and amenities that are essential to these companies—and central to the design of 2017 N. Mendell—have been non-existent in this part of the city."
Redevelopment Plans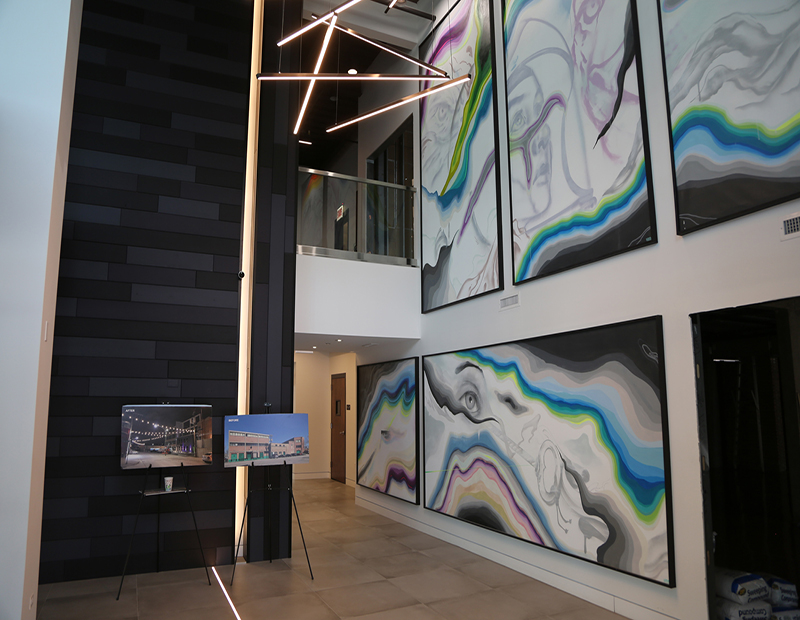 The 62,000-square-foot property offers customizable spaces ranging from 3,800 to 17,000 square feet. The redevelopment features high-tech design such as electrochromatic glass windows, a food truck court, a 3,000-square-foot rooftop deck overlooking the adjacent river and downtown skyline and 50 on-site parking spaces. Both the interior and exterior of the building include art pieces. The 25-foot lobby atrium features "The Process," a custom multi-panel piece by Max Sansing. Additional artwork by Sansing, Hebru Brantley, ROA, Ruben Aguirre and Sick Fisher is included as well.
Amenities also include a state-of-the-art security system, 24-hour monitoring and key fob access, dock space for ground-floor users and indoor bike storage. The redevelopment is the first in Chicago to utilize View Dynamic Glass, with windows automatically adjusting to sunlight to reduce glare, improving temperature control and eliminating the need for window treatments. It also includes ultra-high-speed fiber optics, high-efficiency heating and cooling, a photo-ionic air filtration system and sound-rated windows.
The property offers close proximity to Bucktown, Wicker Park and Logan Square. Located within the boundaries of the Lincoln Yards mixed-use district, the project offers convenient access to Kennedy Expressway, Clybourn Metra station and several CTA bus routes.
Images courtesy of Baker Development Corp.