By Barbra Murray, Contributing Editor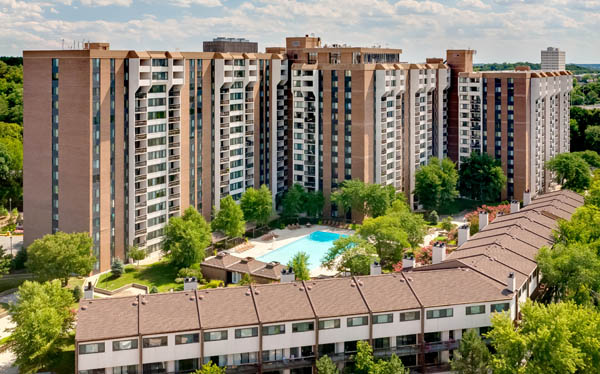 The metropolitan Washington, D.C., apartment market has the kind of fundamentals that attract investors from all over, so it's no surprise that affiliates of Bainbridge Companies L.L.C. found a partner in Switzerland's Partners Group for the acquisition of the 574-unit Aventine of Alexandria in Alexandria, Va. The team purchased the apartment community from Invesco Real Estate for roughly $139 million.
Aventine last traded in 2006, when Invesco shelled out approximately $131.8 million for the property, which sits on 10.5 acres along the well-traveled I-395, within easy reach of the Pentagon. The company, with commercial real estate and capital markets services provider HFF spearheading marketing, did not exactly have to beg for buyers.
"We did have a lot of interest among investors," Alan Davis, senior managing director with HFF, told Commercial Property Executive," It was mainly private equity funds with operators that saw the value-add opportunity."
Now the nearly four-decade-old residential community at 2701 Park Center Dr. not only has new owners, but it has a new future. Bainbridge and Partners plan to invest in upgrades to common areas and the 183 units that have not benefited from recent renovations in an effort to capitalize on rising rents in the area. In the third quarter, Northern Virginia beat out the District and suburban Maryland for the highest increase in rents, according to a report by commercial real estate services firm Cassidy Turley.
Makeover notwithstanding, Aventine has some coveted features that will undoubtedly help boost the already respectable 93 percent occupancy level as demand continues on the upswing. One big advantage turns on the fact that size does matter.
"This is a vintage property that has the largest units in that submarket; they're over 1,200 square feet," Davis said. "And you've got infrastructure that lot of the competition doesn't have."
Bainbridge and Partners Group's purchase of Aventine dovetails with a current trend in greater Washington, D.C.'s apartment market. "Investors have been looking to the suburbs for multi-family transactions in 2012," as noted in the Cassidy Turley report. "This trend is expected to continue as investors seek properties with higher yields and reposition opportunities as new development coming to market will make multi-family properties a lower yielding investment than in previous quarters."
With steady job growth and an increasing population in the city, demand for multi-family accommodations and office space persists, and like domestic investors, buyers beyond U.S. borders continue to compete feverishly for assets. According to a survey by the Association of Foreign Investors in Real Estate, among the major metropolitan cities around the globe, Washington, D.C., ranks as the third leading city for foreign investment in 2012.
Like us on facebook: https://www.facebook.com/pages/Commercial-Property-Executive/258033884191