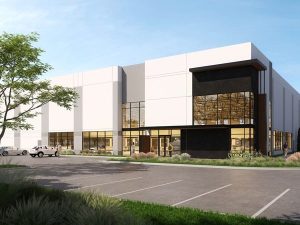 CED Greentech has preleased 38,840 square feet at Buda Midway, United Properties' Class A industrial development in Buda, Texas. Upon completion, the two-phase project is slated to encompass 800,000 square feet across six buildings. AQUILA Commercial represented the landlord, while Stream Realty Partners worked on behalf of CED Greentech.
In June, United Properties acquired the land for the industrial project and broke ground on the first three-building phase of the development. The company financed the construction of the nearly 475,000-square-foot phase with three loans totaling $27.6 million funded by Wells Fargo, Hays County records show. Construction on the initial phase of the project is expected to wrap up in 2022.
Buda Midway will take shape at 1795 Fire Cracker Drive. The first two buildings will almost mirror each other, starting with their sizes, 115,090 square feet each, while the third will encompass 244,085 square feet.
The initial phase will have clear heights between 30 and 36 feet, two 220-foot truck courts and a 130-foot one along with a total of 138 dock doors. The first and second buildings will feature rear load configurations, while the larger structure will have a cross-dock design.
The industrial development is 2 miles south of the junction of Interstate 35 and State Highway 45. Buda Midway is less than 15 miles from downtown Austin and within 16 miles of Austin-Bergstrom International Airport.
Industrial, still CRE's darling
Despite supply chain issues felt across the sector, industrial demand remains unabated and developers are racing to meet the need. As of September, nearly 508 million square feet of industrial projects were underway in the U.S., representing 3.2 percent of total stock, according to a recent CommercialEdge report.
Industrial vacancy in Austin continued its downward trajectory during this year's third quarter, dropping 50 basis points quarter-over-quarter to reach a very tight 3.6 percent, according to a recent Cushman & Wakefield report. Greater Austin's population surge, combined with other favorable fundamentals, generated more than 2 million square feet of net industrial absorption in the first three quarters of 2021, with the Round Rock and Southeast submarkets performing best, the same report shows.