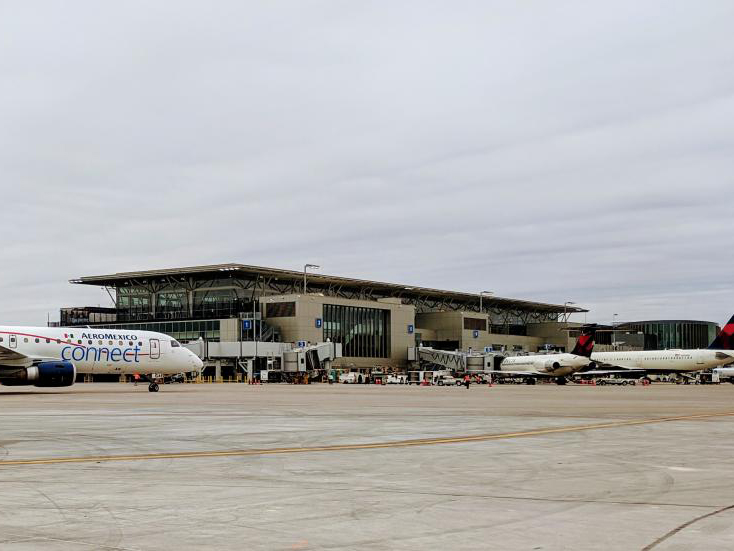 The Austin-Bergstrom International Airport has opened Phase I of its expansion, adding nine gates to the Barbara Jordan Terminal. The revamped terminal brings ABIA's total gate number to 34, of which six are dedicated to international flights, up from just two. Airport officials intend to add 32 gates by 2040, which will enable the airport to handle 31 million travelers per year.
Work at the facility began in the fall of 2016, in an effort to make room for the steadily increasing number of passengers flying through Austin, Texas. Nearly 16 million people transited through ABIA in 2018, an increase of almost 2 million from the prior year, which has put significant pressure on the airport's ability to handle such volume of passengers. The original terminal was designed to handle 11 million passengers annually.
The extension added nearly 175,000 square feet: 88,359 square feet of concourse space; 52,282 square feet of apron level space for baggage makeup conveyors, additional inbound baggage systems, airline operations space, airport support space and other related ancillary facilities; 28,205 square feet of mezzanine and platform level space and 5,700 square feet of outdoor east terrace. The paved aircraft area around the terminal has also been expanded by 48 acres to better accommodate larger and more numerous aircrafts, as well as increased parking needs at Austin's airport.
Expanding on sustainability
ABIA's terminal holds a LEED Silver certification for new constructions since the fall of 2017 with a score of 57 points out of 110. The expansion is a redevelopment of a previous military base. To optimize the thermal comfort inside the building and to create a consistent temperature year-round, all design factors were included. As such, there is little demand for interior lighting during the day, especially in the ticketing and processing area where natural daylight floods the space. The lowered demand for interior lighting coupled with high-performance glazing and lighting controls, contributed in the reduction of excess building heat, interior cooling being one of the areas where energy savings were applied. Moreover, a chilled water system was installed to reduce consumption for cooling.
Carbon dioxide sensors and low-emitting materials are additional components of the LEED Silver building. The materials used in the development of the terminal are in part recycled, including the sunshade and aluminum used on the entrance façade. Some 6,000 tons of steel was used in the construction of the nine-gate expansion.
The area around the airport is highly sought-after by hospitality developers. Hotels in the area include the Home2 Suites by Hilton Austin Airport, an 87-key property located at 1705 Airport Commerce Drive.
Images courtesy of ABIA