By Brad Berton, Contributing Writer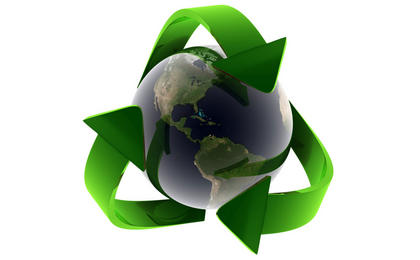 Here's a pop quiz: Which states and metropolitan areas are the leaders in clean-energy advocacy?
You probably won't be shocked to learn that California again ranks as the nation's most green-minded state in the U.S. Clean Tech Leadership Index. Nor should it come as a surprise that states and metros in the South and Great Plains tend to lag their Western and Northeastern counterparts.
But surprises also crop up in the comprehensive rankings developed by Clean Edge Inc., the Portland, Ore.-based consulting and advisory firm. Consider this question: In which three states do non-hydropower renewable sources account for more than 20 percent of electricity generation? (Answer: South Dakota, Kansas and Iowa.)
That stat illustrates how challenging it can be to identify the most potent clean energy hubs. Yet understanding the climate for sustainability in real estate markets of all sizes has never been more crucial for investors, developers, consultants and occupants.
To assess states and top cities, the Clean Edge team conducts one of the most comprehensive studies of its kind, encompassing indicators in the triple digits and more than 17,000 documentation points.
The new benchmarking credit added to the Green Buildings category is "definitely a factor" in this year's rankings, noted Clean Edge market analyst Andrew Rector. Sustainability stalwart Seattle benefited from the addition.
Despite so-so scores in the transportation categories, such as natural gas vehicles and charging stations, the benchmarking mandate helped the Emerald City reverse several years of decline and reach No. 7 in the Metro Index, the overall ranking of the nation's metropolitan areas. Seattle, which also came in No. 4 in the Green Buildings rankings that help determine the overall Metro Index, is one of only 11 metros that earned credit for an ordinance.
Ebb & Flow
Meanwhile, two Golden State metros that each lack benchmarking ordinances—Sacramento and San Diego—are moving in opposite directions.
After taking the No. 5 spot on the overall Metro Index last year, Sacramento fell completely out of the top 10. California's capital dropped from the leader spot in the Clean Electricity & Carbon Management category down to No. 18.
As Rector explained, Sacramento came up short in part because of its failure to participate in the C40 or STAR Community Rating System. Likewise, the metro is no longer a member of the U.S. Environmental Protection Agency's leading government green power purchasers.
Like Sacramento, San Diego lacks a benchmarking ordinance, yet it still took the fourth spot in the Metro Index. Thanks largely to the efforts of the Clean Tech San Diego consortium, the metro ranks among the top six in three of the Metro Index's four main categories. Of note, it added more than 100 LEED-certified buildings during the year, Rector observed.
At the state level, Washington experienced a remarkable swing in the CTL Index. Despite its reputation for innovation and a boost from Seattle's comeback, the state has fallen from No. 4 to No. 15 on the overall State Index over the past two years. Rector pointed out that the Evergreen State scored well for new policy-related indicators, most notably third-party ownership of renewables, and community renewables. It also showed strength in technology-related metrics.
However, it fared less well in some public policy categories, such as energy codes, net metering and interconnection policies. Nor did Washington score well in the capital field.
LEED Leaders
Washington's fortunes contrast sharply with its East Coast namesake. Thanks to its benchmarking law and another 500-plus LEED certifications, Washington, D.C., moved up three slots to No. 5 in the general Metro Index. It also maintained its wide lead in the Green Buildings ranking, with more than 1,325 LEED certifications. That easily beat the 780 or so registered by San Francisco, which nevertheless ranks No. 1 on the overall Metro Index for the third straight year, edging out both nearby San Jose and Portland, Ore.
Other perennial green leaders making thei top 10 Green Buildings and LEED certification rankings include Seattle, Boston and Denver.
And the capital's influence appears to spill into its neighbors' backyards. Despite average rankings on the overall State Index, Maryland came in at No. 5 in LEED projects per capita, trailed closely by No. 7 Virginia. Those lofty rankings were almost certainly influenced by the U.S. General Service Administration's mandates for energy-efficient buildings with low carbon footprints. (The top four: Colorado, Vermont, Washington and Oregon.)
It is noteworthy that Chicago broke into the Metro Index's top 10 after three years at No. 12. CTL's authors credit initiatives like the Chicago Infrastructure Trust and a "green bank" financing energy-efficiency improvements.
At the opposite end of the spectrum, the nine lowest scorers in the overall Metro Index are all in the Southeast, with Florida metros holding position Nos. 44 through 47. Meanwhile, 12 of the bottom 15 on the State Index are in the South or Great Plains.
But Rector stressed that low rankings are not merely a matter of geography or political culture. While lower-ranked metros and states generally score poorly in public policy, renewable energy, green buildings and advanced transportation, many are hampered by inadequate investment in clean technologies, Rector noted.
California maintained its perennial No. 1 ranking on the overall State Index, as well as in subcategories like Energy Intelligence and Green Building. Massachusetts, Oregon, Colorado and New York rounded out the overall top five states, with Colorado, Vermont, Massachusetts and Maryland the top Green Building runners-up.
Perhaps the most dramatic gains of recent years are credited to a pair of smaller states—Vermont and Hawaii. The Green Mountain State moved up from No. 15 a year ago all the way to No. 6, reflecting particular strengths in the Technology area, including its Energy Intelligence and Green Building indicators.
Rector pointed out that Vermont scored particularly well in some new categories: third-party ownership of renewables and community renewables; net metering and interconnection policies; and building energy codes.
The solar energy-friendly Aloha State has steadily moved up in recent years and has now reached the State Index's top 10. Hawaii is also ready to cross the 20 percent renewable-generation hurdle, an achievement that coincides with a national first: a statewide target of 100 percent renewable energy.
And wind-powered generation accounts for that aforementioned trio of Great Plains states boasting 20-plus percent renewables ratios. As Rector related, "None of them have any solar or geothermal generation to speak of."