MetLife Investment Management and Granite Properties remain on schedule at Midtown Union, a mixed-use development in Midtown Atlanta, as the partners reach the highest structural point on the project's 26-story office tower. The 612,000-square-foot, Class AA high-rise is one of three buildings that will comprise the live-work-play destination.
Midtown Union is taking shape on an 8.5-acre site spanning nearly a full city block at 17th St. and W. Peachtree St. With Brasfield & Gorrie serving as general contractor, MetLife and Granite began construction of the office tower in November 2019, in conjunction with the start of work on the residential and hotel structures that will complete the mixed-use destination.
---
READ ALSO: Top Projects That Will Reshape Queens
---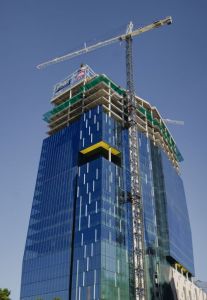 Major announcements bookended the commencement of construction. MetLife and Granite revealed in May 2019 that global investment management company Invesco had signed on as the office building's anchor tenant with a 300,000-square-foot lease for its headquarters and in December 2020, the joint venture partners disclosed that they had landed $210 million in construction financing for the tower through Wells Fargo Bank N.A.
With half the tenant roster claimed, MetLife and Granite have a head start on lease-up as the building hits the topping off point. The changing winds in the local office market are on the partners' side as well.
"[The third quarter of 2021] saw positive movement in vacancy, which dipped by 30 basis points after increasing every quarter since the start of the pandemic," according to a report by JLL, which is overseeing leasing of the office building at Midtown Union. "Not only did the third quarter record the highest quarterly absorption since the start of the pandemic, but it was also the first quarter to see positive absorption in both urban and suburban Atlanta."
Design of the times
Cooper Carry is the architect behind Midtown Union and the firm conceived a stunning biophilic design strategy for the office building, incorporating such features as floor-to-ceiling glass that serves as both an aesthetically pleasing element and a portal for natural light. However, with the emergence of the pandemic MetLife and Granite worked with the architect to create a timelier design theme for the office building: health and wellness.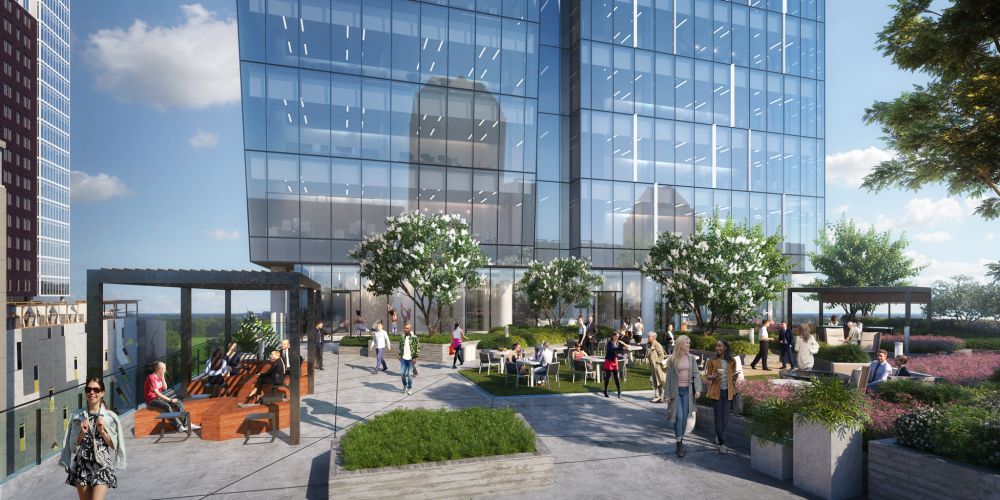 In addition to the outdoor meeting and workspaces originally planned, like the 12,000-square-foot landscaped outdoor amenity terrace, the Midtown Union office building will now include clean air technology, motorized revolving entry doors, touchless fixtures in restrooms and a smartphone-controlled destination dispatch elevator system. The property is being built to qualify for LEED and Fitwel certifications. If all goes as planned Midtown Union's office tower, along with its residential and hotel buildings, will reach completion in the third quarter of 2022.