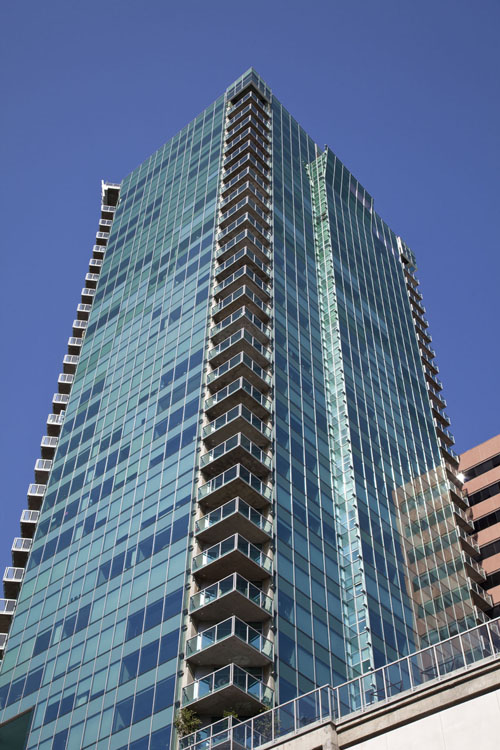 By Keith Loria, Contributing Editor
ASB Real Estate Investments has acquired Watermarke Tower, a 35-story trophy residential property in the South Park neighborhood of downtown Los Angeles, for $160.5 million.
The purchase was made on behalf of ASB's Allegiance Real Estate Fund, a $3.5 billion core investment vehicle. The building was 97 percent occupied at the time of purchase.
"We own about $500 million of real estate in the Los Angeles area, mostly office and retail. We own a lot of residential in other parts of the country, and we have been looking hard at the residential market in L.A. for quite some time," Robert Bellinger, ASB Real Estate Investments' president & CEO, told Commercial Property Executive. "We are really excited about the downtown L.A. story—particularly the market for this building and the arts district—and we feel strongly that it's an exciting place to live, work and have fun."
Located at 705 W. Ninth St., the 214-unit luxury high-rise was originally constructed in 2010 and is recognized as one of downtown's premier rental apartment buildings. It boasts superior amenities and finishes, including a state-of-the-art fitness center, cardio room, catering kitchen, private dining room, wine cellar, private conference rooms, heated swimming pool and spa, billiards lounge, media room, dog park, Zen garden and parking for more than 350 vehicles.
"It is the only place in Southern California where you can have a legitimate urban experience, both in sophistication and the character you get from these historic buildings and new buildings," Bellinger said. "It's a vibrancy you don't get anywhere else in L.A."
The building offers commanding views of the Los Angeles skyline and the Hollywood Hills and is located within walking distance of prime downtown attractions, including numerous restaurants, LA Live and the CityTarget-anchored retail center FIG@7th.
A recent study by the Downtown Center BID shows downtown's population has nearly tripled to more than 52,000 residents since the turn of the 21st century, and the current median age of residents is 34 years old, with a median income of $98,700.
According to Bellinger, the company is very focused on urban markets and has staked out 13 such locations across the country where it is investing, with L.A. being one of its top markets.
"Over the past five years, every year has gotten better and the momentum is strong," Bellinger said. "You look at the retailers coming there—you have the Whole Foods that will be opening up and a number of restaurants—so you know there are some real strong things going on that are driving demand."