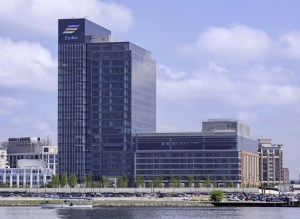 Armada Hoffler Properties is expanding its footprint at Baltimore's Harbor Point downtown waterfront development with the planned purchase of a majority stake in the 23-story, 444,000-square-foot mixed-use Exelon building for an estimated $246 million. The deal is expected to close in the first quarter of 2022.
---
READ ALSO: Top 5 Office Deliveries Nationwide
---
The Class A office component of the building is fully leased by clean energy provider Exelon, which has 15 more years on its 20-year lease. The property also has 103 multifamily units, which are 96 percent occupied as of late November. The asset additionally has 38,500 square feet of retail space anchored by home décor retailer West Elm and 750 parking spaces, 500 of which are leased by Exelon Corp.
Armada Hoffler Construction was the general contractor on the Exelon building, which was completed in November 2016. The property was constructed with long-term development partner Beatty Development Group, which will retain a 10 percent ownership position in the asset and owns the overall Harbor Point site. The building is certified LEED Gold and the interior is LEED Platinum. It is the fourth-largest LEED ID+C Platinum-certified project in the U.S.
Harbor Point expansion
While Armada Hoffler and Beatty Development are longtime development partners on the 27-acre, 3 million-square-foot Harbor Point project, Armada Hoffler bought the Exelon building majority stake from an unidentified equity investor, according to the Baltimore Business Journal.
Once the transaction is completed, Armada Hoffler will own four Harbor Point properties—the Exelon building at 1310 Point St., 1405 Point Apartments, as well as the Thames Street Wharf and Wills Wharf office buildings. The company is currently in a joint venture developing the T. Rowe Price global headquarters and the companion mixed-use residential, retail and parking garage at Harbor Point. That project is slated for delivery in 2024.
The Exelon building, which cost approximately $183 million to develop, was one of the first commercial properties built at Harbor Point, a former vacant industrial site that became key to Baltimore's renewal. Louis Haddad, president & CEO of Armada Hoffler, said in a prepared statement that master-planned, mixed-use developments in premier locations like Harbor Point, are central to its strategy. The acquisition of the majority ownership stake in the Exelon building expands Armada Hoffler's presence in Harbor Point and is also consistent with the Virginia-based company's long-term plan to build scale in the submarket.