By Barbra Murray, Contributing Editor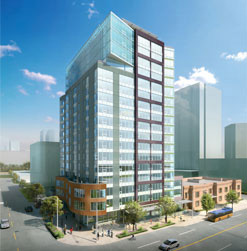 Seattle's multi-family sector is the target of a new strategic partnership. AREA Property Partners has joined forces with Harbor Urban L.L.C., the merged entity of Harbor Properties and Urban Partners, to develop apartment communities in the metropolitan area.
The formation of the team has been in the works for more than a year, during which time Heartland Capital Advisors L.L.C. shepherded Harbor Properties through the process. Harbor Properties and Urban Partners fused their Seattle offices to create Harbor Urban. Now, with AREA in the picture, a financial foundation is in place for moving forward. "The merging of the Harbor and Urban teams brings significant benefits to both our firms, and an infusion of capital allows us to enhance and expand our commitment to communities throughout Seattle," Doug Daley, president and CEO at Harbor Properties, said.
Together, AREA and Harbor Urban will move ahead as a team with projects that are currently on Harbor Urban's plate. Already in the works is the 184-unit Alto Apartments, which will reach completion this month in the city's Belltown neighborhood. Additionally, construction commenced in December on Nova, a 62-unit property in West Seattle.
The partners will also take on new endeavors, specifically the construction of sustainable apartment properties in urban infill areas of Seattle. AREA and Harbor Urban have not announced any future projects, but their developments will range from market-rate high-rises to workforce housing communities. And the demand is there. The vacancy rate in the Seattle apartment market at the close of 2011 was an enviable 5 percent.
"The improvement over the past two years is mostly attributed to a release of pent up demand along with a decrease in homeownership rates, which increased the number of renter households," according to a report by commercial real estate services firm Kidder Mathews. "Looking forward, however, employment growth will be the primary driver of demand and Puget Sound is now growing faster than the country."  As per the Puget Sound Economic Forecaster, the is expected to add 30,000 new jobs to the market this year and an additional 30,000 in 2013.