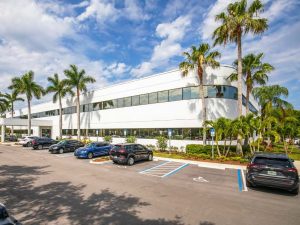 Apex Capital has added a fully occupied office asset in Southern Florida to its portfolio of single-tenant triple-net leased properties. The firm acquired 3301 Quantum Blvd. for nearly $37.3 million from a partnership between Fox Ridge Capital LLC and developers/investors Joshua Schrager and Daniel Schwartz. JLL Capital Markets marketed the office property and represented the seller.
The two-story building came online in 1995, with renovations completed earlier this year. The upgrades to the 100,000-square-foot office included updated elevators, HVAC systems, restrooms, common areas and roofing. According to JLL, the property was rebuilt to NYU's specifications and totaled more than $16 million in capital invested from both the seller and the tenant. The office was also built with 100 percent redundant power through four 500 kilowatt generators.
The Boynton Beach office will continue to be fully leased to the NYU Grossman School of Medicine, which operates a division of the NYU Langone Health System on-site, until October 2032. The office is mission-critical to NYU and accommodates approximately 900 of its employees who use the property for the billing, scheduling and telemedicine services for NYU Langone.
JLL's Hermen Rodriguez, Matthew McCormack, Ike Ojala and Max Lescano marketed the office property and represented the seller.
McCormack, director at JLL, said in prepared remarks that 3301 Quantum Blvd. had attracted NYU in its nationwide search for an office location that suited its needs. The property is located on an 8.2-acre site within Quantum Office Park, which has nearby access to Interstate 95.
Pro-business in Palm Beach County
McCormack also said in prepared remarks that Palm Beach County is continuing to see new-to-market capital groups investing due to its pro-business environment. According to JLL, the Palm Beach County population is expected to grow to more than 1.5 million by 2025, alongside increasing rental rates and occupancy rates, helped by the many corporate expansions and relocations.
For Apex Capital, the office property in Palm Beach County is the company's sixth single-tenant triple-net leased acquisition since its founding in 2019. In December, the firm acquired a 358,000-square-foot office asset in Tempe, Ariz., which is fully leased to DoorDash, for $187.5 million.