By Bob Bach,
Senior Vice President & Chief Economist, Grubb & Ellis Co.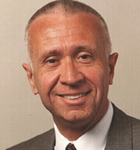 Grubb & Ellis researchers have completed a draft of the company's 2012 forecast report. Without giving too much away, here is a summary of the economic and investment overview sections of the report.
2011: Meeting Reduced Expectations
Grubb & Ellis expected a sluggish recovery in 2011, and that is what happened. GDP grew approximately 1.8 percent, a little slower than our 2.5 percent forecast. We thought the labor market would add 125,000 net new payroll jobs per month, which, unfortunately, was on target – unfortunate because employers need to add 200,000 or more to begin absorbing the nation's long-term unemployed. The biggest surprise was interest rates, which we did not forecast, but most analysts expected long-term rates to increase as the economy gained momentum. Instead, fears over the European debt crisis drove the 10-year Treasury, which began the year at 3.30 percent, to an incredibly low 1.72 percent on Sept. 22 before it rose modestly by year-end.
The investment market racked up big gains again in 2011 with a 75 percent increase in the dollar volume of property sales and average capitalization rates that edged lower for most property types. Investors, enamored with core assets in 2010, began to reach for more yield in 2011, targeting slightly riskier assets and markets.
2012: One More Subpar Year
Grubb & Ellis expects GDP growth in the range of 2.0 to 2.5 percent in 2012, still below the economy's long-term potential of around 3 percent. The unresolved European sovereign debt crisis and the political stalemate in the U.S., where the extension of the payroll tax cut hangs in the balance, will weigh on growth. The eurozone appears to be headed toward a recession with its constituent countries proceeding there at varying rates of speed. The sovereign debt crisis could extend to U.S. banks, reducing their willingness to lend, while shrinking demand overseas would hurt U.S. exporters. Expect the U.S. economy to muddle through, adding an average of 125,000 net new payroll jobs per month in 2012 – the same pace as 2011. With growth subdued and the Federal Reserve maintaining a highly accommodative monetary policy, 10-year Treasuries are expected to rise only modestly, ending the year between 2.5 and 3 percent.
Gradual improvement in leasing markets will encourage investors to continue their foray, begun tentatively last year, into riskier assets such as Class B properties in primary markets or Class A- properties in secondary markets. This, combined with continued appetite for core assets, will boost sales volume by another 25 percent in 2012. Look for cap rates to tighten marginally for non-distressed assets. Distress is expected to remain high but the composition will shift with fewer such properties on offer by banks and more from CMBS servicers as they move to unwind deals.