January 5, 2012
By Barbra Murray, Contributing Editor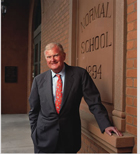 William Polk Carey, founder and chairman of multi-billion-dollar investment management company W. P. Carey & Co., died of natural causes in West Palm Beach, Fla., on Monday, Jan. 2. Carey, a trailblazer in the sale-leaseback arena, was 81 years old.
Read Commercial Property Executive's original story on Carey here.
"William Polk Carey was a pioneer in sale-leasebacks," Sidney Domb, president and CEO of United Trust Fund, a leader in the sale and leaseback of corporate real estate, told CPE. "I started in 1972 and there was a W. P. Carey then. He had vision and foresight to explore and go into Europe with sale-leasebacks when no one else chose to enter. He was fearless in his decisions and he will be missed."
"As an institutional-quality buyer, they've been a very reliable, very well-capitalized, very well-managed firm that's been a significant player in that niche for many, many years," Jeff Hughes, senior director in investment sales with leading net lease firm Stan Johnson Co., said, speaking to CPE about the firm Carey founded.
With Carey as a driving force, sale-leasebacks became somewhat of a game-changer.
"He started in the industry 40-plus years ago, and prior to that time, corporate America did not have a very good outlet to take real estate assets off their balance sheet and monetize them in the form of a sale-leaseback transaction," Hughes noted. "So it's been a very significant financing mechanism that has allowed corporate America to do just that. If you're in the business of building widgets then arguably you shouldn't also be in the business of owning your manufacturing facility or your warehousing facility or your retail outlets. Carey pioneered the concept of taking that real estate off the balance sheet — you don't need to own it, just sell it and lease it back on a long-term basis. It frees up your capital to plow it back into whatever industry you're in, it allows you to do 100 percent financing of that asset and it still allows you long-term effective control of the asset through that long-term lease."
Carey applied the sale-leaseback concept to veritably every sector of commercial real estate around the world. Past transactions include the $58.1 million acquisition of a 473,000-square-foot portfolio of boat fabrication and servicing facilities from a premier U.S. yacht builder, and the simultaneous closing of a 25-year lease agreement with the seller. The firm's deals in the retail sector include the $154 million purchase of a 1.3 million-square-foot portfolio of retail facilities in Germany from do-it-yourself retailer Hellweg Die Profi-Baumärkte GmbH & Co. KG, which subsequently signed a 25-year lease with W. P. Carey for the space.
"Bill Carey was a pioneer in that industry, pioneering a concept that later became very mainstream in the capital-markets world," Hughes said. "Many other institutions followed that path and mirrored that strategy, but he was a pioneer in making it commonplace and doing it on a very large and very professional scale for many years."
Pioneer. It is the word that flows from the mouth of many in the commercial real estate business when ruminating about Carey. "Bill was a pioneer in the net-lease industry and those of us who now work exclusively in this niche owe tribute to his early work," Bruce S. MacDonald, president of Net Lease Capital Advisors, shared with CPE. "He was a generous individual who gave back to the education and business communities he was a part of.  He leaves the legacy of having contributed to the growth of an industry and of having built a respected firm.
Since his passing, W. P. Carey's board of directors unanimously elected Benjamin H. Griswold IV, a director with the firm since 2006, as non-executive chairman of the board. "A significant component of Bill's legacy is the balanced strength of this organization and the quality of our people at all levels, which is consistent with the gold standard he set for himself and others," Griswold said of the late Carey. "The depth and breadth of the talent within the firm and their dedication to its core beliefs position us well to continue our success and maintain the tradition of excellence that has been emblematic of W. P. Carey throughout its history."