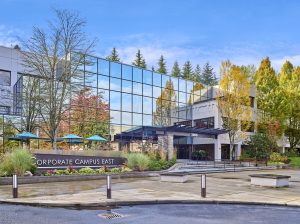 American Assets Trust has acquired Corporate Campus East III, a four-building office asset in Bellevue, Wash., for $83.9 million. A partnership between Ares Management LLC and SteelWave sold the property in an all-cash transaction. The campus was 83 percent occupied at the time of the sale.
A Newmark team comprising Co-Head of Capital Markets Kevin Shannon and Executive Managing Directors Rob Hannan and Ken White, along with several others members, represented the seller in the transaction.
The property traded at a 51.7 percent premium over its price two years ago. In 2019, the joint venture of SteelWave and Ares Management bought the property for $55.3 million from TA Realty.
Corporate Campus East III is situated along Bellevue's 520 Corridor, at 3001, 3005, 3009 and 3015 112th Ave. N.E. The four buildings constructed in 1986 comprise a total of 160,508 square feet of rentable space. The campus offers floorplates ranging from 15,098 to 25,922 square feet and a parking ratio of 3.5 spaces per 1,000 square feet. The property also includes 1,800 square feet of retail.
The property recently underwent several renovations, including the repositioning of common area amenities, the exterior plaza, as well as upgrades to the building systems. Tenants of Corporate Campus East III include Ware Malcomb, ExamWorks and Banner Bank, among others. The leases have an aggregate weighted average remaining term of more than 6 years.
The campus' Eastside location allows for immediate access to two major thoroughfares—Interstate 405 and State Route 520. Downtown Bellevue is under 3 miles to the south. Part of the location's appeal is its equidistance from downtown Seattle and Redmond, both under 10 miles from the campus.
Betting on Bellevue
American Assets Trust bought Corporate Campus East III at roughly $522.4 per square foot, slightly above the average $465 per square foot that was recorded in metro Seattle year-to-date through July, according to a CommercialEdge report. In its announcement of the sale, the company stated that the current contractual lease rates at its newest property are viewed as "below prevailing market rates".
The current acquisition marks the second significant investment American Assets Trust made in the Bellevue market this year. In July, the San Diego-based investment trust completed another all-cash transaction, the $125 million purchase of Eastgate Office Park from Kennedy Wilson. That multi-tenant campus is also stabilized, with an occupancy rate of 95 percent at the time and holding a weighted average lease term of approximately 3 years.
According to Newmark research, the 520 Corridor submarket currently has a direct vacancy rate of 6.5 percent, with rental rates growing by about 20 percent over the last 10 quarters, driven by the migration of technology tenants.