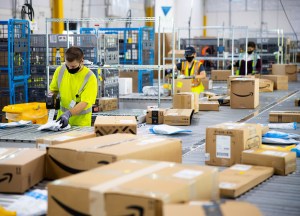 As e-commerce giant Amazon continues its expansion across America, the Seattle-based company announced plans to open more than 100 buildings in September alone. The company has already opened more than 250 new fulfillment centers, sortation centers, regional air hubs and delivery stations since January.
---
READ ALSO: Amazon Plans $200M Florida Robotics Facility
---
Five of those properties opened Sept. 1, when Amazon said it had added two delivery stations in Maryland, including its first in Baltimore, and two more in Virginia's Hampton Roads area, along with a career center for hiring and orientation, also in Hampton Roads. The company now has 15 delivery stations in Maryland and Virginia. One of the Hampton Roads facilities is in a former Kmart store, according to Hampton Mayor Donnie Turk, who said in prepared remarks the redeveloped store will now serve a new generation of online shoppers.
Delivery stations are part of Amazon's last-mile order process and speed up deliveries for customers. Packages are shipped to the delivery stations from neighboring Amazon fulfillment and sortation centers and then loaded into trucks for delivery. In all, the four new delivery stations total more than 500,000 square feet. The 72,000-square-foot facility at 2100 Van Deman St. in Baltimore is the first delivery station in Baltimore city. The 194,000-square-foot facility at 7226 Preston Gateway Drive in Hanover, Md., is the third delivery station in Hanover. The Hampton Roads delivery stations are a 165,000-square-foot property at 1400 Sewells Point Road in Norfolk, Va., and a 111,600-square-foot facility at 223 W. Mercury Blvd, in Hampton, Va. The career center is located at 1989 S. Military Highway and will serve as a hiring and orientation hub.
Pandemic spurs hiring
The Virginia and Maryland openings come as Amazon announces plans to hire 125,000 employees in hundreds of communities across the U.S. The jobs include full-time and part-time positions and are in addition to the 40,000 corporate and technology jobs the company is seeking to fill.
Amazon has hired more than 450,000 people in the U.S. since the start of the pandemic as e-commerce sales soared. As it readied for its annual Career Day today, a virtual recruiting event, Amazon listed 18 states with the most positions to fill: Arizona, California, Colorado, Florida, Georgia, Illinois, Indiana, Kentucky, Maryland, Michigan, New Jersey, New York, North Carolina, Ohio, Pennsylvania, Tennessee, Texas and Washington.
About 6,600 jobs of those jobs will be filled at seven fulfillment centers slated to open across Tennessee by the end of the year. The news comes less than two weeks after launching its aircraft cargo service at Nashville International Airport. Amazon is also building an operations center in Nashville, announced as part of its HQ2 search that ended with Arlington, Va., getting the much-sought-after second headquarters, while Music City got a smaller consolation prize.
In Arizona, Amazon said it is providing an additional 7,500 employment opportunities throughout the state in addition to the 40,000 corporate and technology jobs previously announced. So far this year, Amazon has opened new fulfillment and sortation centers as well as delivery stations in Arizona and will continue to grow its operating presence in the state.
Amazon said it plans to hire 4,800 workers in the Philadelphia region as it adds five new warehouses this year. The properties will be at: 1103-1113 Ridge Pike in Conshohocken, Pa.; 53 W. Germantown Pike, East Norriton, Pa.; 2900 Grant Ave., 700 Ramona Ave. and 6901 Elmwood Ave., all in Philadelphia. The company is looking to add nearly 1,200 new hires in Pittsburgh for jobs at its operations facilities.
Texas, where Amazon has had a huge and growing presence for more than a decade, will see about 11,000 new positions for the North Texas fulfillment centers and delivery services in the Dallas, Fort Worth and Coppell areas, and a total of 17,000 statewide. In March, Amazon said it would build its first fulfillment center in Amarillo, Texas. The facility will have 1 million square feet of space and be built on a nearly 110-acre site at the intersection of N.E. 24th Avenue and Loop 335.