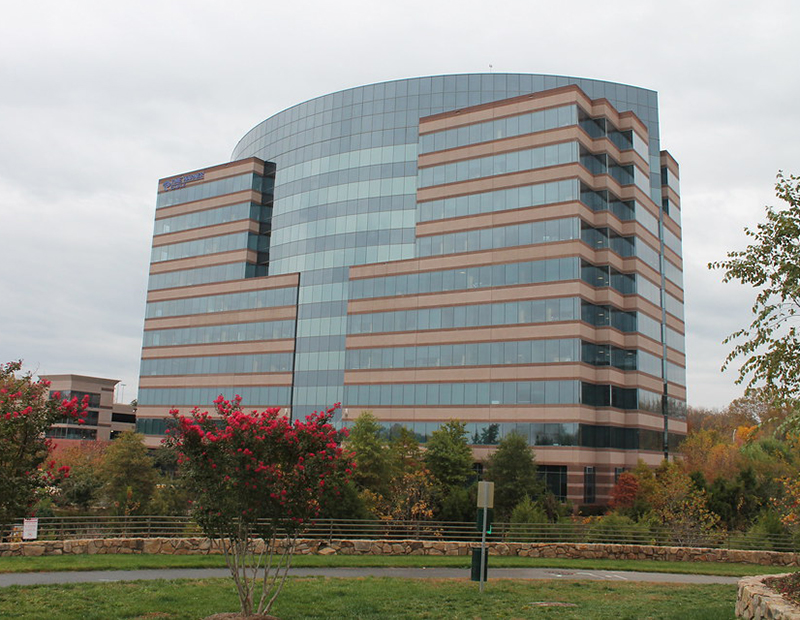 Amazon's cloud computing business will occupy an entire office building measuring nearly 270,000 square feet in Northern Virginia, roughly 21 miles west of the company's planned second headquarters campus in Arlington.
Amazon Web Services (AWS) inked a 268,240-square-foot lease at 13820 Sunrise Valley Drive in the town of Herndon last quarter, according to a market report by Colliers International. This week, the building's owner, Griffin Capital Essential Asset REIT, announced that a Fortune 100 company had leased the space at the 10-story property, but did not identify the company.
The REIT stated that the 12-year lease is expected to commence in April 2020 following renovation of the building's common areas and completion of the new tenant's premises. The REIT's corporate website names Amazon.com Services LLC in connection with the same property. A representative of Griffin Capital Co., the REIT's sponsor, declined to comment. Amazon did not respond to an inquiry from Commercial Property Executive.
The information comes as Seattle-based Amazon moves ahead with plans for its HQ2 campus in Arlington, Va., where the e-commerce firm has partnered with JBG Smith to develop an office location that will eventually house 25,000 employees just outside of downtown Washington, D.C.
Amazon Adds to 288 MSF Footprint
The AWS commitment in Herndon was the largest office lease in Northern Virginia during the second quarter, according to Colliers. The office block, known as South Lake at Dulles Corner, is adjacent to the Washington Dulles International Airport and offers quick access to Route 267. Built in 2007, the property was acquired by Griffin Capital Essential Asset REIT as part of a portfolio deal in 2015.
The building was previously occupied by Time Warner Cable Southeast, which consolidated elsewhere last year after its parent firm was acquired by Charter Communications. The prior tenant bought out its remaining lease term, enabling the REIT to kick off improvements immediately, according to a statement.
The $4.7 billion REIT also hosts Amazon as an industrial tenant. The online retailer fully occupies an 856,300-square-foot distribution warehouse in Pataskala, Ohio, that the REIT purchased in 2016 for about $90 million.
Amazon, the second-largest employer in the U.S., has a global real estate footprint spanning 288 million square feet of offices, warehouses, data centers and retail stores, two-thirds of which is located in the U.S., according to an annual filing made in February.