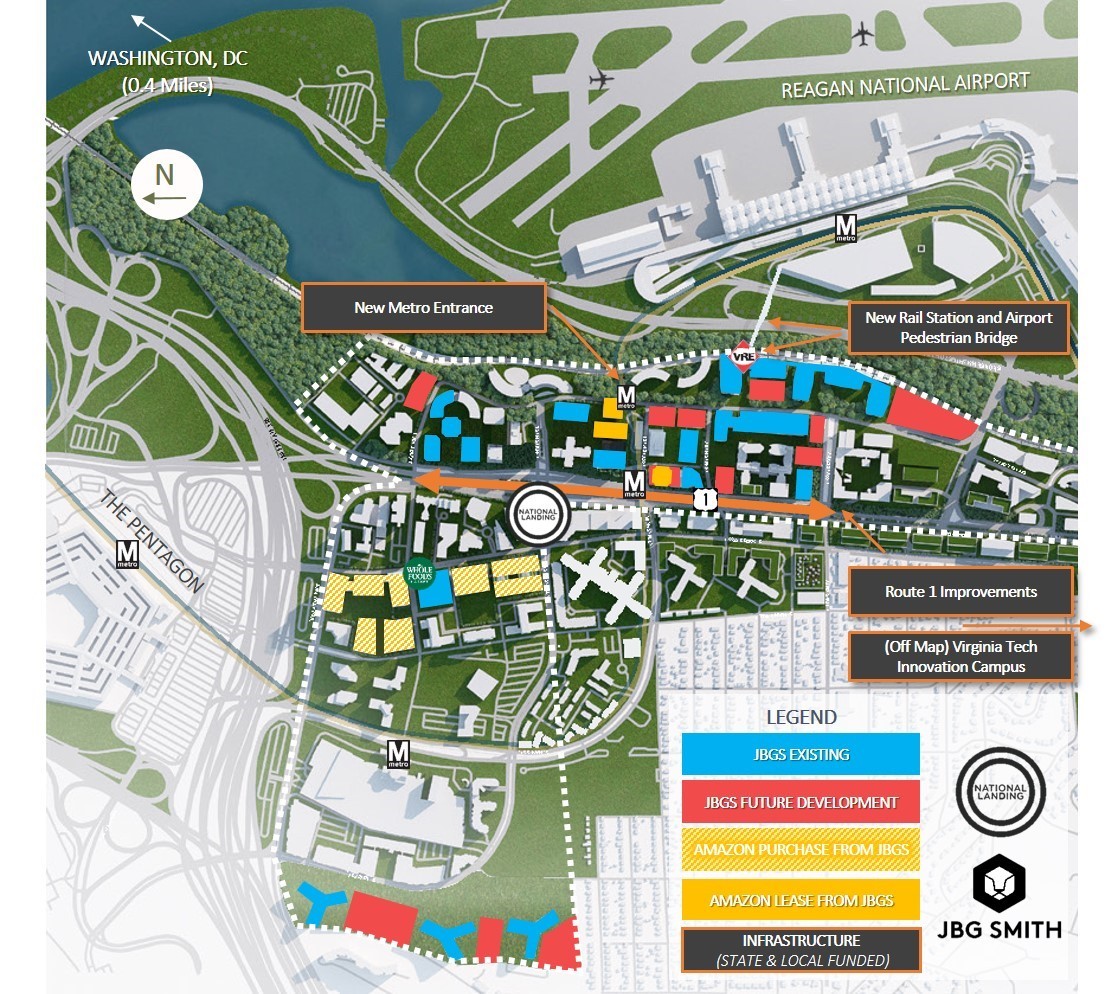 Amazon has made another move in the creation of its second headquarters at National Landing in Northern Virginia with the signing of a lease for 45,500 square feet of office space at 2345 Crystal Drive in Arlington. Amazon signed the lease with JBG Smith, its chosen partner in the housing and creation of what will ultimately be the e-commerce giant's approximately $2.5 billion home base.
The 11-story office and retail tower at 2345 Crystal, which first opened its doors in 1988, is part of JBG's 6.2 million-square-foot collection of existing office buildings in National Landing, a newly defined interconnected and walkable neighborhood just outside Washington, D.C. Amazon's new lease at 2345 Crystal follows three previously announced lease agreements with JBG for a total of approximately 537,000 square feet of office space at space at 241 18th St., 1800 S. Bell St. and 1770 Crystal Drive.
"The decision to increase their footprint right on Crystal Drive also further validates our repositioning of the retail main street in the submarket," Matt Kelly, CEO of JBG SMITH, said in a prepared statement. "We are creating an environment with strong appeal to a wide variety of commercial and residential tenants. Amazon is scheduled to begin setting up shop at 2346 Crystal within the next few months."
THE EVOLUTION OF HQ2
Leased office space will be just part of the equation at Amazon's new National Landing headquarters. The company's arrangement with JBG includes the construction of approximately 4.1 million square feet of new office accommodations. JBG has already completed the purchase and sale agreements for two development sites—Pen Place and Met 6, 7 and 8—where the developer will kick off the first stage of the new construction segment of HQ2.
JBG is spearheading the coming of Amazon to National Landing in a public-private partnership with Arlington County and the Commonwealth of Virginia. The impact of the endeavor will be far-reaching.
"We believe that Amazon's presence, combined with the recently enacted infrastructure and education spending that accompanies its move, will change the center of gravity of the entire Washington Metro market in the years to come," Kelly wrote to shareholders in the company's 2018 Annual report.