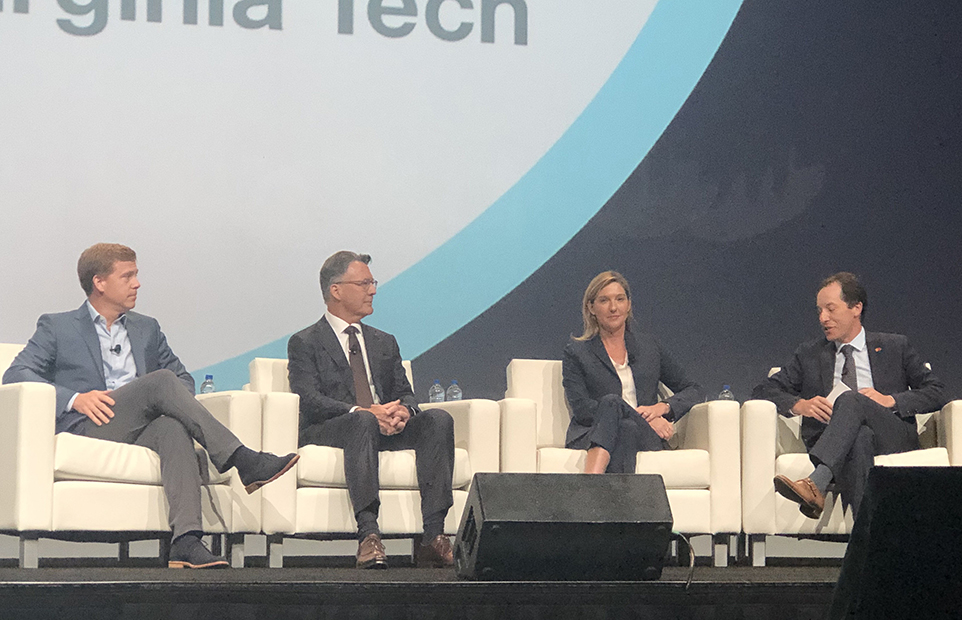 ULI's fall meeting in Washington, D.C., kicked off yesterday with the key players in the region's—and really the nation's—biggest real estate story of the past year. JBG Smith CEO Matt Kelly was joined by Amazon's Holly Sullivan and Virginia Tech president Tim Sands to share how they are breathing new life into the Crystal City business district and creating a tech corrridor that will benefit the entire Washington, D.C. metropolitan area.
"The buildings weren't immediately meeting our criteria right then, but understanding JBG Smith's vision for that area, then the wheels started to turn," said Sullivan, director of World Wide Economic Development for Amazon.
In addition to JBG Smith's creativity, Smith said, the company was also drawn to the availability of 500,000 square feet to meet their immediate needs—employees did not have to relocate, the neighboring development site, the aesthetic of being near Washington and the ability to recruit talent.
"We had a pretty simpatico vision of what needed to be done and we created confidence that we could do what it takes because we've done it before," said Kelly.
All Together Now
Sullivan also noted that regional cooperation was critical for HQ2 at National Landing to come to fruition and was emphasized in the RFP. "Our employees will be living in those jurisdictions and be part of those communities. It's so important we continue that regional conversation," said Sullivan.
While Arlington and Alexandria had submitted a joint bid, Kelly said, they and other communities in the region came together in an unprecedented and exemplary way to support Amazon coming to the region.
"Through the work of the Greater Washington Partnership in coordinating this to pull it off, the cooperation around the Metro Funding Agreement was mission critical because the last thing anybody in the region wanted was for Washington Metro to stumble right during the summer while Amazon was touring and making these decisions and have egg on our faces because that didn't come together," he said.
The Greater Washington Partnership, Sands noted, also pulled together the higher ed presidents of Maryland, D.C., and Virginia (Virginia Tech has committed $1 billion commitment to create a new innovation campus near Amazon's new location) and the presidents wrote a letter to Amazon stating "a win" for any of those three jurisdictions was "a win" for everyone. "That was a transformational moment for us," said Sands.