August 5, 2010
By Barbra Murray, Contributing Editor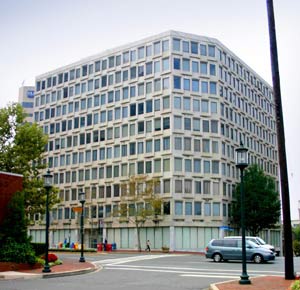 Commercial real estate developer Akridge, joining forces with real estate investment company Rockwood Capital L.L.C., took to the computer to get its hands on the shuttered federal office building at 7550 Wisconsin Ave. in Bethesda, Maryland. Akridge emerged victorious in an online government auction, walking away with possession of the 120,000-square-foot property for a cash sum of just $12.5 million.
Located on a third of an acre in Bethesda's central business district and within walking distance of the D.C. border, 7550 Wisconsin first opened its doors in 1964, but has sat vacant for the last eight years. The 10-story building, once home to offices of the National Institutes of Health, also features two levels of below-grade parking.
Now that Akridge and Rockwood have taken the property off the hands of the U.S. General Services Administration, the federal government's real estate division, the team plans to submit the building to a major upgrade in order to mold it into a Class A office facility. "We think there will be very high demand for the building," Lisa Steen, Vice President of Marketing with Akridge, told CPE. "It's in a great area, it's very commuter friendly and it's in the heart of a thriving business district. There aren't a lot of office properties that will come to the market in the next few years, so as the government and businesses grow, more office space will be eaten up."
The renovation endeavor will not only take 7550 Wisconsin to a higher classification level, it will also take it to a greener level. The property will emerge from the two- to three-year process with LEED certification.
Real estate services firm Jones Lang LaSalle worked with GSA to market 7550 Wisconsin for the auction, which went two rounds. GSA's disposition of the asset hardly puts a dent in its portfolio. Despite its surplus property disposal program, the federal government still holds the title of the single largest owner of real property in the U.S. The 7550 Wisconsin transaction is on track to close in September.