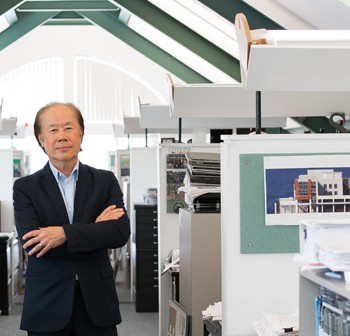 Mahwah, N.J.— The American Institute of Architects – New Jersey recently announced Ben Lee, AIA, as the organization's 2017 president. Lee, a resident of Wayne, will be formally installed during AIA-NJ's annual awards gala, which will be held on Jan. 14 at the Sheraton in Mahwah, N.J. Lee has been an active board member of AIA-NJ for the past five years, serving as president elect in 2016, first vice president in 2015, and treasurer in 2014.
As president of AIA-NJ, Lee's objective for the year is to make architects more aware of how the design of the built environment can impact health and wellness, in addition to the other strategic initiatives of AIA New Jersey. Under his direction, AIA-NJ will work with the New Jersey State Legislature and will implement a government and public awareness advocacy campaign to enhance the well-being of individuals across the state through the design process.
"As architects, we are best positioned to improve the population's health through our design for housing, schools, offices and commercial buildings," Lee said in a statement. "By developing physical space that promotes walking, biking, parks and recreation and public gathering, we are creating a healthier and more livable community."
With more than 35 years of experience in architecture, Lee is managing principal and chief financial officer of Morristown-based NK Architects, a national architectural, structural engineering, planning and interior design firm. A board-certified health care architect, he has applied his design and management skills to advance NK's Healthcare Design Group.
Lee is also a member of several other professional groups such as the American Society of Hospital Engineers, the American Hospital Association, the Healthcare Facilities Management Society of New Jersey and the USGBC. He is a LEED accredited professional and a member of the New Jersey Chapter of the American Planning Association.
Image via NK Architects Inc.