Sandy's Lessons Change the Development Playbook
By Paul Rosta, Senior Editor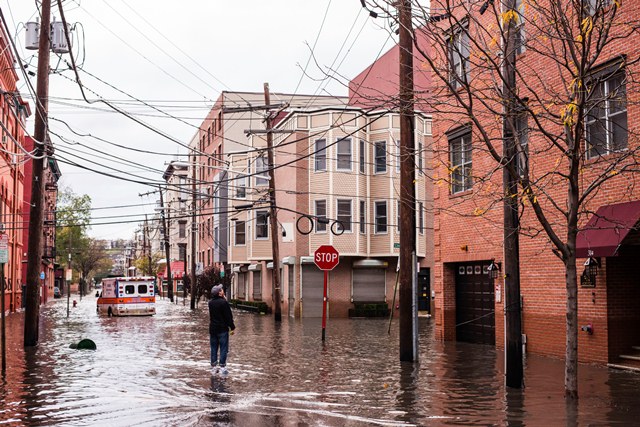 In New Jersey, New York and Connecticut, train schedules are grad returning to normal, power has been restored to much of the area and most of the population is back at work and school. That appearance of normality is deceiving, however. When the massive storm known as Sandy touched down on the evening of Monday, Oct. 29, it launched the most destructive natural disaster in the region's history, an event from which some areas will not completely recover for many years, if ever. It also ushered in a new era for coastal development in the nation's most densely populated area. When Sandy damaged or destroyed thousands of structures, flooded transit tunnels and washed away roads, it provided a sobering reminder that the built environment functions all of a piece.
In the wake of the storm, observers immediately started speculating about the best ways to ward off events that take such a devastating human and economic toll. Generating large-scale change of any kind is always a difficult proposition, fraught with emotion, yet observers representing a broad cross-section of perspectives agree that Sandy was a game-changing event. "There's no doubt that the real estate industry is really galvanized by this now," contends Rosemary Scanlon, dean of the Schack Institute of Real Estate at New York University. A number of provocative ideas are in circulation, ranging from cultivating natural barriers to cushion the blow of storm-driven waves to installing vast gates to protect low-lying areas of New York City's boroughs and tightening regulations for building along the New Jersey shoreline.
For teams overseeing the projects currently in the pipeline, Sandy provided a window into how they will perform during future events. In some cases, that unexpected test brought some welcome good news for even storm-battered areas. On Staten Island, N.Y., Triangle Equities is planning to renovate and repurpose five historic buildings for a new National Lighthouse Museum and 45,000 square feet of retail space. Elevation and other characteristics allowed the site to escape with no apparent long-term ill effects, reported Ben Wauford, principal & New York City office director of Cooper Carry, the project's architect. Such was also the case for a riverfront site in Hoboken, N.J., where KMS Development Partners is planning a 200-key limited-service hotel on a parcel that is occupied by post office facilities dating from the 1920s. To accommodate the project, a two-story annex will be demolished and its mechanical systems will be relocated to the topmost floor of the post office building, which will share the site with the new hotel. Sandy will not necessarily alter the project's design, which already accounts for flooding hazards: The first floor is 12 feet above sea level and one foot above the 100-year flood plain, as determined by Federal Emergency Management Agency guidelines.
Nevertheless, the flood offered some instructive results. "It provided a real-world assessment as to whether the FEMA guidelines were realistic or not," Wauford explained. "It provided a great baseline of understanding and testing of FEMA's 100-year flood elevation." Unlike the post office building, much of Hoboken was inundated by the Hudson River.
As is typically the case after a big natural disaster, Sandy started a flurry of proposals from government officials. New York and New Jersey officials are lobbying for tens of billions of dollars in federal aid for the reconstruction effort. President Obama requested $50 billion from Congress in early December. New York City, which sustained heavy blows to properties near the shoreline and to its transit system, is establishing a blue-ribbon panel to study the effects of the storm. Mayor Michael Bloomberg and City Council Speaker Christine Quinn enlisted Urban Green, the New York City affiliate of the U.S. Green Building Council, to organize the project. By next summer, the panel will present recommendations for protecting buildings and infrastructure from future storms.
Whatever actions may eventually emerge from these agencies, a fundamental question still looms for some areas. In the first days after the storm, President Obama and New Jersey's Gov. Chris Christie pledged to rebuild the state's battered shore. Their promise was intended to show determination in the face of disaster, but the actual prospects for rebuilding seem far less certain. As Urban Land Institute senior fellow Ed McMahon observed, "The first principle of better development on any scale … is figuring out where you should not develop."
For years, experts had warned that coastal areas of New York and New Jersey are vulnerable to violent hurricanes, despite the previous scarcity of recent examples. For decades, the popularity of coastal locations among homeowners continued to drive development, thanks in part to an excessively permissive attitude among elected officials and regulatory agencies, some critics charge. The image of homes in Seaside Park, N.J., half covered in mud, however, calls into question those laissez-faire development strategies for vulnerable areas. Broad guarantees that the National Flood Insurance Program will help rebuild communities an unlimited number of times may be in doubt. "People are going to start questioning whether we should continually rebuild," McMahon said. "How many times should the public be on the hook?"
Sandy's destruction throws such questions into high focus, but they are hardly new. McMahon cites Dauphin Island, which critics of the federal flood insurance program often point to as an example of wasteful government spending on construction in excessively risky locations. Situated among Alabama's barrier islands, Dauphin has only about 400 homes but has received about $80 million in federal aid for rebuilding during the past 30 years, plus federal flood insurance payouts.
As McMahon was reminded after Hurricane Katrina, the most prudent decisions about building may not always be popular with citizens or elected officials. Asked by then-mayor Ray Nagin to draw up a redevelopment plan for New Orleans, a ULI panel presented a wide-ranging strategy whose main points were largely well received. Only a few findings got a thumbs-down—notably, the panel's recommendation against rebuilding vulnerable East New Orleans.
Second Looks
Dozens of jurisdictions affected by the storm are likely to revisit their own regulations. "An examination of building codes is a good idea for the zone that FEMA calls the 100-year flood zone," said Patricia Lancaster-Brown, a former commissioner of the New York City Department of Buildings and a professor at the NYU Schack Institute. Lancaster-Brown, a trained architect who has also worked in development, added that the storm begs the question of whether buildings should be designed to a standard other than the current 100-year flood. "If I were the buildings department, I would want to know how high a storm surge to design for," she noted.
(For further discussion, read the Q&A with Lancaster-Brown and her NYU Schack Institute colleagues on commercialsearch.com/news.)
Five weeks after the storm, Bloomberg offered a framework for measures that may begin to address the concerns raised by his former buildings commissioner. "We are not going to leave the Rockaways or Coney Island or Staten Island's South Shore," Bloomberg declared at a Dec. 6 news conference. "But we can't just rebuild what was there and hope for the best." Noting that two-thirds of damaged homes are located outside FEMA's 100-year flood zone map, the mayor pledged to tighten flood control standards in the city's building codes. He also said that the city would propose raising the height limits for one- and two-story homes. That measure would allow homes to be built to higher elevations—a step that would presumably give more houses better odds of staying beyond the reach of floods.
Suggesting that he considers some of the ideas currently in circulation—like installing massive gates in New York Harbor—unrealistic, Bloomberg said that the city would launch a fast-track study of protective measures like natural vegetation that would slow rushing waters. Also on the mayor's agenda is an assessment of ways to harden telecommunications, power, gas and transportation systems, all of which were affected by the storm to some extent. As a step in that direction, Con Ed, the private electric utility, will initially spend $250 million to harden its systems, Bloomberg announced. He further promised to create incentives for owners to invest in co-generation, distributed energy, micro-grids and smart grids. That technology will help more businesses and institutions continue to operate in the wake of a disaster.
Industry leaders, too, are floating ideas. Sources say that local professional organizations may ask New York City to modify building code provisions related to the tanks that supply fuel to buildings' water pumps. Those tanks are typically located in a basement level because their contents are highly flammable. Allowing the equipment to be located on a higher level would prevent tanks from being disabled, as they were in scores of buildings. Proposals like those now being floated by Mayor Bloomberg and the industry suggest an approach to development that combines cautious optimism and realism. As Cooper Carry's Wauford puts it: "These issues can be resolved. You're going to continue to live with these events, but you don't have to continue to have this kind of catastrophic loss of property."
How and where to build commercial properties will understandably dominate the discussion among commercial real estate developers. It took little time for critics of specific projects in flood-prone areas to cite the storm as a reason to revisit or postpone projects. Soon after
he storm, for instance, opponents of a 700-unit, $257 million multi-family project in Brooklyn cited it as a reason for the project's developer, The Lightstone Group, to scuttle the project. The neighborhood's city council representative, Brad Lander, pointed out that the apartment complex is slated for a site that flooded during Sandy. Lightstone responded that it would continue to pursue the project. In a statement provided to the Village Voice, the company stated: "Based on the information that we have reviewed, we believe that had the Lightstone project been built and occupied during Hurricane Sandy, none of the residential or parking areas would have experienced flooding." Lightstone added that it would continue to review the complex's design and technology throughout development, as it would for any project.
Yet experts urge that development issues be considered in a broader context. The giant hotel and casino complexes that line the beach in Atlantic City, N.J., remained closed for several days after the storm but largely escaped major damage. That was good news for one of New Jersey's major economic engines, which drew some 30 million visitors in 2011 and generated $3.3 billion in gambling revenue. Nevertheless, the storm flooded about 75 percent of the city, including many of its low-income neighborhoods.
Atlantic City officials received withering criticism in the days after the storm for failing to ensure that residents evacuated; however, one longtime student of New Jersey coastal development detects a more fundamental issue at work. "When you think about commercial property, you also have to think about the people who work in the commercial properties," contends Ken Mitchell, a professor of geography at New Jersey's Rutgers University. "If you do a good job in the commercial properties but don't do a good job in the other parts, you may have problems."
A telling example of how commercial and environmental considerations can clash is found in a July 2009 statement issued by the Greater Atlantic City Chamber. In its comments, the association backs a proposal to reduce the height of sand dunes that are taller than the famous Atlantic City boardwalk. "Storm-driven waves would level the dunes in no time and render them virtually useless," the Chamber argues. "The real protection comes from the proper maintenance of the bulkheads: … specifically, making sure that sand does not pile up against them over time, thus forming a launching pad for waves."
Then the chamber sums up its case in words that frame the conflict now facing elected officials, regulatory agencies and the public they serve. "Atlantic City is under intense competitive pressure from other tourist and gaming destinations. We can ill afford to squander one of our most precious natural resources and attractions by obscuring the view of the ocean from the boardwalk. It is fundamental to the boardwalk experience and an asset that Atlantic City needs to maximize."
Bulkheads are indeed a recognized deterrent in Atlantic City. As long ago as 1996, the Corps of Engineers proposed a 1,600-foot-long bulkhead intended to prevent overflows from Absecon Inlet. Lack of funding and difficulty in obtaining easements stalled the project, which would have prevented or reduced flooding in much of the city. Plans for a 16-foot-tall, 1,100-foot-long bulkhead are now on the boards and funding is in place.
At the same time, dune restoration projects have also been credited with mitigating damage. In Atlantic City, an $18 million beach and dune replenishment project completed early in 2012 helped protect the city's resorts, which reopened only days after the storm.
Elsewhere, the varying experiences of communities during Sandy appear to confirm the value of canny dune management. In 2007, three towns on the South Shore of Long Island—Atlantic Beach, Lido Beach and Point Lookout—all gave their blessing to the Corps of Engineers' plan to build 15-foot-tall dunes. The nearby town of Long Beach said no, citing what it feared would be a detrimental effect on the beach's appearance and on surfing. As the New York Times reported, Long Beach now has ample reason to wish it had followed its neighbors' lead. While the three towns that supported the dune-building project weathered the storm with comparatively minor damage, Long Beach took a $200 million hit.
In the coming months, Sandy will generate a vigorous debate about development as the region searches for the way forward. The question is whether the action that follows will be adequate for the challenges posed by future weather events. Considering the typically short attention spans of the public and elected officials, it is likely that development professionals from all corners will bear much responsibility for keeping these issues front and center. As Rutgers' Mitchell put it: "There is a window of opportunity to do something better the next time around, but it doesn't stay open very long."