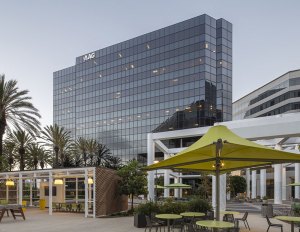 American Advisors Group has formally moved its corporate headquarters to an office complex in Irvine, Calif., scaling back its Orange County real estate footprint as the company pursues a hybrid work model.
The reverse mortgage lending firm transferred all of its operations from Orange, Calif., to Irvine Towers in the fourth quarter of last year, boosting its footprint in the property from 64,405 square feet to 87,898 square feet across four floors. AAG shifted its sales and marketing organizations to Irvine in 2018 and the latest move places the Corporate team alongside those departments.
---
READ ALSO: BH Properties Buys Orange County Office Campus
---
Located at 18200 Von Karman Ave., Irvine Towers is owned by Irvine Co., a real estate investment firm that acquired the 11-story, 226,521-square-foot asset in 2006, according to CommercialEdge. Americor and Robert Half International also have offices at the building, the companies' websites show.
AAG's presence at the property will now span the 3rd, 9th, 10th and 11th floors in 18200 in addition to Suite 120 in 18100. The company's space also includes a new reception area on the third floor and a first-floor acquisition suite within the 18200 building, plus additional office space in the neighboring 18100 building.
The firm had been previously based at 3800 W. Chapman Ave. in Orange, about 8 miles north of the new location, since 2011. AAG noted that the move reduces its overall office footprint in Orange County even as it continues to grow its nationwide headcount, currently at more than 1,500 employees.
AAG's CEO Reza Jahangiri said in a prepared statement that the company was reorienting its workforce around a hybrid model after taking most of its employees remote in 2020 and learning that many of them wanted to maintain flexibility. He added that the new headquarters location gives the company greater access to Orange County's talent pool.
Tenant demand for office space continued to decline in Orange County during the first quarter, according to a market report by Cushman & Wakefield, with leasing volume reaching the low total of 1.2 million square feet. Irvine stood out among the county's 30 submarkets, accounting for 14.2 percent of leased space—behind only Costa Mesa at 53.8 percent.