September 9, 2011
By Barbra Murray, Contributing Editor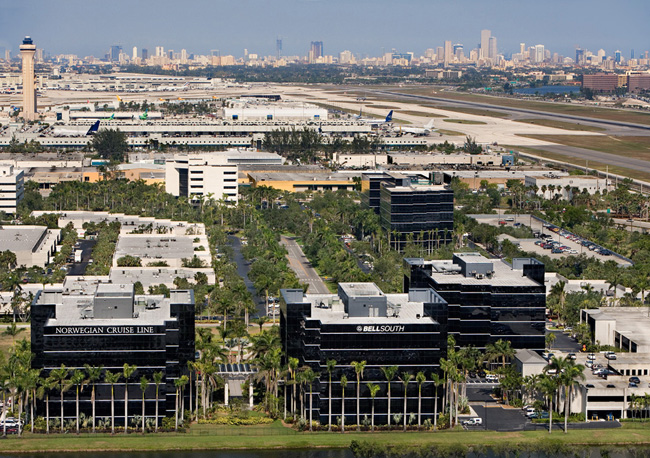 Acting on behalf of a subsidiary of Hines REIT, commercial real estate services firm HFF has orchestrated a $79 million deal for the refinancing of Airport Corporate Center, a 1 million-square-foot office portfolio in Miami.
Located just across from Miami International Airport, the 45-acre, 11-building office park at 7300 Corporate Center Dr. is comprised of six multi-story office structures, four single-story office/flex buildings and a single warehouse facility built between 1982 and 1996, as well as a fully entitled 5.5-acre development site. The Class A portfolio features a roster of credit worthy tenants, including Norwegian Cruise Line, South Florida Employment and United HealthCare Services.
Hines has owned Airport Corporate Center since 2006, when it acquired the property for $156.8 million.
It was both the quality of the portfolio as well as the borrower that convinced John Hancock Life Insurance Co. to provide Hines with financing, which came in the form of a 10-year, fixed-rate loan. "Lenders today have many choices on where to direct their capital, as such, providing thoroughly presented opportunities backed by top-rate sponsors with highly desirable real estate, ultimately leads to best-in-class results for both borrower and lender," Paul Stasaitis, a senior managing director with HFF, said.
Indeed, lenders have warmed up to the commercial real estate industry again in certain cases, and HFF has successfully orchestrated a number of financing packages for premier properties with premier sponsorship recently, including three sizeable deals in August. Among the transactions was a $315 million loan through Cornerstone Real Estate Advisers for the refinancing of 340 Madison Ave., a 750,000 square-foot Manhattan office tower owned by RXR Realty, Broadway Partners and USAA Real Estate Co. HFF also secured a $118 million refinancing loan provided by Wells Fargo Bank for Lowe Enterprises' Century Center I and II, a two-building office complex consisting of 626,000 square feet just outside of Washington, D.C., in Crystal City, Va. And, acting on behalf of institutional investors advised by J.P. Morgan Asset Management and Samuels & Associates, the firm arranged $230 million in acquisition financing through New York Life Insurance Co. and New York State Teachers Retirement System for the purchase of the 950,000-square-foot Landmark Center mixed-use complex in Boston.
Hines will utilize proceeds from the loan to replace financing that had been scheduled to mature in 2012. Back in March 2010, the REIT refinanced Airport Corporate Center's $77.9 million mortgage with Westdeutsche Immobilienbank AG with a new $65 million, two-year amortizing loan featuring a variable interest rate.