By Anca Gagiuc, Associate Editor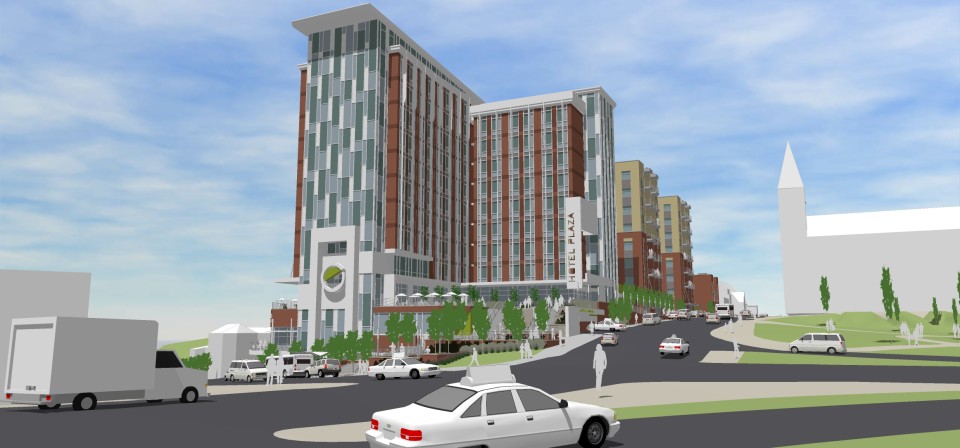 Cincinnati—M-G Securities, Nassau Investments and the Clifton Heights Community Urban Redevelopment Corp. are working on finalizing the development plans for a long-vacant street corner near the University of Cincinnati.
The approximately 2-acre site is located near the crossroads of the Clifton Heights, Mount Auburn and Corryville neighborhoods. The new development, dubbed Gateway to Uptown, will consist of a 195-key, extended-stay hotel positioned close to the University of Cincinnati and major medical institutions within the Uptown district; a residential component with more than 130 apartments catering to the 55 and older active adult community; and 17,000 square feet of street-level retail.
The 531,200-square-foot mixed-use development will also benefit from an underground parking garage with roughly 400 parking spaces. Additionally, Gateway to Uptown is designed to include an event center for 500 people. Amenities include rooftop spaces for residents and hotel guests, equipped with a rooftop bar. Furthermore, "We'll have what we call the 'Steps on Vine,' which will be Uptown's version of Fountain Square where people in the community will get to integrate with everyone," said Mike Ealy, CEO of Nassau Investments, in a prepared statement. The estimated cost for the project is $75 million.
The development is designed to achieve LEED Silver certification from the U.S. Green Building Council. Gateway to Uptown was awarded the request for proposal in January 2015 and the development team plans to break ground before the end of 2016. More than 200 permanent jobs are expected to be added to the neighborhood through the materialization of this project.
The development team includes Turner Construction Co., SMP Design, McGill Smith Punshon Inc., THP, Fosdick & Hilmer, Rixey Blum, Innova Engineering, TEC Engineering Inc., VT Design Solutions and WA Inc.
Rendering courtesy of SMP Design