December 1, 2011
By Jessica Fiur, News Editor, Multi-Housing News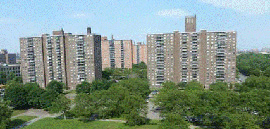 Global One Real Estate Fund, in conjunction with the New York Affordable Housing Preservation Fund, a joint venture between L+M Development Partners and Citibank, has bought Lafayette Boynton from AREA Property Partners for $51.5 million. The community includes four buildings, with 972 rent-stabilized units.
Though the Lafayette Boynton has been sold, its new owners pledge to continue AREA's efforts to provide long-term quality and viability of affordable housing in the Bronx. Global One plans to invest $14 million to improve the buildings' common areas, as well as to add green elements.
"From the beginning of AREA's ownership of Lafayette Boynton in 2006, we have focused on improving the property while maintaining affordability for tenants," James Simmons, III, Partner, AREA Property Partners, tells Multi-Housing News. "After executing our business plan, we selected Global One and its partners as purchasers because of their dedication to preserving affordability and our expectation that their planned capital investments will continue the work that we started and positively affect the surrounding neighborhood."
Some of the energy conservation initiatives include replacing and refurbishing windows, lobbies, entryways, elevators, grounds and hallways, which will hopefully cut energy consumption up to 35 percent.
"We are going to replace the windows with new condo-quality windows that are more than three times as energy efficient," Robert Nelson, principal of Global One, said in a press statement. "We are going to convert from oil heat to gas heat, which will decrease the carbon footprint of the property and improve air quality. Finally, we are going to carry out a number of smaller projects that will greatly improve heat distribution and monitoring."
Lafayette Boynton was originally purchased by AREA in 2006.