By Anna Spiewak, News Editor
Zeckendorf Development and Global Holdings held a sales launch event for 50 United Nations Plaza to unveil the views and prices of 88 condominiums across from the United Nations HQ, geared towards the luxurious client.
Brokers nibbled on passed hors d'oeuvres and sipped white wine and champagne as they walked around the sales office, located three blocks away from the actual location, which was set up to show some of the model rooms within the condos, including the living room, dining room, kitchen, master bathroom, second bathroom—with renderings on the walls that had art imitate life, such as views of the U.N. Secretariat building, the East River, the Chrysler building and the N.Y. skyline.
The price list for some of the units includes one-bedroom at 1.132 square feet with asking price of $2.2 million on the sixth floor and $2.6 million on the 14th. The two-bedroom units ranging from 1.132 to 1,636 square feet cost from $2.6 million to $4.6 million.  And the three-bedrooms ranging from 2,609 to 3,004 square feet, begin at $6.8 million and go up to $10.2 million. On the steeper end, the penthouse, which features an infinity edge pool and includes a stainless steel staircase, high ceilings and spaciousness for entertaining is priced at $100 million.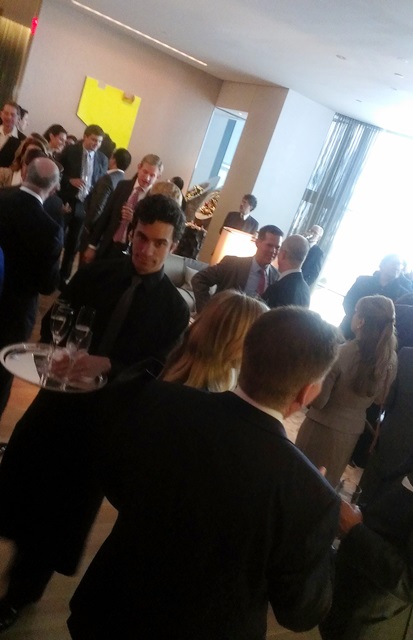 50 UN Plaza is the first residential tower in the U.S. designed by Foster + Partners. Located near Dag Hammarskjold Plaza at First Avenue and 46th Street, the project is scheduled to be completed in 2014.
The full-service buildings will be staffed with a 24-hour doorman, concierge, a live-n manager and staff of building porters. A private motor court and garden will lead to a discreet lobby and  a residents-only garage, which can be bought for $150,000 per space, according to the news release.
"With a location facing one of the most famous and important buildings in the world, 50 United nations Plaza will attract considerable interest from buyers who recognize there is no other opportunity in New York City to own a home created by one of today's great architects," Eyal Ofer, chairman of Global Holdings, one of the developers said in the release.