By Barbra Murray, Contributing Editor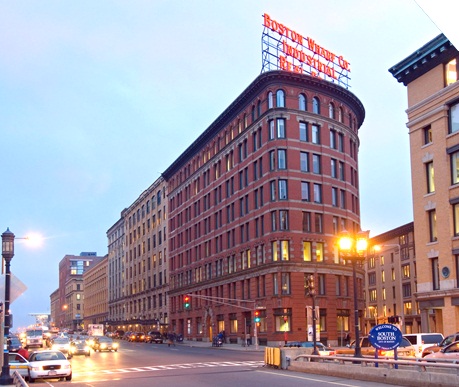 It's been a busy couple of quarters for office transactions in Boston's Seaport District and the change in ownership of the 407,500-square-foot Fort Point portfolio is among the latest. Clarion Partners L.L.C. purchased the group of six buildings from a joint venture consisting of Angelo, Gordon & Co. and National Development for $128.5 million.
The portfolio, which has a current occupancy level of 96 percent, was marketed by commercial real estate and capital markets services provider HFF on behalf of the seller. Included in the collection of office addresses are the 94,300-square-foot property at 33-41 Farnsworth St.; 34 and 44 Farnsworth St., featuring a respective 24,400 and 93,800 square feet; 332 and 374 Congress St., which offer 34,400 and 96,200 square feet, respectively; and the 64,200-square-foot 263 Summer St. All six of the one-time manufacturing and warehouse structures are of the brick-and-beam style that was popular during their development more than 100 years ago; a style that has now come to appeal to those tech and creative users that are flooding into the Seaport District or, as it is increasingly referred to, the Innovation District.
"These buildings have great bones and really lend themselves to today's tenants, which require open spaces, abundant infrastructure and collaborative work environments," Coleman Benedict, senior managing director with HFF, said in a prepared statement. "The Fort Point office submarket is one of the most dynamic in the country. With a long list of tenants searching for a limited amount of available space, it is sure to continue to be so for years to come."
Indeed, in Fort Point and other neighborhoods of the Seaport District, vacancies are on the decline and rental rates are on the rise. The submarket's 10.3 percent vacancy rate in the third quarter marked a noteworthy drop from the 13.3 percent figure in the third quarter of 2011, according to statistics from commercial real estate services firm Jones Lang LaSalle.  And the demand for space can certainly be seen in the price tags, even in the Class B segment of the market, where year over year overall asking rents jumped from $29.97 to $36.38.
The increasingly positive numbers are hardly lost on the Fort Point portfolio's new owner. As Gary Rufrano, a senior vice president with Clarion, said in a press release, the company plans to capitalize on the "significant opportunity to add value to the portfolio by capturing the growth in the Seaport and by bringing rents up to market levels."
It seems as though there's a beacon in the Seaport District that's attracting all players in the office sector.  They're buying it, they're building it and they're leasing it.
Among the recent acquisitions was DivcoWest Properties' $106.8 million purchase of Brickman Associates' 362,600-square-foot portfolio, and Skanska USA Commercial Development's $33 million purchase of Parcel L1 within the Seaport Square development, where the company will erect a 455,000-square-foot office tower.
Projects presently under development include AREA Property Partners and Commonwealth Ventures' 500,000-square-foot One Channel Center, for which HFF recently arranged a $170 million construction loan.  Leasing activity has also been brisk. In December alone, national law firm Goodwin Procter signed a letter of intent to relocate its home to 350,000 square feet of space in a build-to-suit commercial high-rise at the Fan Pier mixed-use waterfront development, and car-sharing network Zipcar Inc. announced that it will move its corporate headquarters from neighboring Cambridge, Mass., and park its business at 35 Thompson Place, occupying the 46,000-square-foot building in its entirety.