By Barbra Murray
A new equity partner has come aboard the $2 billion redevelopment of the Doubletree Suites Times Square Hotel property at 1568 Broadway in Manhattan. L&L Holding Co. just joined Maefield Development, Fortress Investment Group and the Nederlander Organization on the planned transformation of the site into a prominent mixed-use tourist destination.
The partners all have the same goal, which is, as Robert Lapidus, president & chief investment officer of L&L Holding Co., said in a prepared statement, "to produce an incredible new mecca for the arts, entertainment, cuisine and lodging in the heart of Times Square."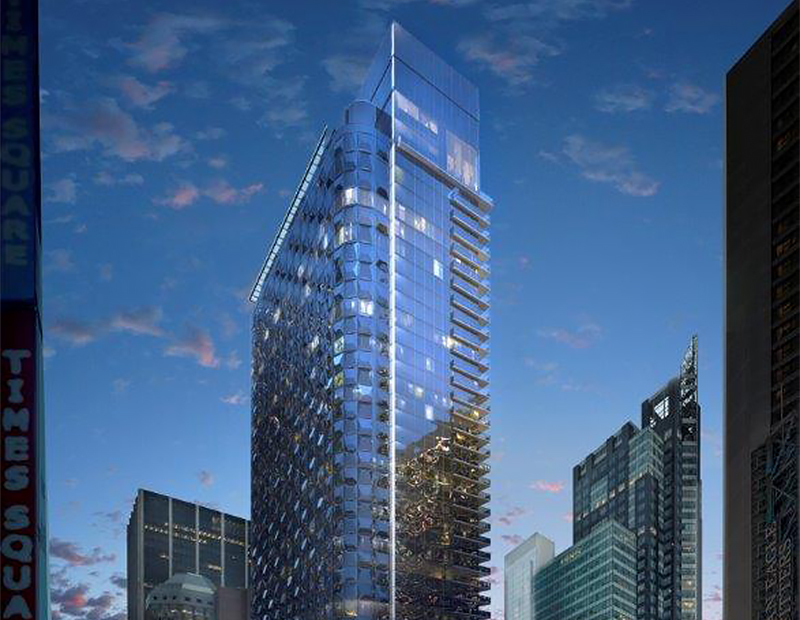 Although new to the 1568 Broadway project, L&L will be just as active as its partners, participating in planning and construction activities. The major groundwork for the undertaking, however, has already been completed. In late 2015, the partnership acquired the leasehold interest in the 468-key Doubletree hotel—including the land and all signage rights—snapping it up from Sunstone Hotel Investors for $540 million. The team has also secured $400 million in mortgage and mezzanine financing for the redevelopment, according to law firm Cadwalader, Wickersham & Taft LLP, which represented the lender.
When all is said and done, 1568 Broadway will be home to a 47-story, 500,000-square-foot tower featuring 107,000 square feet of retail, restaurant and entertainment offerings; a 700-key luxury hotel, and a 17,000-square-foot LED screen topped by a food and beverage terrace. There will also be something old at the mixed-use destination, as the historic Palace Theatre, built in 1913, will be submitted to a comprehensive restoration program and incorporated into the redevelopment. (Nederlander owns the theater and will continue ownership following the upgrade). 
The right credentials
1568 Broadway is not L&L's first time at the rodeo. The real estate investment company, operating primarily in Manhattan, is behind the development of 425 Park Ave., which will be the first full-block office property to sprout up on Park Ave. in half a century. The company is also redeveloping 390 Madison, transforming the outdated office building by demolishing 160,000 square feet and adding new floors at the top. And L&L recently completed a $50 million retail redevelopment project at the office tower at 195 Broadway, the former AT&T building.  
"The redevelopment of 1568 Broadway is a perfect match for L&L Holding's ability to tackle the most complex and intricate development projects and to do so in a way that creates enduring value for the residents and visitors of New York," Lapidus said.
Image courtesy of L&L Holding Co.