By Gail Kalinoski, Contributing Editor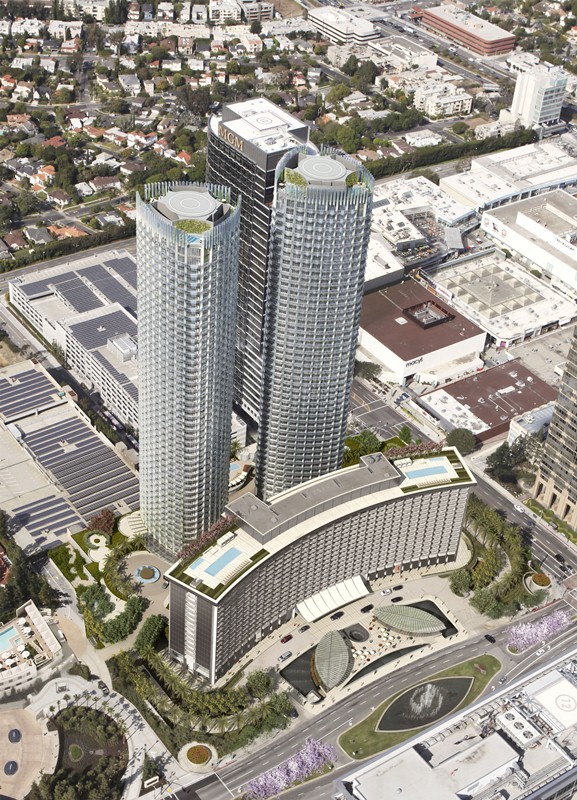 With the final approval of the Los Angeles City Council secured, Next Century Associates  is moving forward with its $2 billion plan to redevelop the historic Hyatt Regency Century Plaza Hotel and build two 46-story residential towers as part of a 1.5 million-square-foot mixed-use project.
Construction is expected to start in early 2014, according to Michael Rosenfield, CEO of Woodridge Capital Partners, which is teaming with funds managed by Oaktree Capital Management L.P. on the project. Rosenfield is also the managing partner of New Century Associates, which has been spearheading the development proposal since it acquired the hotel, previously known as the Century Plaza Hotel, in June 2008.
The City Council voted unanimously this week to accept the project's Environmental Impact Report and approve a 15-year development agreement for the six-acre site located at the intersection of Avenue of the Stars and Constellation Boulevard in Century City on L.A.'s Westside. In September, the city's Planning Commission signed off on the project.
With the restored hotel as its centerpiece, the project will also feature the two residential towers designed by renowned architects Pei Cobb Freed, a 100,000-square-foot retail plaza with shops and restaurants and over two acres of public open space with fountains and courtyards. The hotel, which opened in 1966 with its now iconic arc facade, has had many famous visitors, including presidents, royals and Hollywood celebrities. After its transformation, it will have 394 rooms and suites and 63 luxury residences.
The project will also connect to more than 10 million square feet of nearby office space, residences, restaurants and retail stores, including the Westfield Century City mall.  There is also a proposal for a Metro station for the future Westside subway.
"Our goal was to create a pedestrian friendly, transportation-oriented, sustainable mixed-use project that will serve the entire community, connect the elements of Century City and bring economic growth and jobs to Los Angeles," Rosenfield said in a statement.
The project is expected to generate more than 3,500 construction and permanent jobs and substantially increase sales and tax revenues to the city.
While embraced by various stakeholders now, the project was controversial when Next Century originally bought the hotel and property from Sunstone Hotel Investors in 2008 for $366.5 million. The partnership, which at that time included the D.E. Shaw Group rather than Oaktree, wanted to raze the 19-story hotel and build two towers, one with 130 luxury condominiums and the other with  a 240-room hotel and 163,000 residences. The project was also going to feature office and retail space along with restaurants, a spa and fitness center.
But opposition quickly grew against demolishing the Century Plaza Hotel with city officials, neighbors, preservationists and celebrities, including actress Diane Keaton, speaking out against that plan. In August, 2010, New Century Associates unveiled a new $1.5 billion development proposal that received support from previous opponents. The partnership worked closely with City Councilman Paul Koretz, who represents Century City; the Los Angeles Conservancy; the National Trust for Historic Preservation; neighboring homeowners associations; Century City stakeholders and organized labor to get input on the development proposal.
"The Oaktree real estate team is proud to be involved in an internationally significant development on the Westside of Los Angeles that has so thoroughly incorporated the contributions of a wide-ranging diversity of community stakeholders," John Brady, head of real estate at Oaktree Capital Management, said in a statement about the plan's approval.
Oaktree entered the partnership in 2011, replacing D.E. Shaw. Woodridge Capital and Oaktree, both based in Los Angeles, also own The Fairmont Hotel in San Francisco together. They paid $200 million for the iconic Nob Hill hotel in the spring when it was acquired from Maritz, Wolff & Co. They also acquired the Fairmont Orchid Resort on the Big Island of Hawaii together in November 2011.