September 28, 2011
By Nicholas Ziegler, News Editor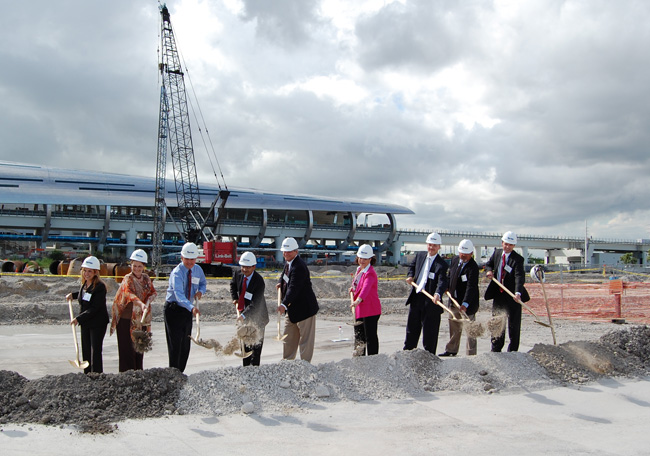 And Miami's $2 billion transit project is underway. Yesterday marked the groundbreaking of the 16.5 acre Miami Central Station, the central hub of the project that is slated to link South Florida's ground-transport system to the Miami International Airport.
On Thursday, officials from the Florida Department of Transportation jointed reps from Amtrak and Greyhound, as well as Miami-Dade Transit Metrorail and Metrobus, to kick off the new project. "The Miami Central Station will be a main transfer point between the rail and bus systems available for resident commuters and visitors to South Florida," Gus Prego, district secretary, said. "It will also feature an enhanced Tri-Rail station, connections to the Miami Rental Car Center, MIA Mover, Metrorail and Metrobus, Amtrak, Greyhound and courtesy shuttle services, as well as taxis and private vehicles."
The entire Miami Intermodal Center undertaking, classified as a major project by the federal government, is partially funded by two loans under the Transportation Infrastructure Finance and Innovation Act. One loan, for $269 million, was closed in 2000 and represented the first stage of the project. Currently, FDOT has spent more than $1 billion on the MIC.
The $147 million central station, when completed, will cover 16.5 acres and will serve in a capacity similar to New York City's Grand Central Station, connecting all types of transport in the Miami-Dade County area.
The increasingly busy Miami market has been in need of a consolidated transit system for some time. A study by the Centre for Asia Pacific Aviation placed the Miami International Airport at the top of a list for the percentage of U.S. international flights and second by volume of international passengers. And a report by Jones Lang LaSalle saw a 2.8 percent increase in retail asking rents going into the second quarter of 2011 — a rare bright spot in the nation's generally gloomy shopping landscape.