By Scott Baltic, Contributing Editor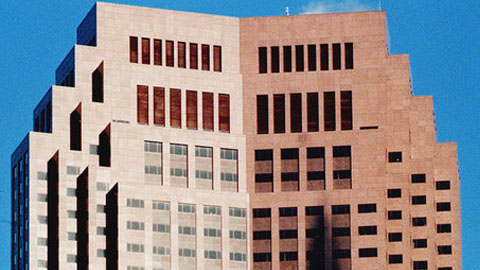 The $127 million refinance of Harbor Group International's 200 Public Square office tower in downtown Cleveland, announced last Friday, is both one of the larger recent CRE refis and an exemplar of the current refi trend. The existing CMBS financing on the 45-story, 1.3 million-square-foot class A building was refinanced with a new 10-year CMBS loan provided by JPMorgan Chase.
Meridian Capital Group L.L.C. arranged the financing. Aaron Birnbaum, executive vice president, and Ronnie Levine, managing director, both based at Meridian's New York City headquarters, negotiated the transaction.
The building was described as "well-leased," but a specific figure was not available. In addition, the parties to the transaction declined to provide further specifics about the financing.
The tower, completed in 1985, was known in past years as the BP Tower or the Sohio Building. Notable current tenants include the Cleveland office of the Benesch law firm; the international headquarters of Cliffs Natural Resources, a major player in iron ore mining and processing; and Huntington Bancshares, the nation's 24th-largest bank, which moved its Cleveland regional headquarters to the tower in mid-2011.
It's hard to quantify, but there has indeed been a recent surge in refis, Ben Thypin, director of market analysis for Real Capital Analytics, told Commercial Property Executive. "There are a lot of loans maturing," he said, typically five- and seven-year loans taken out during the active period before the recession.
Another factor in the increase, Thypin said, is the surfeit of money looking for a place to go. Particularly in markets like Manhattan, cap rates are so compressed (5 percent or less) that investors are often finding it preferable, given typical interest rates, to lend on commercial real estate rather than take an equity position. He specifically noted that CMBS conduits have been more active over roughly the past year.