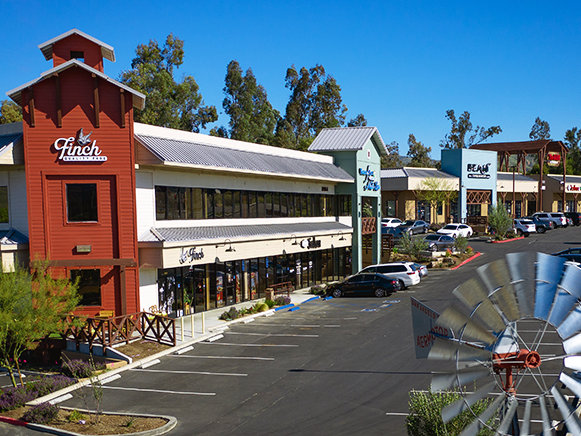 CBRE has arranged a multi-faceted deal that has left a 1031 exchange investor with two high-yield retail assets in Southern California's Inland Empire region. The brokerage company represented the Los Angeles-based buyer in the separate acquisitions valued at an aggregate $35.6 million. Located in Riverside County, Menifee Town Center and The Barn at Wildomar encompass approximately 157,800 square feet.
---
READ ALSO: Top 10 Industrial Completions in the Inland Empire
---
CBRE had its hands full with arranging the purchases of Town Center and The Barn, while simultaneously facilitating the disposition of the buyer's property in Hollywood. With all transactions completed, the client's new shopping centers will generate annual income six times that of its previously owned Hollywood asset. Location has everything to do with the massive discrepancy in yield.
"Investors buying in Greater L.A. are looking for safety or future development opportunities and are therefore satisfied with lower yields today. Investors buying in the Inland Empire are looking for higher returns here and now, and aren't as much looking for future potential," Fred Aframian, vice president with CBRE, told Commercial Property Executive.
Town Center, situated at 30121-30187 Antelope Road in Menifee, is a 124,400-square-foot, grocery-anchored asset with 2 acres of developable land. The property's location at the area's dominant retail intersection has translated into unswervingly high occupancy levels over the years—the shopping center was roughly 95 percent leased in June, with just 6,100 square feet available. The seller, Weingarten Realty, relied on Ramez Barsoum and Aaron Bettencourt of Reza Investment Group for representation in the sale transaction.
The CBRE client's other purchase, The Barn, is a 33,400-square-foot property carrying the address of 32395 Clinton Keith Road in Wildomar. Approximately 96 percent leased, The Barn has benefited from a comprehensive remodel that transformed it into a dynamic lifestyle neighborhood center. Lee & Associates' Mike Hanna and James Nadal represented the unidentified seller.
The Inland Empire evolution
The retail market in the Inland Empire has been faring well quarter after quarter. In the first three months of 2019, the region recorded positive net absorption totaling roughly 155,000 square feet, according to a report by CBRE. The vacancy rate, which has not exceeded 9 percent since the fourth quarter of 2016, dropped to 8.2 percent. The future bodes well for the market, too. Per the report, with an increasing population and a consistently high demand for retail accommodations, leasing is forecasted to remain strong through 2019 and lease rates will continue to rise.
With strong and steady fundamentals, the Inland Empire retail market continues to hold the investment community's attention. "The Inland Empire has been seeing phenomenal growth in the industrial sector, which is helping to drive jobs and therefor new housing and related services in this area. It has been developing into a true live-work-play market," Aframian said. "Therefore, the demand for prime retail assets continues to be strong if the asset is priced right, but less desirable properties might sit on the market longer. Pricing a property correctly is an important aspect of its salability."
---
If you'd like to be featured in Brokers' Corner, send your deal to deals@cpe-mhn.com.
---