10-Year Study Shows Green Building Strategies Pay Off—in Real Dollars
By James Gray-Donald, Vice President of Sustainability, Bentall Kennedy In the past five years there have been various studies which present evidence on the linkage between green building certification and financial performance. While the results of these studies are remarkably consistent; skepticism still exists among property owners and managers. The validity of these studies, which…
By James Gray-Donald, Vice President of Sustainability, Bentall Kennedy
In the past five years there have been various studies which present evidence on the linkage between green building certification and financial performance. While the results of these studies are remarkably consistent; skepticism still exists among property owners and managers. The validity of these studies, which have claimed to measure the financial benefit of green certified assets, has been questioned. A new study was designed to address this skepticism. The recently-published findings validate two key points. Firstly, making buildings more sustainable is a wise investment (it pays). Secondly, tenants care about certification (the badge matters).
Quantifying Green ROI
In partnership with its clients, Bentall Kennedy brought on board top global academics, sharing a deep data pool of nearly 300 office buildings, including 24 million square feet of Canadian properties and 34 million square feet of U.S. properties. The study shows the positive impact of green certification on commercial building performance, using tangible and intangible measures.
Tangible measures include rent and occupancy levels, both of which have been analyzed in the past based on a large set of available data. However, skeptics argued that green buildings tend to be newer and better managed than average buildings, which could account for the superior performance. Few if any studies have explored intangibles such as the cost of rent concessions, lease renewal rates and tenant satisfaction scores, because large-scale, consistent datasets for those metrics are hard to come by.
With a long-term commitment to energy and sustainability, Bentall Kennedy had over a decade of historical data on a range of energy and sustainability metrics as well as financial performance. In partnership with its institutional clients, Bentall Kennedy shared enough data with the research team to perform a sophisticated analysis of tangible and intangible measures across a portfolio totalling 58 million square feet—24 million square feet in Canada and 34 million square feet in the U.S.
Confirmed: Green Certification Makes a Difference
U.S.: LEED certified properties enjoy an average of 3.7 percent rent premium and a 4 percent gain in occupancy over comparable non-certified properties, while ENERGY STAR certified buildings averaged 2.7 percent higher rents and 9.5 percent higher occupancy than non-certified buildings.
Canada: LEED-certified properties saw 10.2 percent higher rental rates and 8.5 percent higher occupancy, while buildings with both LEED and BOMA BESt certification achieved 18.7 percent higher occupancy than the control group. BOMA BESt, a Canadian program that focuses on sustainable management and tenant engagement, was shown to be lighter on tangible benefits, but proved its value on intangible measures: 7 percent higher tenant satisfaction scores in Canadian buildings with BOMA BEST level 3 and 4 certification, and 5.6 percent higher lease renewal rates in BOMA BESt Level 3 properties. These metrics are significant because it costs far more to backfill vacated spaces than it does to keep tenants in place.
The findings and their application are powerful as they point directly to overall improved valuations for certified office assets relative to their non-certified competitors. If we assume that the study's U.S. and Canadian findings can be viewed on a combined basis, then a LEED and BOMA Best Level 3 certified North American office asset would enjoy, on average:
 3.7 percent higher rental rates,
 4.0 percent higher occupancy levels, and
 5.6 percent higher tenant renewal probabilities.
These improved metrics can translate into an 8 to 10 percent increase in asset value over an identical non certified office asset. To illustrate this point, consider the following hypothetical example and underlying assumptions for a commercial property asset held with a real estate investment portfolio: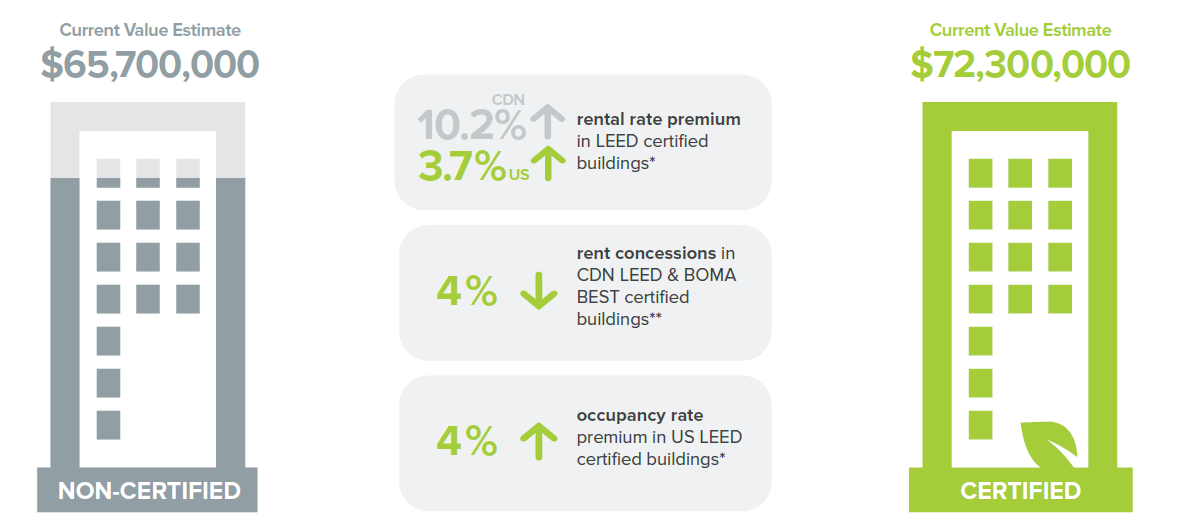 The credibility of the research gets a boost from the quality of its globally renowned academic authors: Dr. Nils Kok, associate professor of finance and real estate at Maastricht University in the Netherlands, and Dr. Avis Devine, assistant professor in real estate and housing at Guelph University in Canada.
Credible data is extremely important to real estate investors and their advisors. Decisions to buy, sell or commit capital to assets have to be based on solid numbers that show return. We can all agree that resource efficiency and sustainability are worthy goals. However, the findings of this study validate the financial case for prioritizing strategies that lead to green building certifications.
James Gray-Donald is Vice President of Sustainability at Bentall Kennedy, one of North America's largest real estate investment advisory companies.