By Gail Kalinoski, Contributing Editor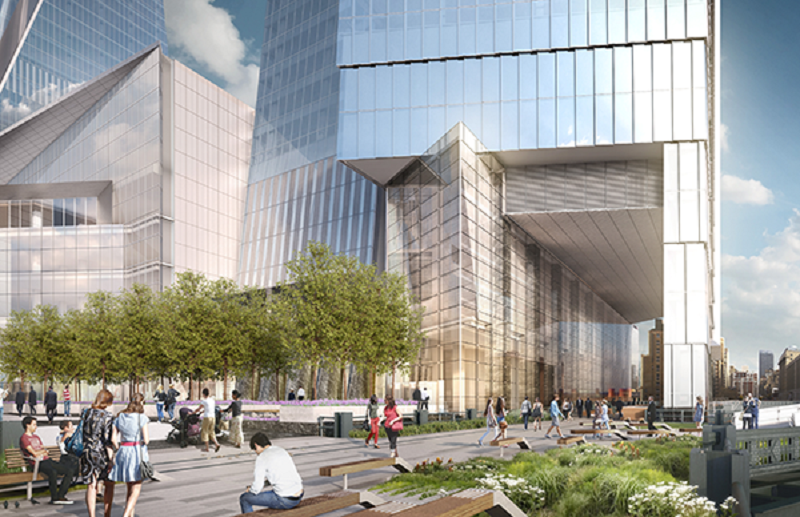 The first office tower in the $20 billion Hudson Yards development on Manhattan's Far West Side will open in the spring with a full roster of tenants, now that Intersection and Sidewalk Labs have taken the last big block of space in the 52-story skyscraper for their corporate headquarters.
Intersection, formed in 2015 from a merger of Control Group and Titan, and its lead investor, Sidewalk Labs, leased more than 67,000 square feet on the 26th and 27th floors of the 1.8 million-square-foot tower at 30th Street and 10th  Avenue. They join Coach Inc., L'Oreal USA, SAP, Boston Consulting Group and VaynerMedia at the tower, the first of three office buildings being constructed by Related Cos. and Oxford Properties Group. The 28-acre site will eventually include 17 million square feet of commercial and residential space, a park, cultural area, luxury hotel, fitness club and public school.
Intersection and Sidewalk Labs were represented in the lease transaction by Michael Laginestra, Rocco Laginestra, Chris Corrinet and Chris Hogan of CBRE. Related and Oxford were represented by Robert Alexander of CBRE and Stephen Winter of Related.
The urban innovation companies fit in with the tech-heavy tenant list at 10 Hudson Yards. As CPE previously reported, VaynerMedia, a social media-first digital agency signed on for 88,000 square feet in October. SAP, a leading enterprise software applications company, was one of the first tenants announced for the property.
For Sidewalk Labs CEO and Intersection Chairman Dan Doctoroff moving the corporate headquarters to Hudson Yards brings him full circle in his efforts to redevelop Manhattan's Far West Side. As deputy mayor in the Bloomberg administration, Doctoroff lobbied for a stadium to be built in the area as part of a bid to bring the 2012 Olympics to New York City. The Olympics went to London and the stadium was never built, but Doctoroff played an important role in rezoning the area where mega mixed-use projects like Hudson Yards and Brookfield Property's Manhattan West are now being developed, creating a new neighborhood and changing the city's skyline.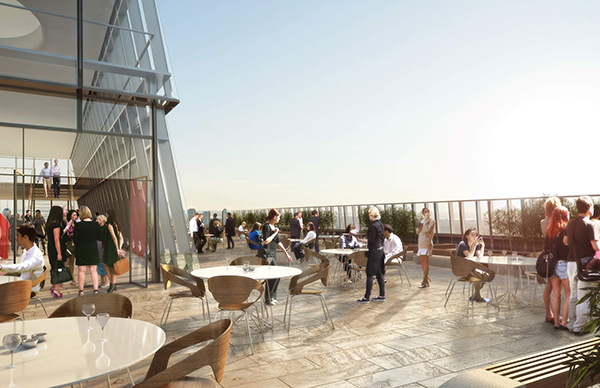 "Our focus is on using technology to improve life in cities," Doctoroff said of Sidewalk Labs and Intersection. "As a leading, data-driven, connected neighborhood, Hudson Yards is the perfect fit for us. 10 Hudson Yards is not only a technologically advanced home, but Hudson Yards more broadly will give us the opportunity to work with Related, visitors, residents and businesses there to explore how creative use of data and technology can make it an even greater place to work, visit and live. Moving here will also mark a milestone for me. The effort to turn this neighborhood into an engine of growth for New York City has been a personal mission for me for 20 years and it is very exciting to see that dream becoming a reality."
The lease marked a milestone for Related and Oxford: both 10 Hudson Yards and 30 Hudson Yards are fully committed. The only space left at 10 Hudson Yards is considered expansion space for tenants, a Related spokesperson told CPE. KKR & Co. LLP is buying the top 10 floors at 30 Hudson Yards. The 90-story, 2.6 million-square-foot skyscraper will also be home to Wells Fargo Securities and Time Warner, which will own 1.5 million square feet in the tower. Related and Oxford closed on over $5 billion in financing for 30 Hudson Yards, as well as the 1 million-square-foot Shops and Restaurants at Hudson Yards in December.
The third office tower, the 51-story, 1.3 million-square-foot 55 Hudson Yards, has already signed litigation powerhouse Boies, Schiller & Flexner as a tenant.
Foundation work is nearly done on the first residential building, the 70-story, 960,000-square-foot 15 Hudson Yards, which received $1.3 billion in financing in November to finance its construction. The site's 70-story, 1.1 million-square-foot mixed-used tower, 35 Hudson Yards, will have 137 for-sale residences, a 200-room Equinox luxury hotel, an Equinox fitness club and spa, office space and ground-floor retail.