Browse Spaces in San Francisco
The flexible workspace industry has been expanding its share of the office real estate market across the country. San Francisco, in particular, has long been home to an entrepreneurial environment that has given rise to some of the world's leading tech entrepreneurs, creative minds, and a booming freelance community.
In fact, the city has one of the highest shares of coworking spaces per capita in the U.S. As such, it can be understandably daunting to find the best coworking space in San Francisco for your needs. Below, we put together a list of some of the highest-rated local coworking spaces to help you get started.
Address: One Sansome St., Suite 3500, San Francisco, CA 94104
If you're looking for coworking spaces in San Francisco that offer spacious office settings and a prestigious business address, Premier Workspaces is well-deserving of your consideration. Located in the heart of the city's Financial District, One Sansome invites members to the 41-story, LEED Platinum-certified CitiGroup tower at the intersection of Sutter and Sansome streets.
Facilities and services offered here include: unfurnished or fully furnished offices, as well as mini suites; conference and meeting rooms; virtual offices; on-site administrative or secretarial support; mail collection and distribution; and high-speed broadband internet.
One Sansome is also one of the few coworking spaces in San Francisco that offer 24-hour access, seven days a week. Membership options include short- and long-term office space rental agreements.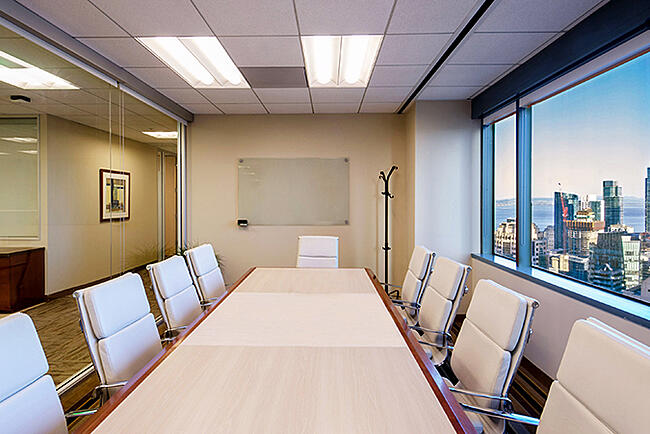 Address: 95 Third St., 2nd Floor, San Francisco, CA 94103
Spaces Mission & 3rd invites members to the luxury high-rise Paramount Building, just three blocks from both Union Square and the Financial District. Located in the exciting South of Market (SoMa) neighborhood, this coworking space is at the heart of a vibrant scene of startups, artists, retailers, museums and more.
Work areas include five meeting rooms, 18 dedicated desks and more than 80 private offices. Members have access to location perks, such as parking; fast Wi-Fi; a coffee and sandwich bar; breakout areas; and networking events.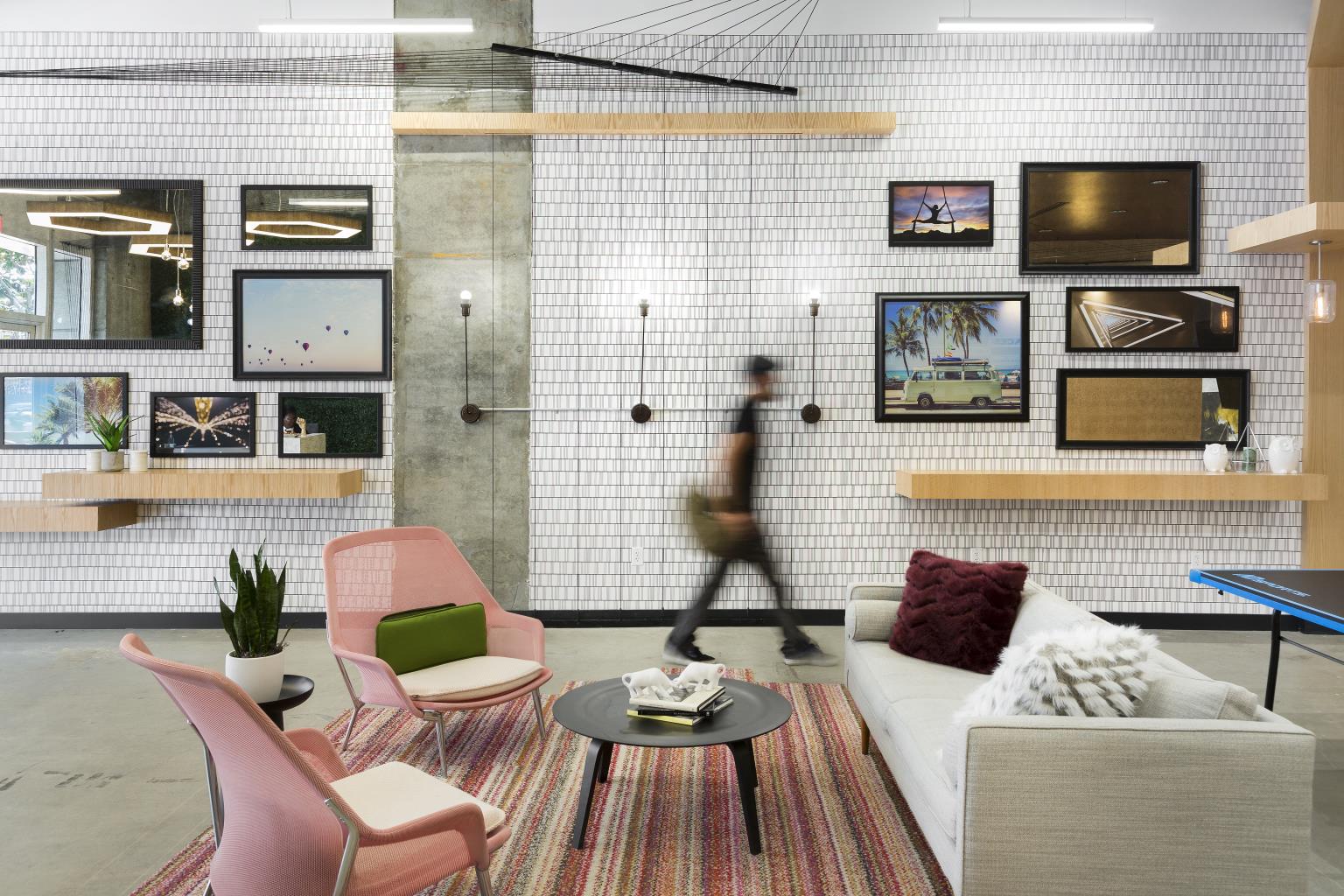 Address: 739 Bryant St., San Francisco, CA 94107
This San Francisco coworking space is a unique hub located in the heart of the SOMA neighborhood. Members here are offered quality space to think, experiment and collaborate. This makerspace was built on the idea that people can build wonderful things when they work together: All they need is a well-equipped space and the right community to turn their ideas into reality.
Membership options include weekday access; evenings and weekends access; dedicated desks; and private spaces, along with access to mail services, lockers, storage cabinets and meeting rooms. Shared also includes a "Toolshed" for members looking to create amazing things. A special workshop membership is also available for artists, craftsmen and designers.
Address: 1160 Battery St. E., Suite 100, San Francisco, CA 94111
With Fisherman's Wharf and the central business district right around the corner, Spaces Levi's Plaza offers one of the best locations for coworking space in San Francisco.
Designed to spark creativity and collaboration, Spaces offers small and growing businesses an ideal mix of private office spaces, flexible workspaces and meeting rooms. Members have access to parking; fast Wi-Fi; networking events; and a generous choice of workspaces, including 107 private offices, 25 dedicated desks, four meeting rooms, and a lush outdoor area.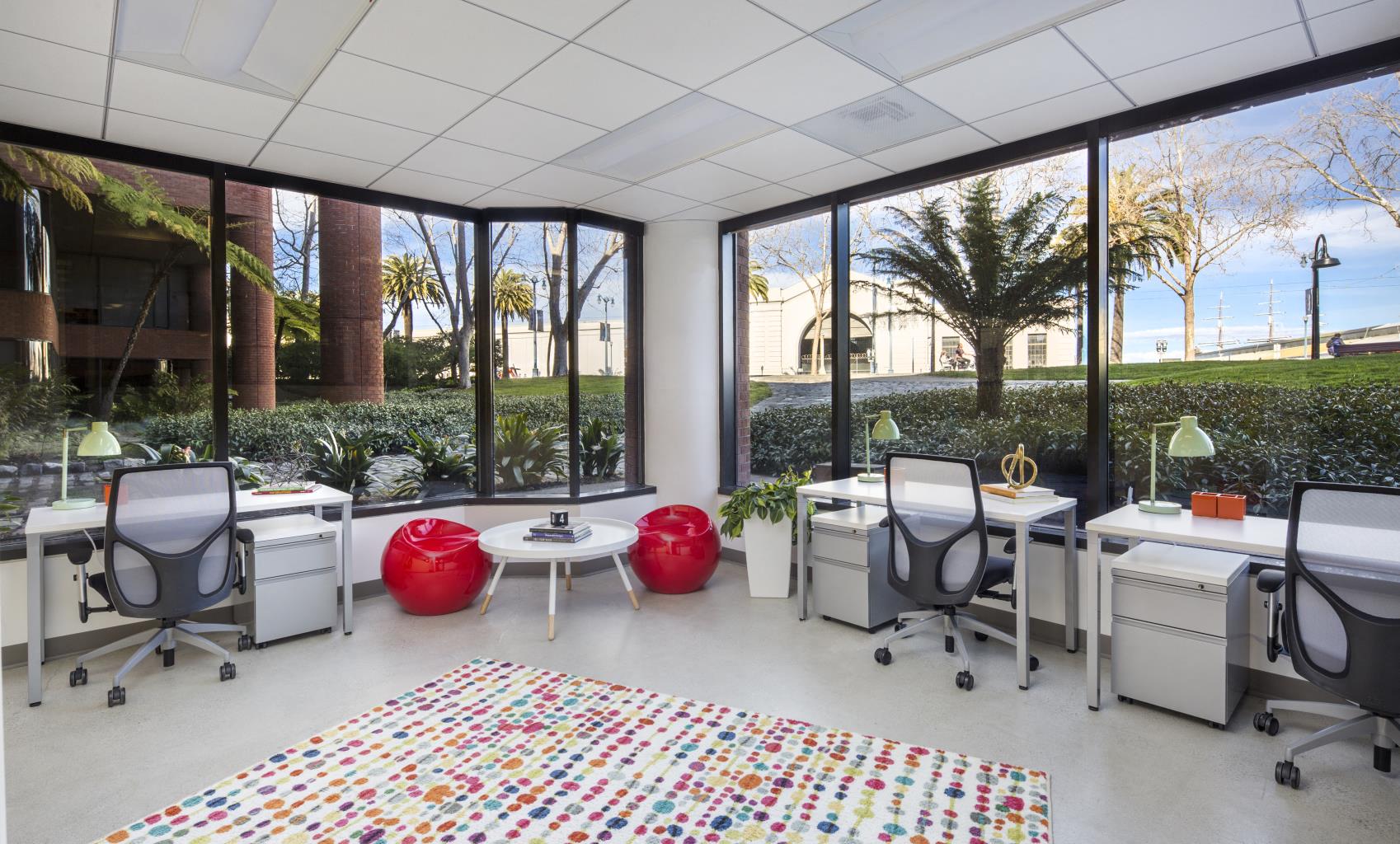 Address: 575 Market St., San Francisco, CA 94105
Located inside the Market Center Building at the confluence of SOMA and the Financial District, this San Francisco coworking space is just a stone's throw from Moscone Center, Union Center and the Ferry Building. Mind Space welcomes members with exceptional design and a layout intended to inspire you throughout the workday.
In addition to exceptional services and a vibrant professional community, Mind Space includes private offices, team suites, customizable spaces, open work areas, meeting rooms and event spaces. Membership options include hot desk day passes, day offices, and multi-day passes, as well as hybrid membership options. Members can also benefit from regularly organized in-house events that focus on wellness, lifestyle and professional development.
Address: 580 California St., 12th and 16th floors, San Francisco, CA 94104
One of the most experienced flexible office space providers in the world, Regus operates numerous coworking spaces in San Francisco. At 580 California St., Regus members enjoy sweeping views of the Bay, complete with the sound of bells from the iconic cable cars running just below.
Dedicated staff on-site offer exceptional support with administrative tasks, deliveries, client visits and appointments. Workspace options consist of four meeting rooms, 16 coworking desks and 110 private offices. Location perks include secure underground parking and 24-hour access, seven days a week.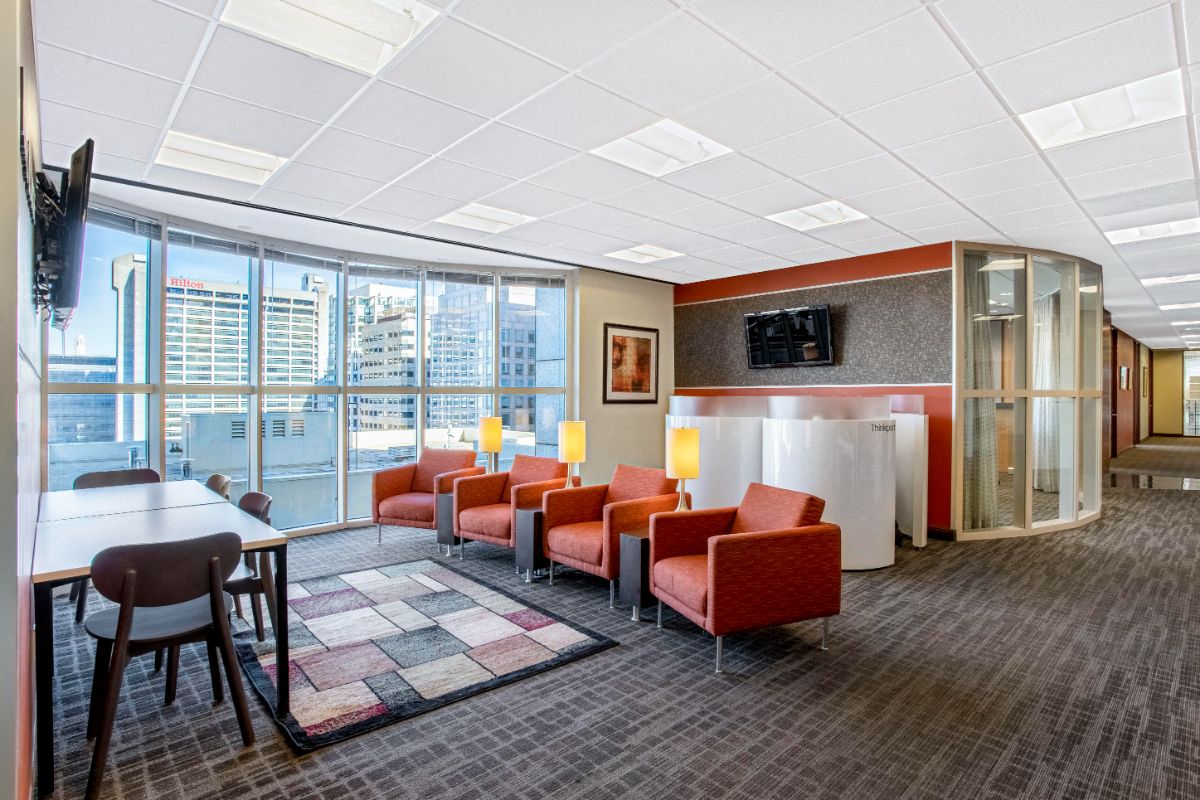 Address: 2193 Fillmore St., San Francisco, CA 94115
CANOPY offers fully equipped workspaces that benefit from ample natural light and incorporate sleek interior design. Members here enjoy full-time business support from a great in-house team. Amenities and perks also include HD video conferencing; super-fast internet; access to mail and printing services; tech support; VoIP desk phones; and discounts with selected partners.
Meanwhile, nomad membership packages are for professionals who are always on the go. The option provides access to a variety of coworking spaces for 60 days per year. Alternatively, you might consider a hybrid membership, which allows you 10 days each month at CANOPY. Otherwise, community desk memberships have 24/7 communal access, while private office suites and dedicated desks are set up in an exclusive space that only you or your team have access to whenever needed.
Address: 1390 Market St., Suite 200, San Francisco, CA 94102
Add your creative energy to this top-spec coworking space in a creative neighborhood. With neighbors like Twitter and Uber across the street — as well as many of the city's top law, tech and software firms nestled in the area — this San Francisco coworking space fits right in.
Mid Market coworking members are welcome from Monday through Friday and can choose among 28 coworking desks, 93 private offices and three meeting rooms. Amenities in the building include a fitness center overlooking the downtown skyline, secure underground parking, and a lounge.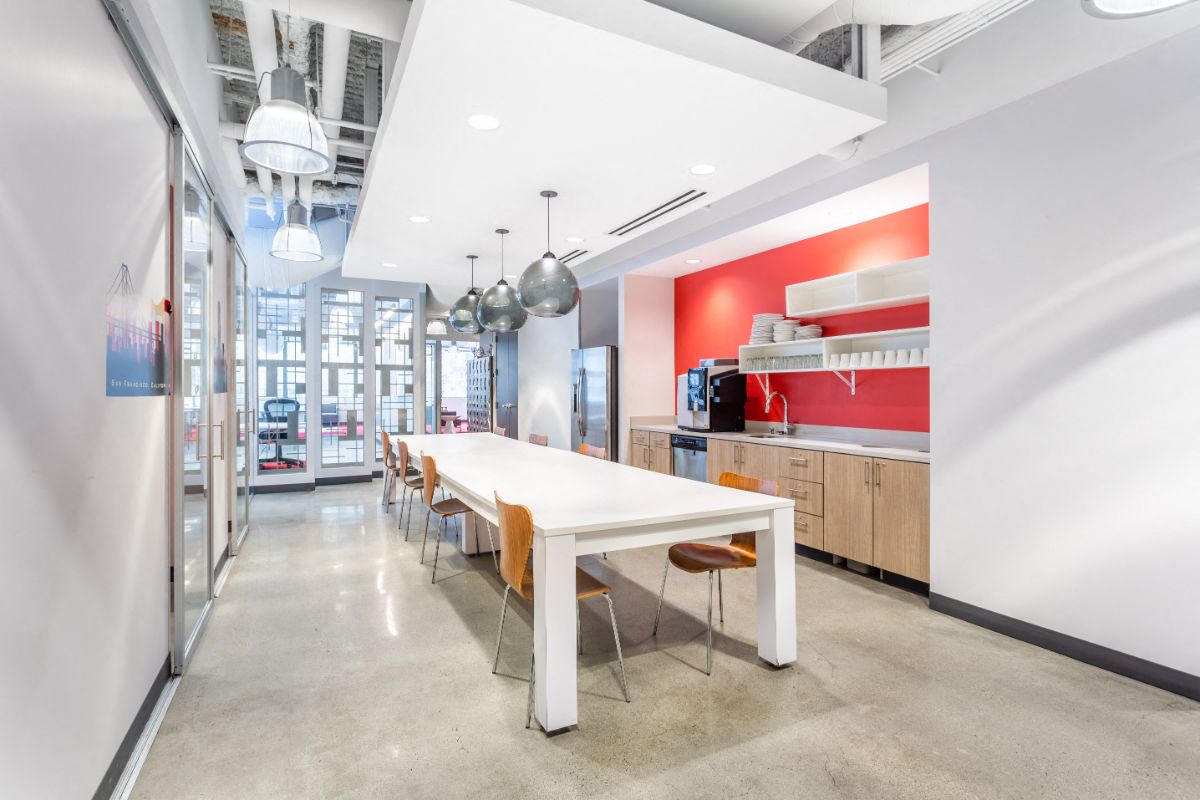 Address: 75 Broadway, Suite 202, San Francisco, CA 94111
If you're looking for campus-style coworking in San Francisco, the spaces at Golden Gate – 75 Broadway are well worth your consideration. The modern, well-furnished, and beautifully designed facility is located close to the waterfront and overlooks the relaxing greenery of Sydney Walton Park.
Remote workers at 75 Broadway have access to a cozy business lounge, 57 compact private offices, 20 quality coworking desk spaces and three meeting rooms. Before, after or during breaks from your work here, you can also enjoy a calming stroll along the promenade, as well as the nearby tri-weekly Ferry Plaza Farmers Market.
Address: 1161 Mission St., San Francisco, CA 94103
Merging the charm of former industrial architecture with fully renovated, eye-catching interior design, this San Francisco coworking space fills all five floors of a 1920s building located in the heart of Central Market.
Workspace options here include private offices, dedicated desks and open work areas. Amenities abound and include a ping-pong table in the first-floor lounge, breakout rooms, and one of the largest common areas in the city.
This dog-friendly coworking space is also located near excellent dining, as well as highly convenient public transit options.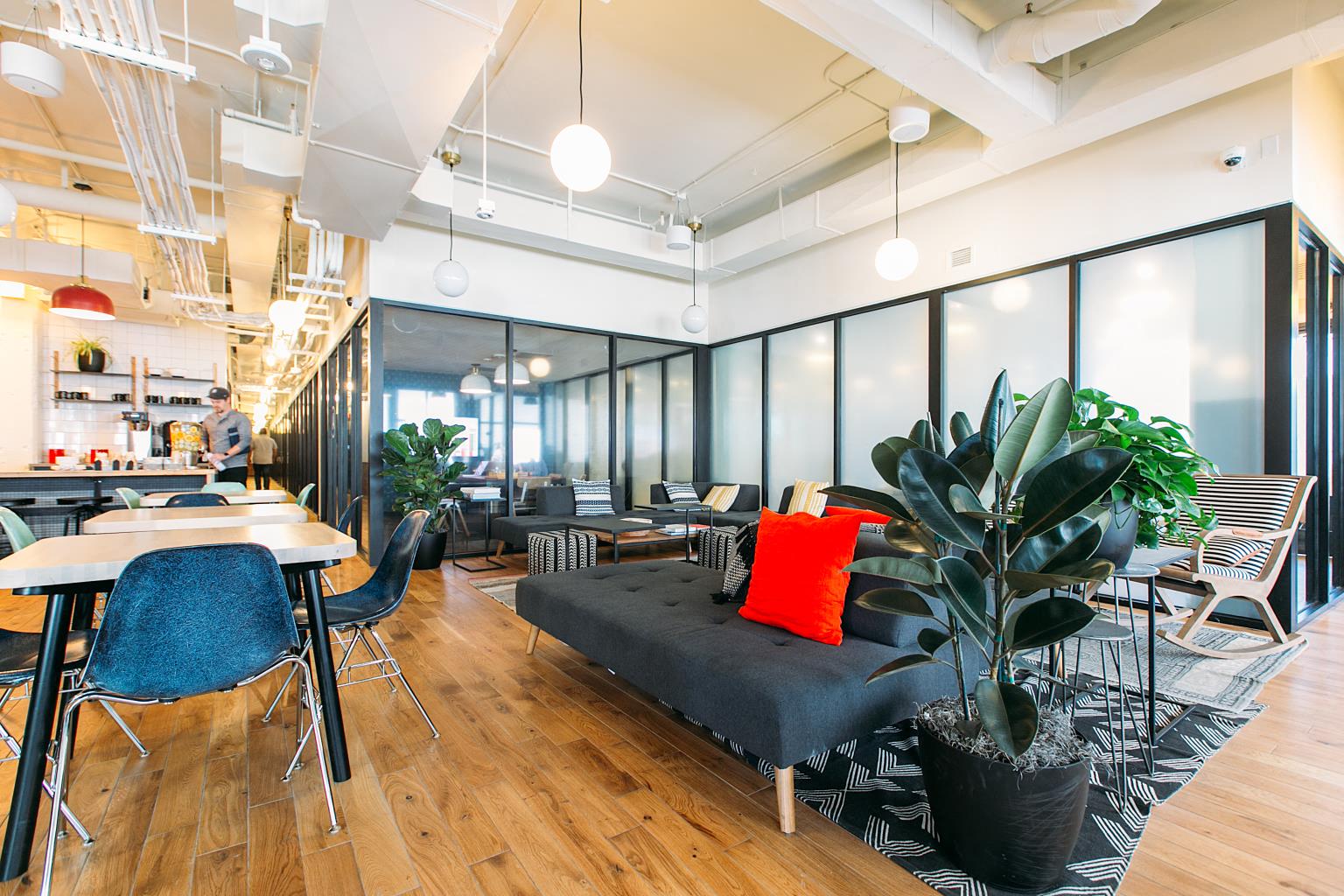 Address: 44 Montgomery St., San Francisco, CA 94104
Located near the vibrant center of the West Coast tech epicenter, Montgomery Station offers six floors of innovative San Francisco coworking space that perfectly embodies the progressive local culture. Businesses of all types and sizes — from digital startups to design studios and anything in between — can find everything they need at this unbeatable location.
Less than five minutes from Jackson Square, SFMoMA and Yerba Buena Gardens, Montgomery Station is easily accessible via all modes of transportation. Perks here include on-site bike storage and direct elevator access to BART's Montgomery Street station.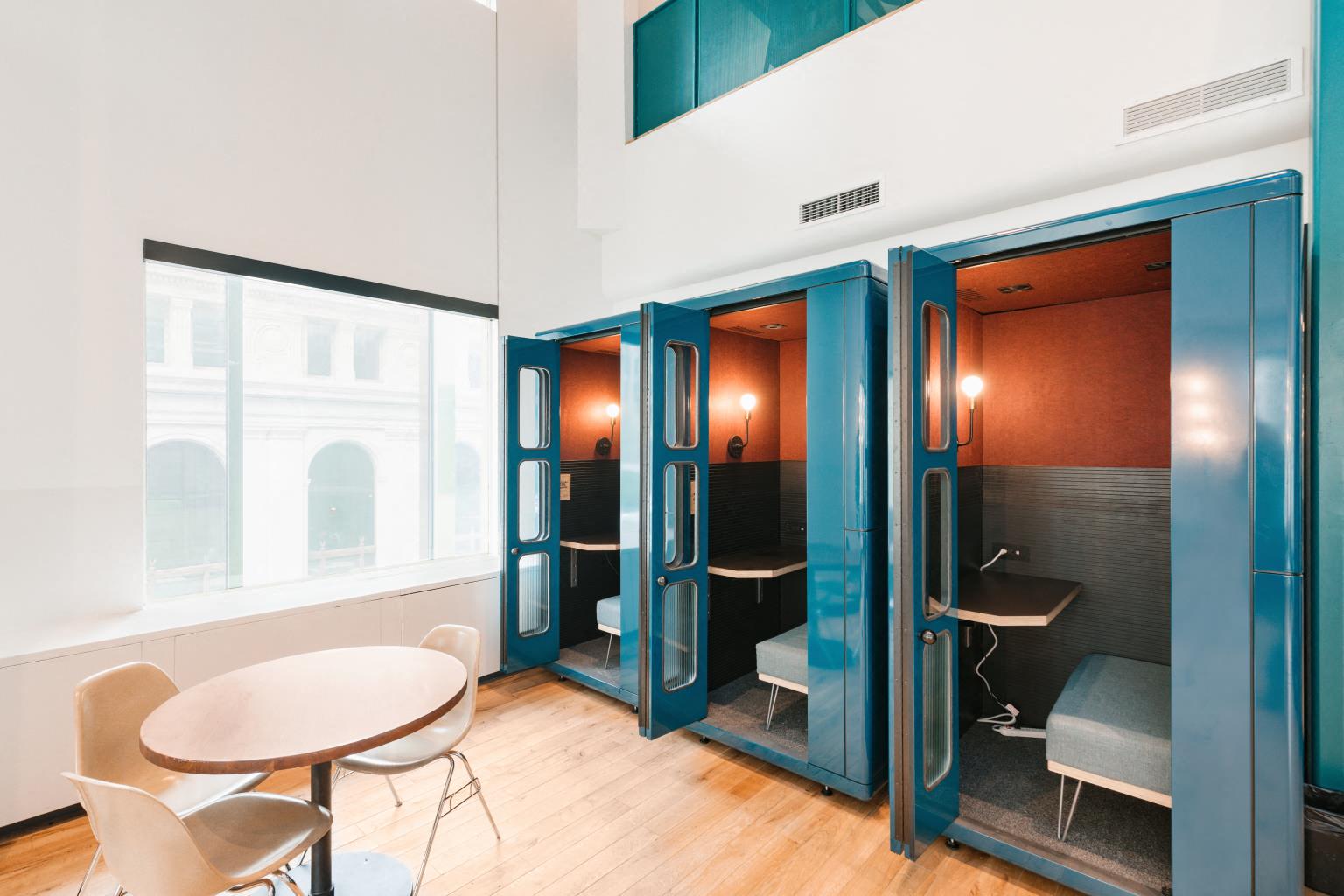 Address: 2 Embarcadero Center, 8th Floor, San Francisco, CA 94111
Join the coworking community at WeWork's Two Embarcadero Center and you'll feel right at home in what is perhaps the most quintessentially San Francisco work environment. This location offers five floors of coworking space and private offices all connected by an internal staircase and is home to a wide range of creative businesses, both small and large.
In addition to WeWork's world-class coworking spaces and services, the location also includes a wellness room, a fitness center, a mother's room and an event space that's easily adaptable to members' networking needs.
Amenities in the immediate area include layered promenades; more than 100 shops and restaurants; and a five-screen cinema.