Offices are overwhelmingly responsible for the iconic Manhattan skyline, and there's no denying that the Big Apple still sits atop the list of most desirable office locations — even after two years of reduced activity. Here, offices are as vibrant as they are diverse — and coworking is playing a larger role than ever.
As recently as just a couple years ago, coworking spaces were largely considered spaces for solopreneurs and freelancers. But now it seems that firms of all shapes and sizes are beginning to welcome a variety of working preferences, such as working remotely, as well as hybrid schedules that split time between home and the office. It's not just for freelancers anymore.
Regardless of your working preferences, if you're in need of coworking space in Manhattan, look no further than CommercialSearch. Whether you're searching for a cutting-edge office that's jam-packed with amenities or a more traditional office environment, the best coworking offices in New York City are sure to provide the optimal workspace.
Regus
Opening its first offices 30 years ago, Regus is the legacy player in the flexible working space — and its network is truly global. The offices it operates are built on flexibility, scalability, dependability and creativity for businesses of all sizes — from freelancers to large corporations. Regus operates 38 offices in Manhattan with space for 538 coworking desks. Two of its top-rated locations are:
Address: 445 Park Ave., Floors 9 & 10, New York, NY 10022
This location is impeccable. With large windows overlooking the intersection of 57th and Park, the coworking offices at 445 Park are nestled among the headquarters of many well-known businesses, offering the perfect environment for exploring new networks. If the ability to entertain clients is what you need, this location is for you.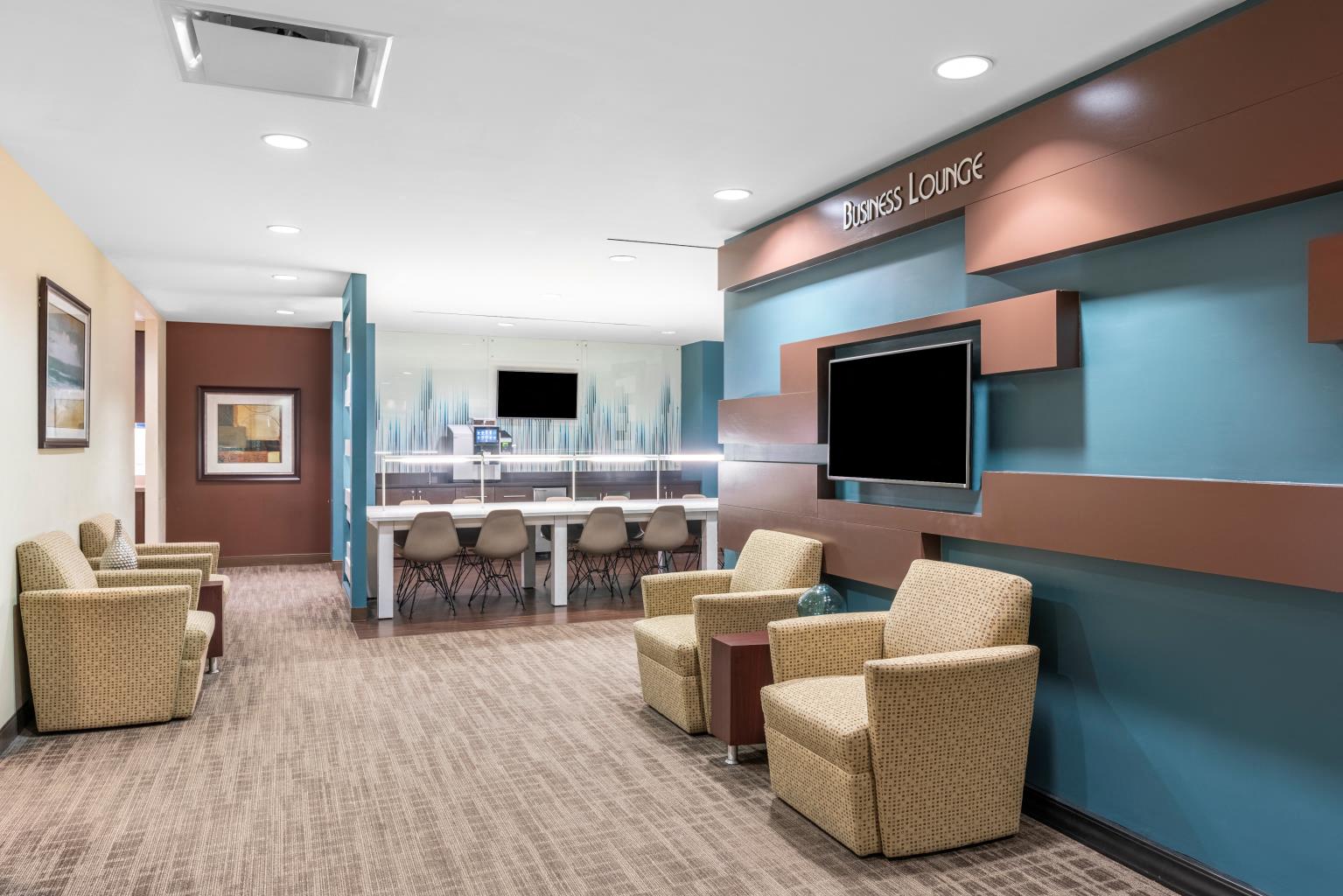 Address: 5 Pennsylvania Plaza, Floors 19 & 23, New York, NY 10001
This Manhattan coworking space at 5 Penn Plaza is right across from Penn Station and Madison Square Garden. The space features floor-to-ceiling windows and plenty of amenities, creating a perfectly creative space for productivity. And with neighbors like the Knicks and the Rangers this space offers plenty of entertainment options after work or with clients.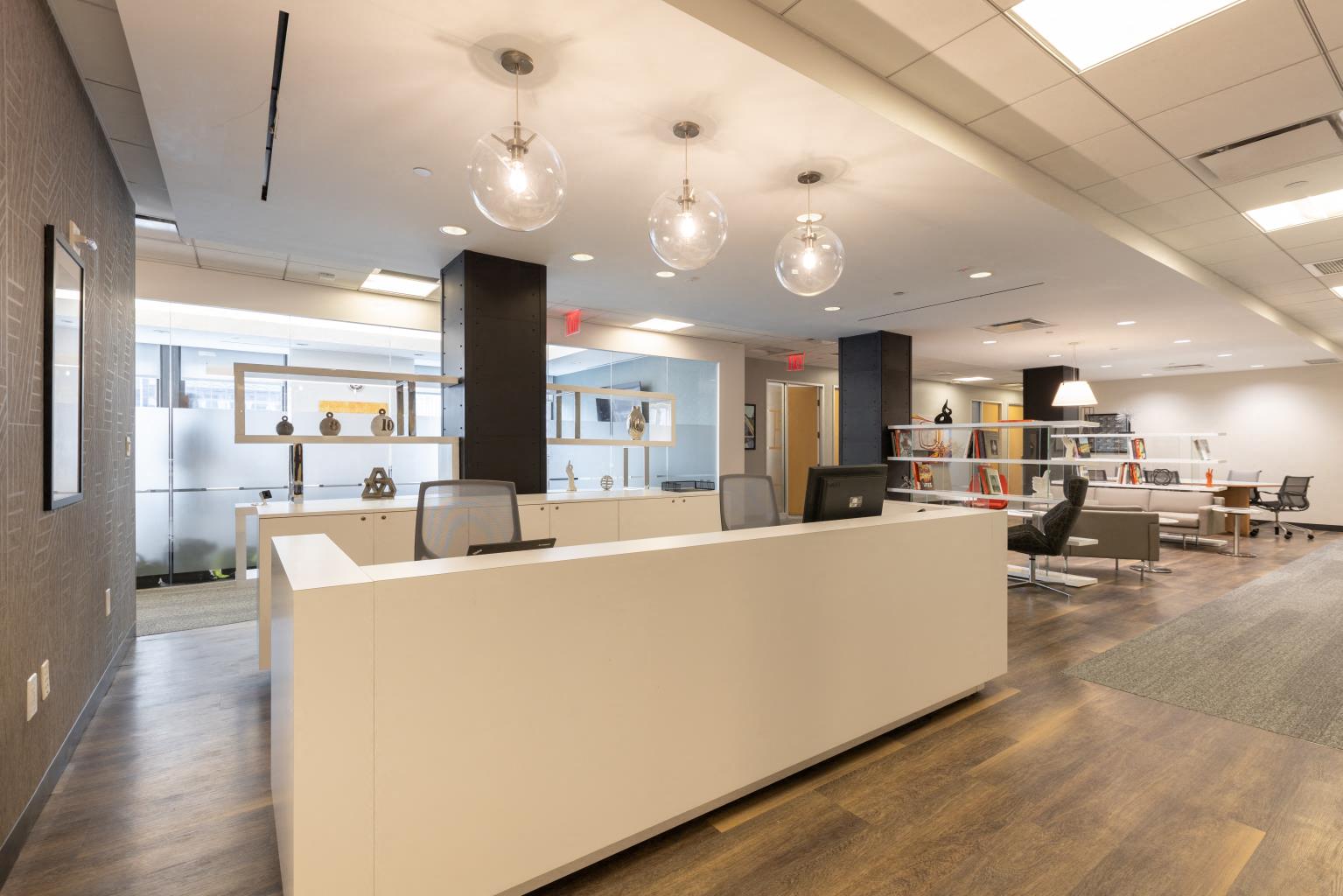 WeWork
It could be argued that WeWork made coworking cool. Indeed, the company took the idea of creative office space, overlayed it onto flexible office space, and ran with it. Its first office was in SoHo and it now has 79 locations throughout Manhattan. The following are a couple of WeWork's top-rated locations (and both are also pet-friendly!):
Address: 154 West 14th St., New York, NY 10011
The ultra-creative WeWork coworking space at 154 W. 14th St. offers a plethora of amenities to suit solopreneurs and established businesses alike, with expansive shared lounges and bookable meeting rooms — an oasis of calm in the hustle of Greenwich Village.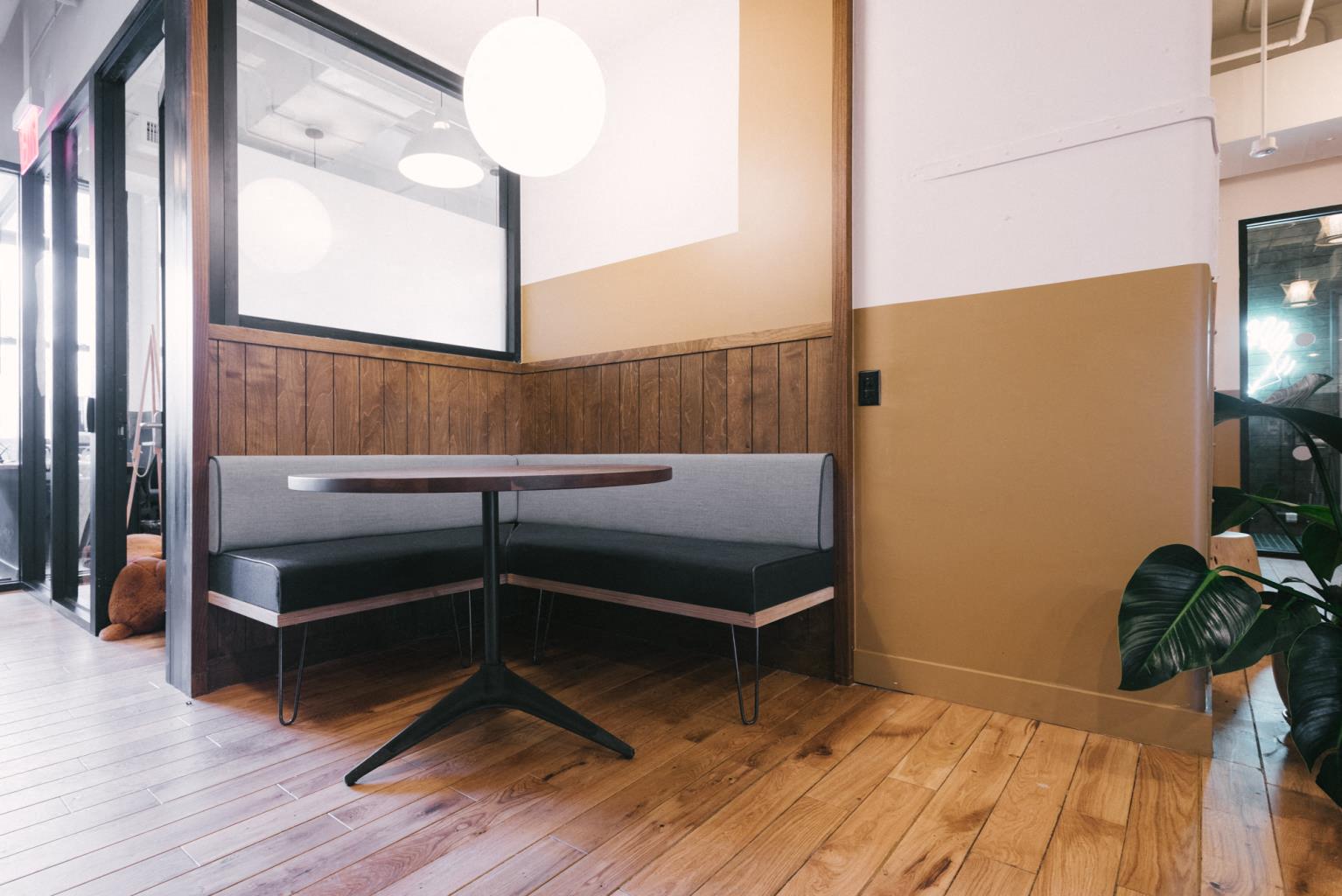 Address: 524 Broadway, New York, NY 10012
The coworking space at 524 Broadway is situated in the heart of SoHo. The downtown, laid-back vibe of the offices permeates the top five floors of the 11-story building. Located at the corner of Broadway and Spring, these offices are within a short walking distance of several subway stations — Prince Street, Spring Street and Broadway-Lafayette — as well as numerous restaurants that will wow your clients.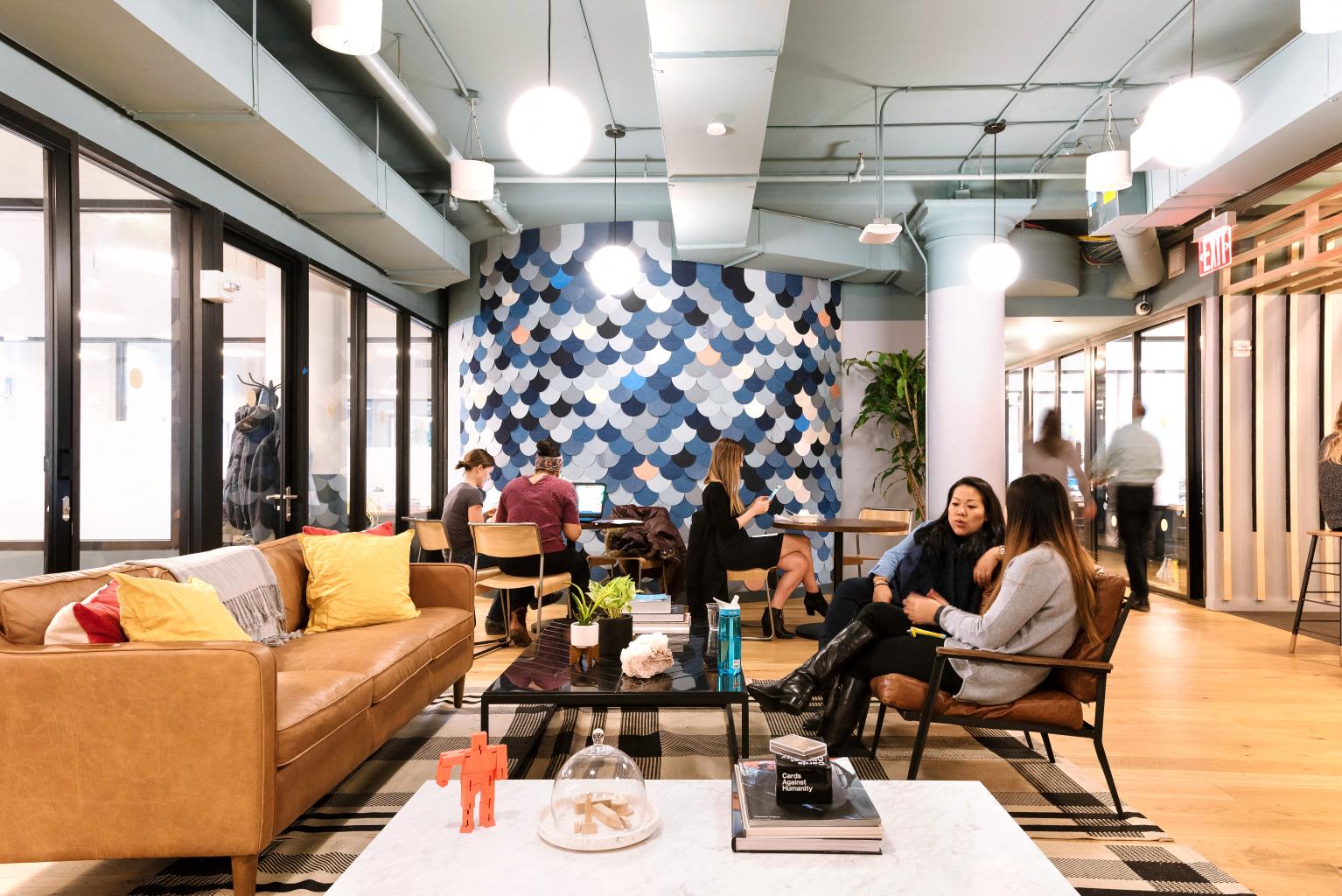 Address: 405 Lexington Ave., Floors 1, 7, 8 & 9, New York, NY 10174
Spaces first opened in Amsterdam, Netherlands, more than 13 years ago. From the beginning, the company has been a model for a relaxed work environment that nurtures a strong sense of community, thereby cultivating success. Spaces operates more than 435 offices around the world, including nine in New York City. Its top-rated location is at the famous Chrysler Building, and what could be more inspiring than having your office in one of the most iconic buildings in the city? The coworking office space here features designer offices with exclusive elevator access from the art deco lobby. Plus, Spaces Chrysler Building offers a variety of packages to serve your needs — whether that be to charge your laptop or scale your established business.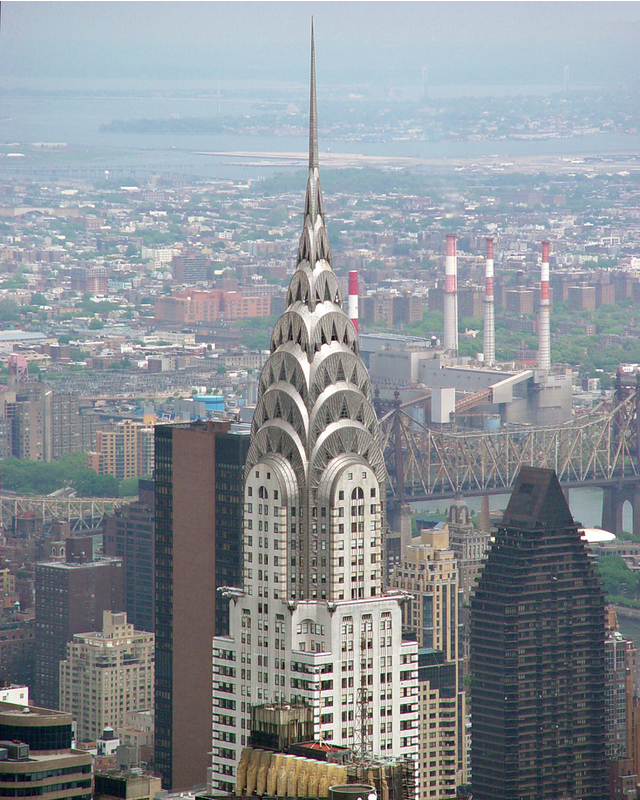 Address: 521 Fifth Ave., 17th Floor, New York, NY 10175
Since its founding in 2002, Premier Workspaces has grown to become a major flexible working provider. Notably, Premier is focused on collaboration as much as it is on innovation and, as such, is constantly testing new technologies that bring vibrancy and comfort to its coworking spaces. Its coworking space in Midtown Manhattan at 521 Fifth Ave. is a prime example: Not only does it offer spectacular views of the city from the 17th floor, but it also includes a full-service reception, on-site conference rooms, and a fully stocked kitchen — not to mention elegant and professional decor that fits the gravity that only Midtown can boast.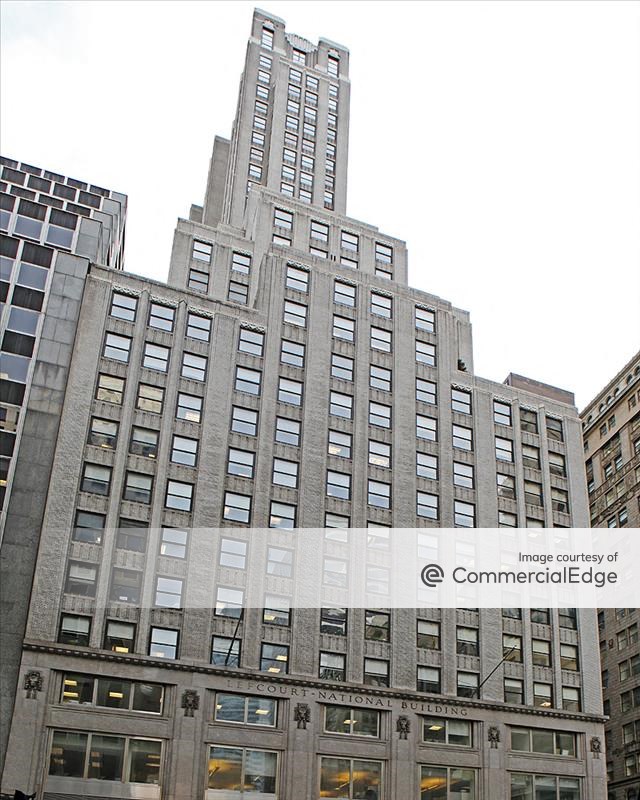 Address: 530 Seventh Ave., Mezzanine, New York, NY 10018
This Manhattan coworking space is located at 530 Seventh Ave. and welcomes members with spacious layouts, 22-foot ceilings and 16-foot-tall windows. Perks include a highly supportive on-site staff, guest greeting, IT support and high-speed internet.
Notably, Space 530 features quite a few top-of-the-line amenities, such as soundproof phone booths for private calls, cold brew coffee, and spacious lounge areas to network and mingle. Membership options include virtual, as well as flexible coworking packages that combine a collaborative environment with a functioning platform.
Address: 26 Broadway, New York, NY 10004
This New York City coworking space is located in the midst of iconic Manhattan landmarks and fantastic eateries, as well as several major public transportation routes, banks, parking garages and parks. Meanwhile, those in search of a prestigious Manhattan address can opt for the coworking hub's virtual office membership, which also comes with mail handling.
Alternatively, members can rent private office suites that can accommodate solopreneurs, as well as teams of up to 30. What's more, Primary offers 24/7 access, direct ethernet internet connections and a number of monthly conference hours. Members also have a choice of day passes and dedicated desks in the common coworking area, as well as three different event spaces: "The Lounge," "The Forest Room," and "The Studio" are available to members and guests for private events and gatherings.
Address: 530 Fifth Ave., New York, NY 10036
Just a few blocks from the iconic Grand Central Station and Bryant Park, this Manhattan coworking space welcomes members in an inspiring environment that spans multiple floors of the building. Notable amenities in the building include a fitness center by Hydra Studios; a local barista; curated community programming; and farm-to-table, health-conscious culinary options.
Membership options here include access to private, modern, tech-enabled workspaces; flexible solutions; five-star hospitality; and a fantastic community atmosphere. The wide variety of meeting and event spaces available at Convene can accommodate up to 72 people, while some private offices provide ample work room for teams of up to 120.
Address: 43 West 23rd St., Floors 2-6, New York, NY 10010
Rise, by Barclay's, has created the largest FinTech space in New York City. Conveniently located in the Flatiron District and at the very heart of NYC's Silicon Alley, Rise members enjoy premium facilities, mentorship, insights, and guidance in taking their business to the next level.
Members here receive access not only to fantastic workplaces, but also to insightful workshops, niche events, innovators labs, insight reports and more. On-site amenities include disabled access, lockers, phone booths, meeting rooms, an accelerator space, an auditorium, a kitchen, and plenty of member-only benefits that will make it more than worth your while.
Address: 125 Park Ave., New York, NY 10017
This New York City coworking space — which occupies the top two floors at 125 Park Ave. — is one of several Emerge212 locations offered by SL Green, Manhattan's largest office landlord. Boasting panoramic city views; private office suites that can accommodate anywhere from one to 30 workstations; virtual membership options; and fully stocked meeting spaces, this coworking hub has it all.
On-site business services include access to copy and scanning; full-service mail handling; package delivery services; office supply ordering; live operator or interactive call answering; and network and local printing. This coworking hub also features hybrid spaces for those looking for a semi-remote workspace near home.
Address: 1120 Sixth Ave., New York, NY 10036
With an enviable location in the heart of Midtown, ElevatedNY is one of the most easily accessible coworking spaces in New York City. Plus, just steps from Grand Central Station, it's also surrounded by a generous selection of dining, retail, entertainment and relaxation options. The staff offers continuous on-site support with professional reception, IT solutions, mail service, office cleaning, and concierge services.
ElevatedNY welcomes members in the historic Hippodrome building with an assortment of private office suites that can accommodate individuals, as well as teams of up to 12 people. Alternatively, members here can choose a flexible office membership or virtual office services package, as well as reserve a meeting room when needed.