Whether you're a startup or an established company, Chicago is the place to be. Home to several Fortune 500 firms – including the likes of Kraft Heinz, Motorola, Walgreens, and United Airlines – the city is also attracting loads of talent across various industries.
Meeting the demands of highly skilled professionals and providing them with much-needed flexibility during work has sustained the growth of coworking spaces in Chicago over the years. Browsing through long lists of possible locations can be overwhelming, so CommercialSearch has put together a list of the best 5 shared offices that you need to consider during your research for your future workspace.
Address: 4753 North Broadway, Chicago, IL 60640
WeWork's brand is synonymous with new and exciting coworking office design. This location in Uptown Chicago is nothing short of that, being located in one of the neighborhood's most prominent and historical buildings, being originally built in 1925.
WeWork occupies the grand hall and mezzanine of this North Broadway location, providing flexible office solutions for businesses of all sizes and industries while also having unique features such as recommissioned bank teller spaces and vintage ornate windows.
The space offers everything from open-floor hotdesks to private offices and spacious meeting rooms, alongside WeWork's classic mix of top-tier amenities.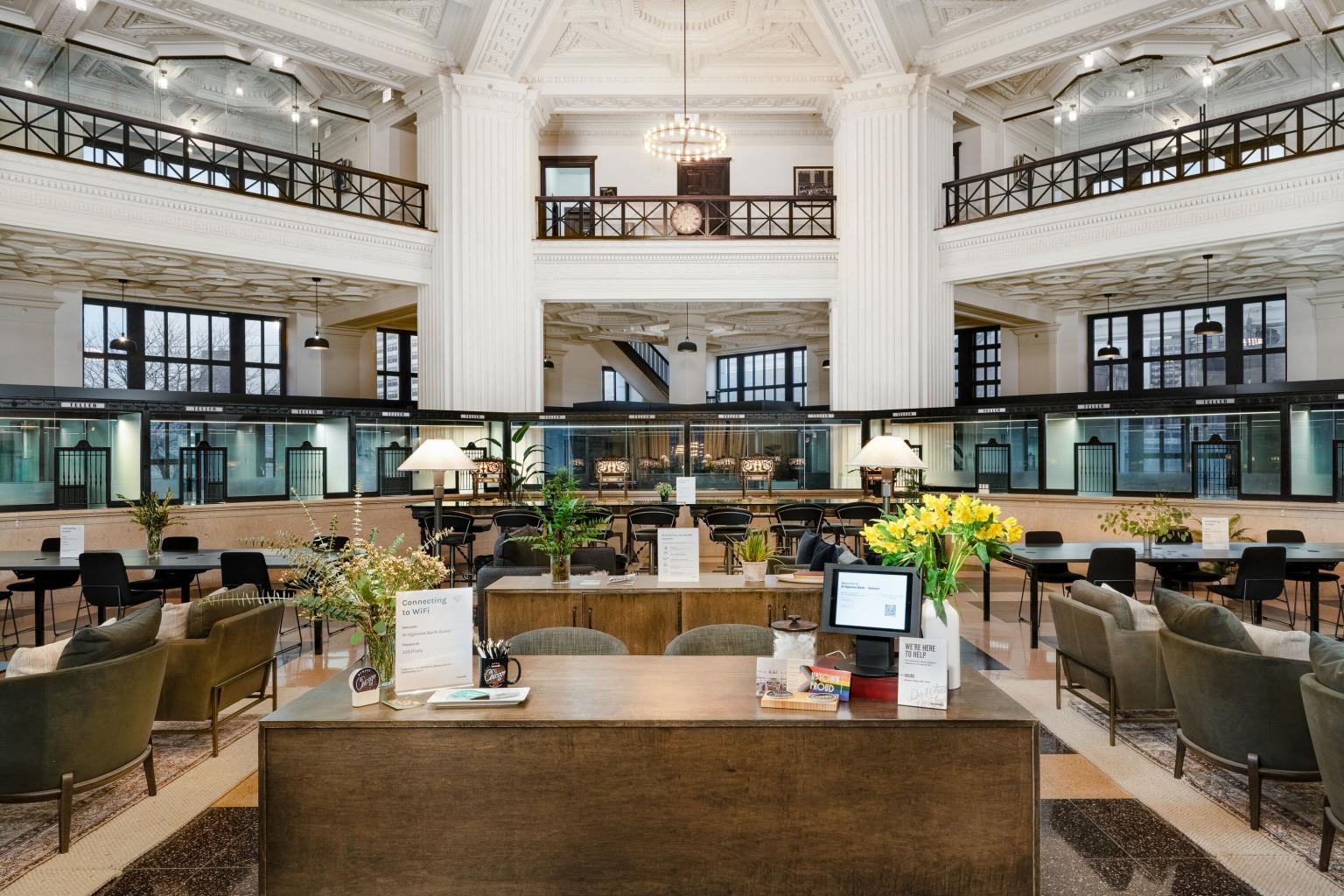 Address: 4411 N. Ravenswood Avenue Suite 300, Chicago, IL 60640
SketchPad is an innovative Chicago coworking concept with a focus on business collaboration and share of ideas. Looking to pay homage to Chicago's status as an intellectual, cultural and socially conscious hub, this networking-centric coworking office with a strong community spirit is located in Southeast Ravenswood, in close proximity to the area's vibrant cultural hotspots and art galleries.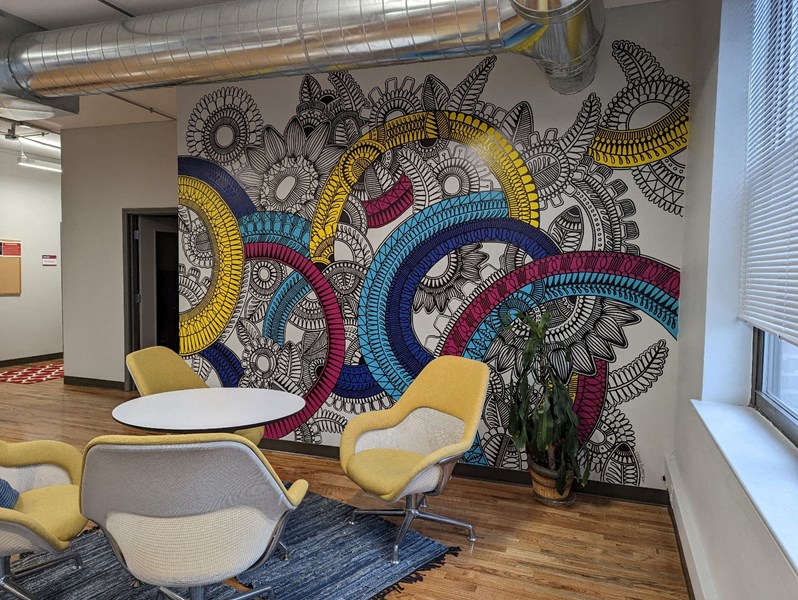 Address: 8745 West Higgins Rd., Suite 110, Chicago, IL 60631
Location is always an important aspect when selecting an office. Downtown or the central business district are always desirable, but for some, proximity to the airport and the convenience it provides for meeting clients and partners in is key.
The coworking offices at 8745 West Higgins are ideally placed to fulfil such needs, just 7-minute drive from O'Hare International Airport – or a 24-minute ride on the Blue Line. Offices are fully furnished and move-in ready, with an on-site business manager ready to assist both you and your clients. Members have access to conference rooms, parking, recording equipment for podcasts, as well as a fitness center. There's a café on the premises and a food court right across the hallway, and workers can spend some downtime in the breakout areas outside.
Address: 3146 W. Irving Park Rd., Chicago, IL 60618
Le Village is a child-centric coworking hub offering unique services that are tailored to address the needs of working parents seeking balance and community. This Chicago coworking space offers dedicated working areas, conference rooms, and private booths for parents, while children can unwind and play with other kids on the dedicated playground or in the Miniature "Village" designed for indoor play.
Moreover, Le Village offers child development classes led by certified teachers for children ranging from three months to four years old. This is a place where the entire family can grow together and have fun at the same time. While parents make the most of the well-equipped shared office space, the kids get to share milestones with other children; benefit from a custom curriculum; spend time outside every day; and take part in various enrichment opportunities, like listening to music, dancing, doing yoga or even learning a foreign language.
Address: 1500 North Halsted St., Floors 2, 3 and 4, Chicago, IL 60642
Located in one of Chicago's most exciting neighborhoods – and right at the heart of the city's established business community – Near North Side provides a quiet and tasteful workspace for local freelancers and entrepreneurs.
Equipped with 40 dedicated desks, five meeting rooms and 79 private offices, this stylish coworking space also offers lightning-fast Wi-Fi; and a dedicated staff ready to handle all the daily needs of its members.
Located just around the corner from a Chicago Transit Authority (CTA) station, the property is easily accessible by train, bus or car and sits right near Old Town – the perfect spot to stretch your legs during breaks, sampling some of Chicago's best culinary creations and exploring neighboring retailers and boutiques.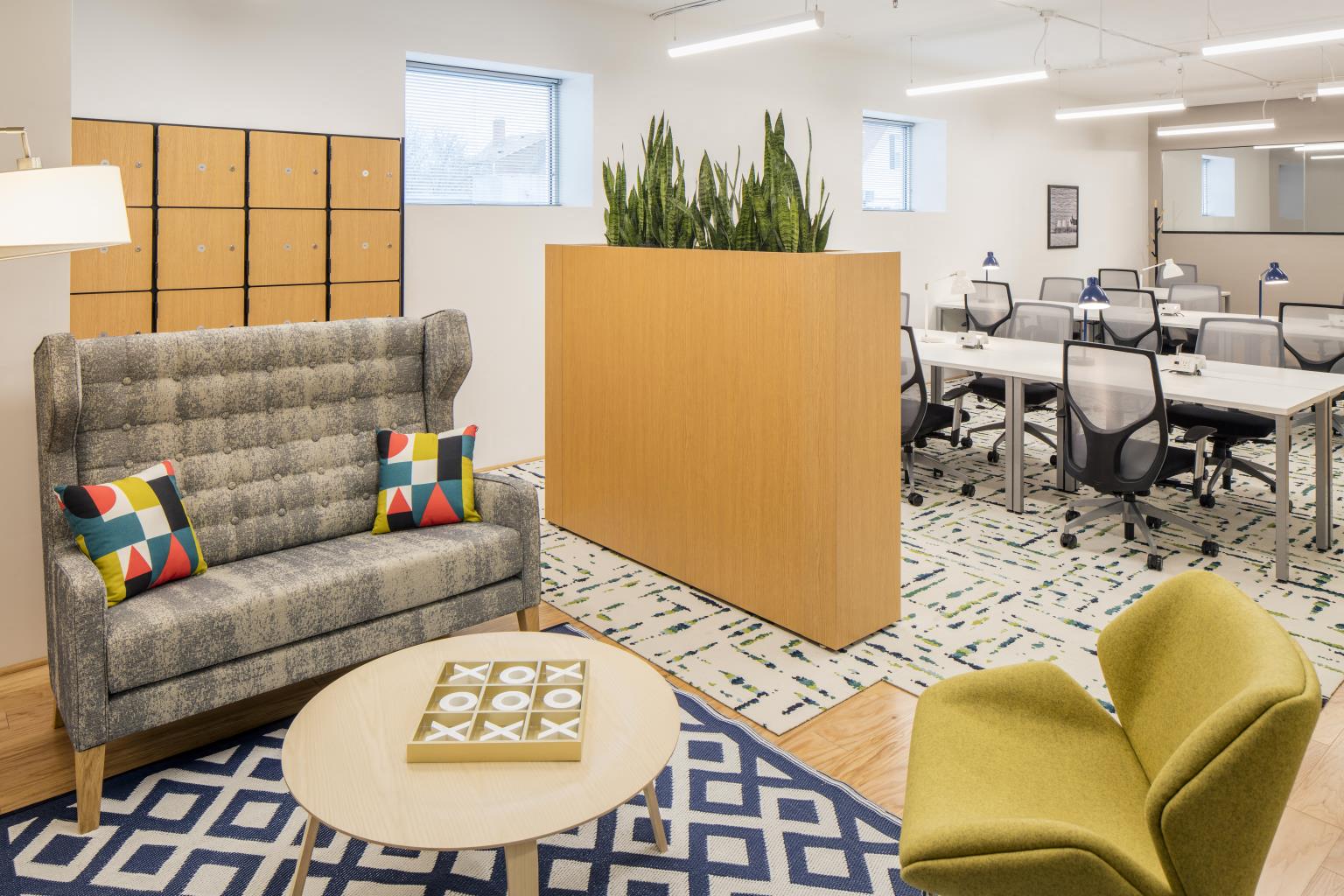 Address: 4245 N. Knox Ave., Chicago, IL 60641
Twenty-One Twelve (2112) is a niche coworking hub that presents itself as the first business incubator in the Windy City to offer services tailored to those working in the entertainment industry, along with independent creators and lifestyle brands. This Chicago coworking space aims to help develop entrepreneurs working in music, film, video, and other creative industries through community, education and access to capital.
Conveniently located in Portage Park Neighborhood off the 90/94 Interstate, 2112 is just steps from major public transportation stops. In addition to 24/7 access and on-site parking, amenities and perks here include one-on-one mentoring with industry professionals, educational programming, and weekly events, as well as access to conference rooms, break-out rooms, lounges and a fully equipped kitchen.
Address: 620 North LaSalle St., Chicago, IL 60654
Every adaptive reuse of a building tells a story. For decades, 620 North LaSalle housed one of the top sportswear retailers in the Midwest – Morrie Mages, later known as MC Sports. The building was sold in the face of mounting financial troubles. Work began in 2016 to convert the former store into a new flexible office space. The renovation efforts included the installation of all new windows, two new high-speed elevators and cabs, new electrical, plumbing and HVAC systems and a large rooftop deck.
Prospective members touring 620 North LaSalle today will find a modern coworking space, ideally suited for a wide range of businesses – from startups or entrepreneurs to law firms; or tech companies. The building features timber loft ceilings, exposed brick and large windows, along with a fully furnished rooftop terrace, on-site parking and bike storage. Amenities include high-speed internet, phones, print and copy machines, and an on-site community manager, eager to help you out with any queries.
Located in Chicago's River North neighborhood, the location is surrounded by many exciting restaurants and retail stores.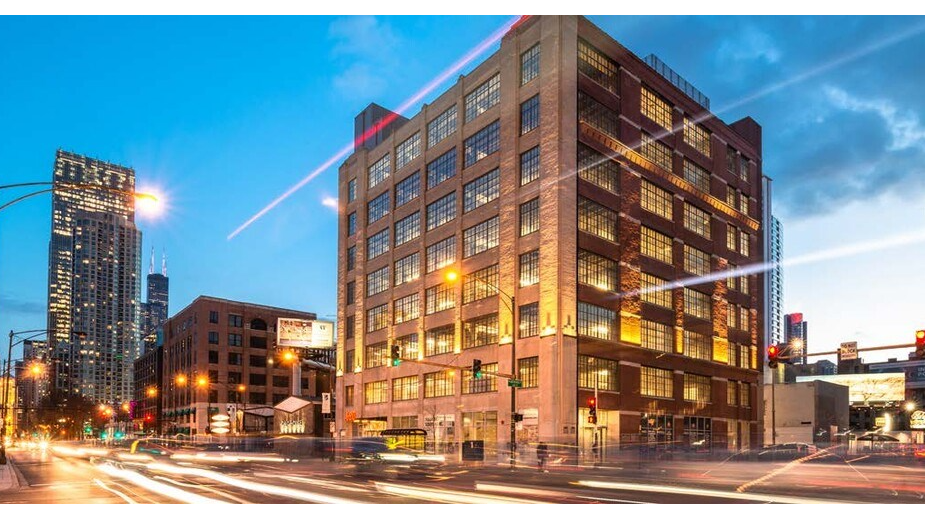 Address: 222 Merchandise Mart Plaza, Suite 1212, Chicago, IL 60654
1871 is a unique coworking space in Chicago: It's an innovation hub that provides not only a space to work, but also offers invaluable access to an entire community of entrepreneurial support. As a result, its membership packages honor this mission and are available as Early Stage, Growth Stage or Corporate Innovator packages.
Additionally, this Chicago coworking space offers live events; networking options and award-winning programs; one-on-one mentoring; a supportive community; an expert-led video library put together by industry leaders; and various supporting programs. Members also have the opportunity to draw awareness to their brand and amplify their wins on the 1871 hub's various platforms.
Address: 180 North Stetson St., Suite 3500, Chicago, IL 60601
Those deciding to conduct their business from Regus' shared offices in the "Two Pru" tower, will be in select company – surrounded by prestigious corporations – and ready to enjoy great networking opportunities in the vibrant atmosphere of this downtown location.
The 995-foot glass and granite building at 180 N. Stetson provides members with airy and luminous workspaces, with floor-to-ceiling windows providing plenty of natural light for the 67 private offices, four meeting rooms and nine coworking desks at this location.
The building boasts an on-site restaurant – for those who don't want to leave the premises for their lunch break – a sandwich and coffee bar, as well as several vending machines for those looking for a quick snack. Other amenities include a lounge area and an outside terrace with a seating area.
Two Prudential Plaza is ideally placed for those looking to use public transit to get around. Those driving in can use the property's secure underground parking.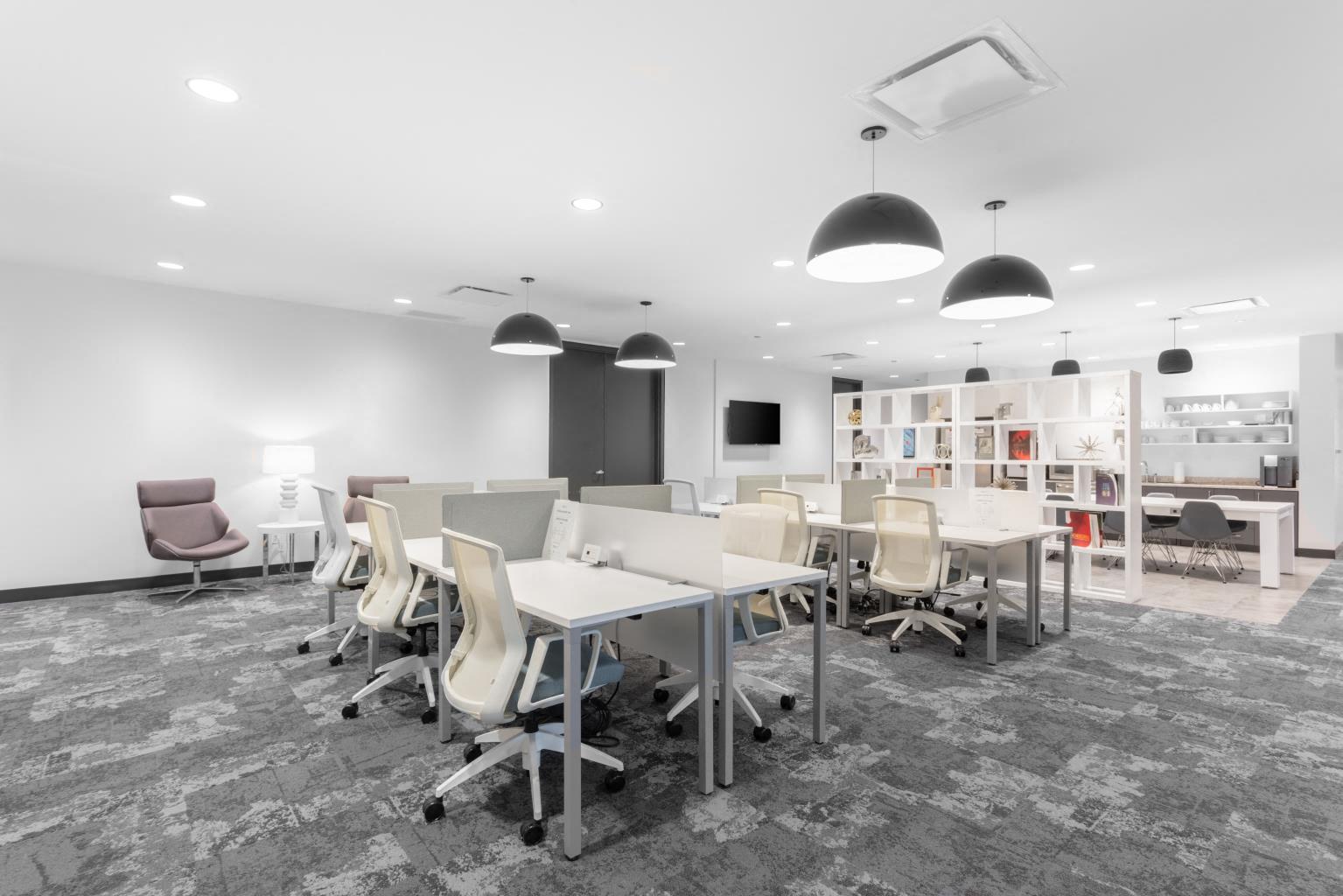 Address: 620 N. LaSalle Dr., Chicago, IL 60654
Also located in the heart of Chicago's prominent River North neighborhood, 620 Coworking welcomes members in the iconic 620 N. LaSalle building. The property originally served as a coffee factory after being built in 1922 and recently underwent a comprehensive renovation to provide world-class office amenities. Nowadays, the coworking space is conveniently located near a variety of highly rated restaurants, retail stores, and cafes, and can also be easily reached both by car and public transportation.
Members of 620 Coworking have a choice of hot desks and dedicated desks in the shared office space. Private office suites of various sizes are also available and can be rented by the day or week. Members also have access to numerous building amenities, including a fitness center, tenant lounge, rooftop terrace, conference room and bike parking.