Denver sits on the cutting edge of culture and forward-thinking. And, with top-notch universities attracting talented young people from all over the world, it's no wonder that the city is continually pushing boundaries. Workspaces are a small, but significant part of this vision with coworking spaces seemingly popping up all throughout the region.
Traditionally, coworking spaces have been considered almost exclusively as spaces for freelancers and solopreneurs — until recently. As the pandemic wanes, it seems as though firms of all shapes and sizes are beginning to welcome a variety of working preferences, such as working remotely and hybrid schedules that split time between home and the office. Clearly, it's not just for freelancers and solopreneurs anymore.
Regardless of your working preferences, if you're considering looking for coworking space in Denver, then look no further than CommercialSearch. Whether you're looking for a cutting-edge office that's jam-packed with amenities or a more traditional office environment, these top-rated coworking offices in the Mile High City are sure to provide you with an inspiring workspace.
WeWork
If it wasn't already before, WeWork made coworking cool. Its trendy offices mimic the playful tech campuses of Silicon Valley and cater to workers from all industries (complete with all the amenities) to create a truly flexible and creative workspace. Originating in Manhattan, WeWork has expanded globally and now has six locations in Denver that are primarily located around downtown with one location in Cherry Creek. Plus, most of them are pet-friendly!
Address: 2420 17th Street, Denver, CO 80202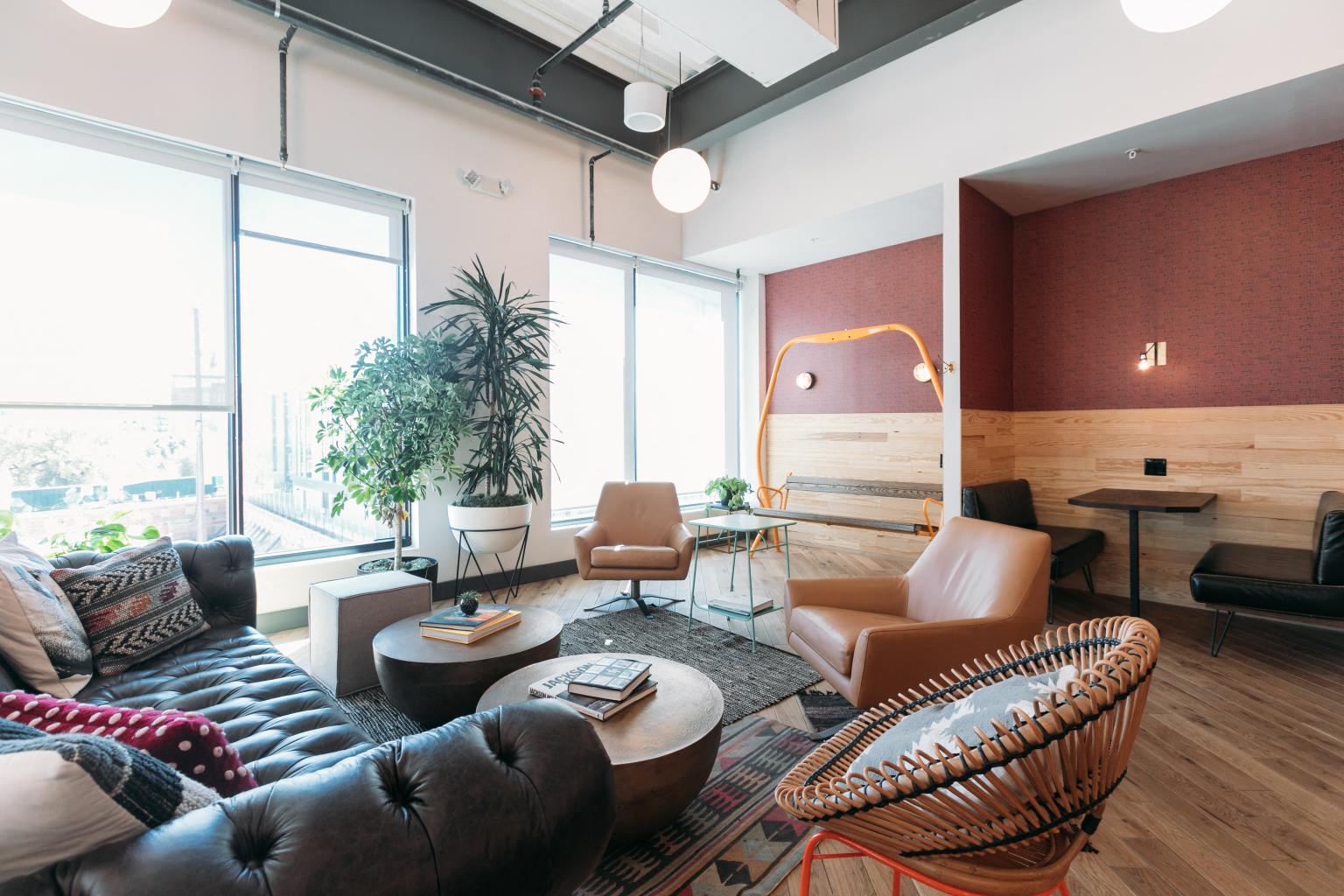 Two floors in the brand-new LoHi building at 2420 17th Street are dedicated to WeWork's coworking space named The Lab. This easy-going atmosphere with an industrial vibe comes with top-notch amenities to keep you hydrated and caffeinated. The building is in the middle of one of the fastest-growing neighborhoods in Denver. It's also close to Union Station for those commuting and offers on-site parking for those who want to drive. With this location, businesses of all sizes will find the space they need for their employees, clients and themselves.
Address: 1550 Wewatta Street, Denver, CO 80202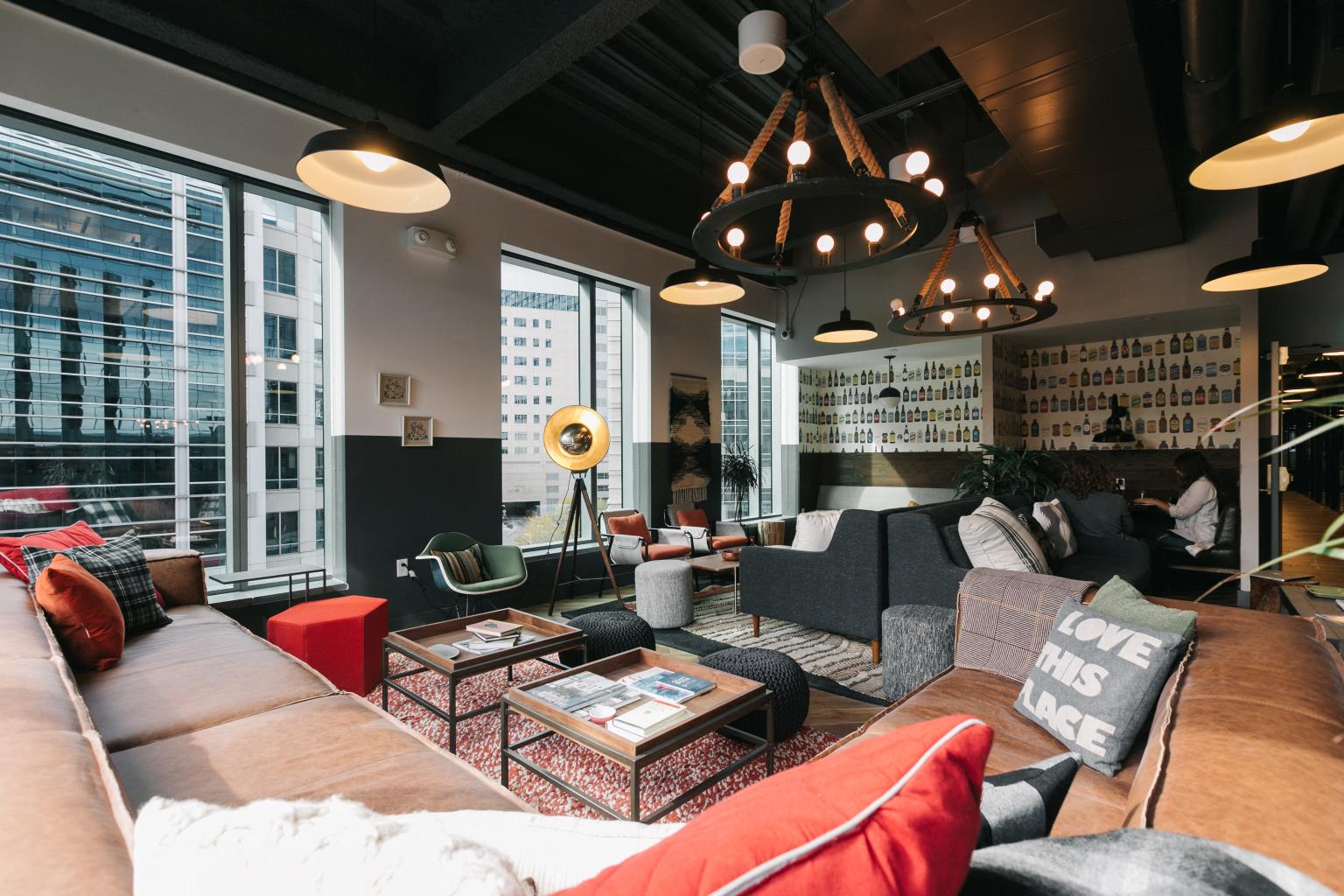 Located right next to Union Station, the Triangle Building is a glass-clad, LEED-Certified Gold office property perfect for those looking for an impeccable location in which to work or entertain clients. In particular, the location offers quick access to Denver International Airport and benefits from all of downtown Denver's amenities. The space also offers a wide array of amenities for workers, no matter their needs — from a single desk all the way up to an entire floor.
Address: 2301 Blake Street, Suite 100, Denver, CO 80205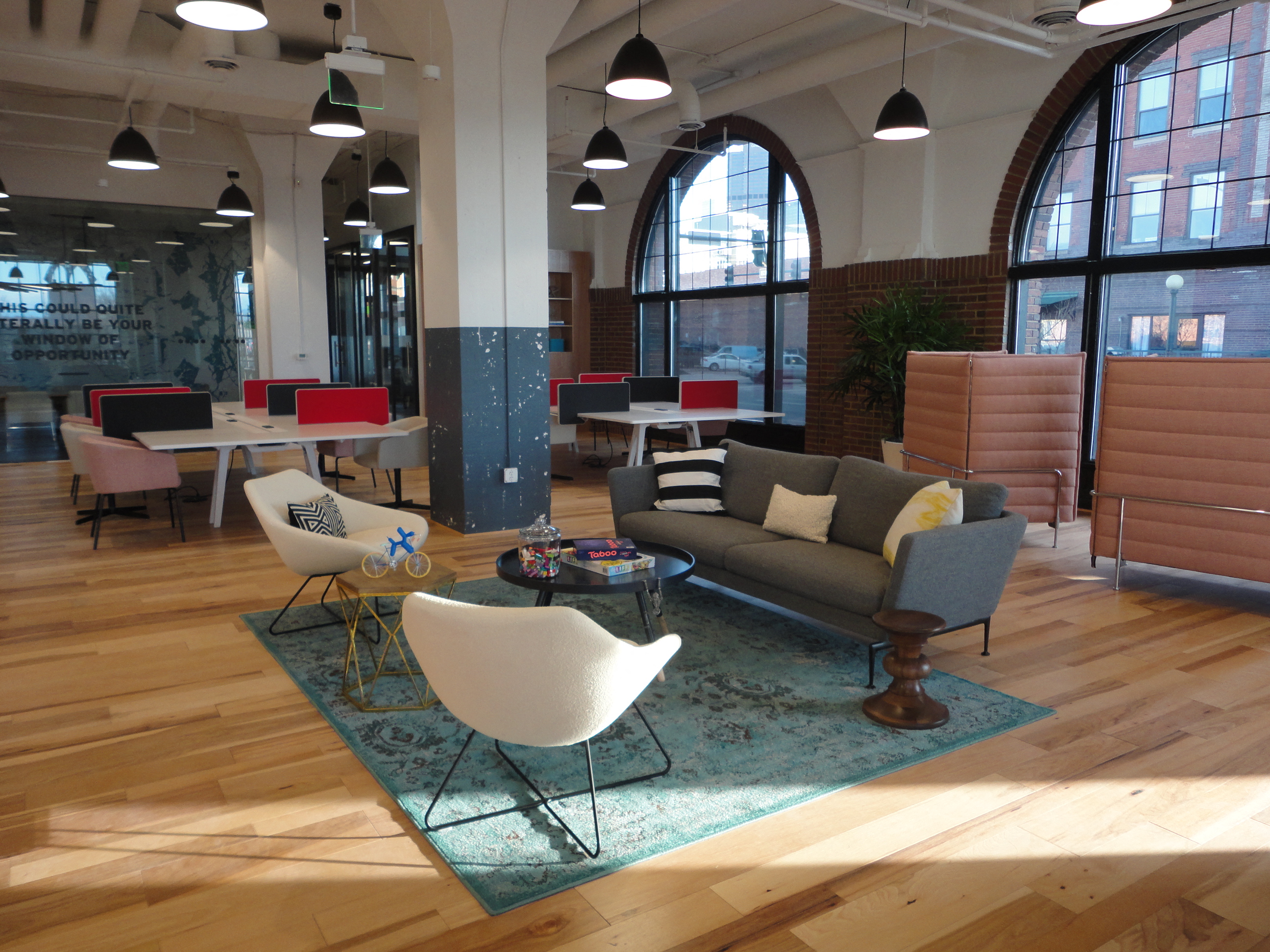 Since its first location more than 13 years ago in Amsterdam, Spaces has evolved into a powerhouse coworking office provider. Each space permeates with tranquility, creating a perfectly inspiring working environment, as well as a strong sense of community. With more than 435 locations worldwide, Spaces is truly global, including two locations in Denver with seven total meeting rooms. Ballpark is its most popular and highest-rated location with four meeting rooms, 11 dedicated desks, 118 private offices and breakout areas. The space is also bright and open, inviting into the workspace all of the cultural, social and historic aspects of Denver's oldest settlement.
Office Evolution
Office Evolution exudes Colorado through and through. Founded in Colorado in 2003, the company has become the largest provider of locally owned and operated flexible workspaces in the country — partially through franchising, which it began 10 years ago. Now, it has more than 70 locations nationwide that cater to freelancers, entrepreneurs, and solopreneurs to provide workspaces that are safe, inspired and close to home.
Address: 1624 Market Street, Suite 202, Denver, CO 80202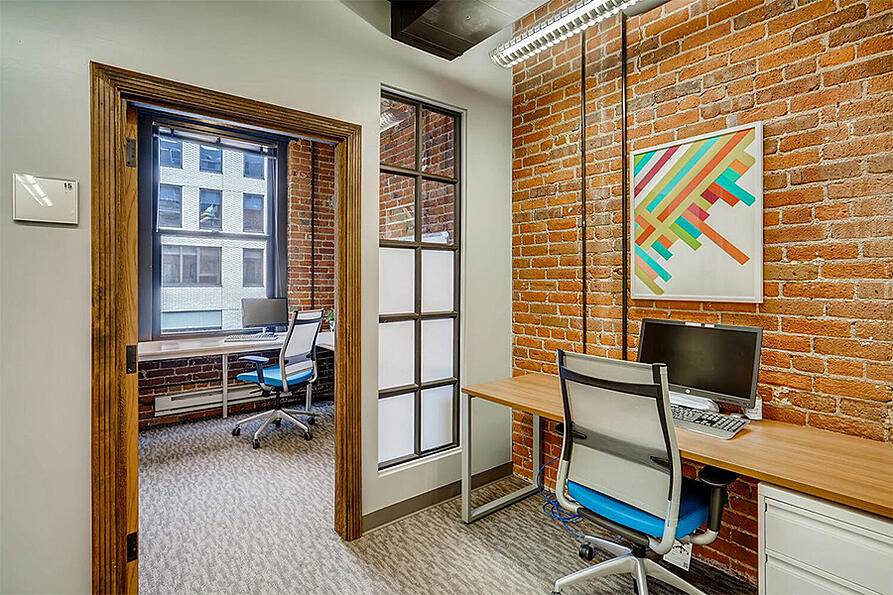 Right on Market Street, Office Evolution's downtown location is perfect for freelancers and solopreneurs looking for all the buzz and amenities that Denver has to offer. Parking is available if you don't want to take the light-rail, but Union Station is also just three blocks away. Plus, the building is historic: Built in the 1880s, its offices feature original, exposed-brick walls that contrast nicely with the modern, sleek finishes of the fully loaded offices.
Address: 501 S. Cherry Street, 11th Floor, Denver, CO 80246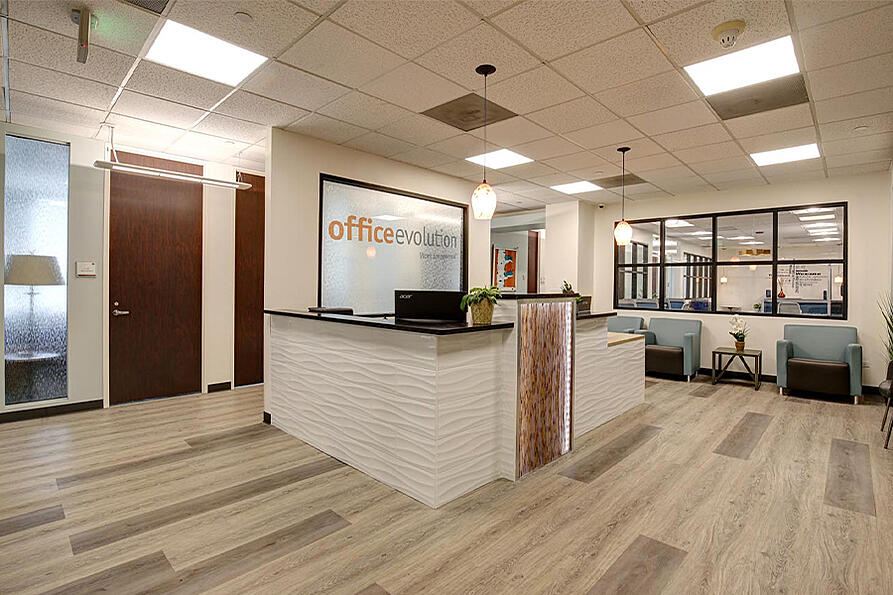 If you're looking for a more traditional office, Office Evolution has you covered in Cherry Creek. Located on the 11th floor of One Cherry Center, these offices feature modern finishes with subdued elegance, evoking a more refined professionalism. With 48 fully furnished, professional offices, this flexible workspace offers all the amenities you could ever ask for — like business mailing address rentals, live phone answering services, and rentable conference and meeting rooms.
Address: 100 Fillmore Street, 5th Floor, Denver, CO 80206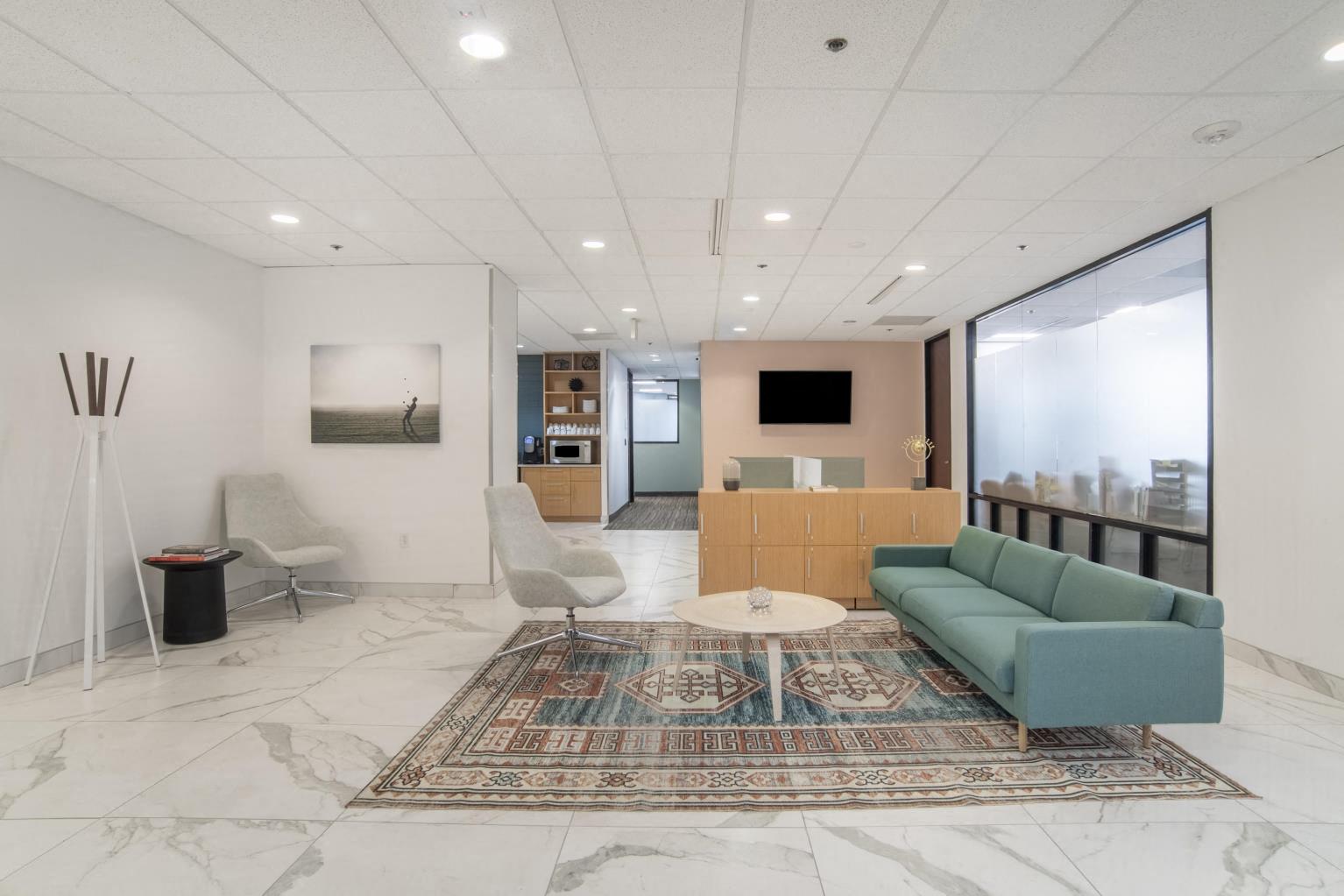 Regus is the legacy player in the flexible working space (opening its first offices 30 years ago) and its network is truly global. Regus operates 12 offices in Denver totaling nearly 1,000 private offices and 69 coworking desks, with the Cherry Creek location being our pick as the best of them. Located in Fillmore Place, these contemporary offices offer floor-to-ceiling windows overlooking the Rocky Mountains and the city, in addition to a swath of top-notch amenities. The location is also perfectly situated between downtown Denver to the north and the Denver Tech Center to the south, thereby meeting the needs of employees and clients alike.
Shift Workspaces
Shift Workspaces approaches work as a journey toward happiness — and one that they take with you. The workspaces are intentionally designed to provide intuitive services and an original design that promotes inspiration and creativity through large windows with views, light-filled spaces and outdoor areas. In fact, working in these offices can sometimes feel like a hotel or resort!
Address: 1001 Bannock Street, Denver, CO 80204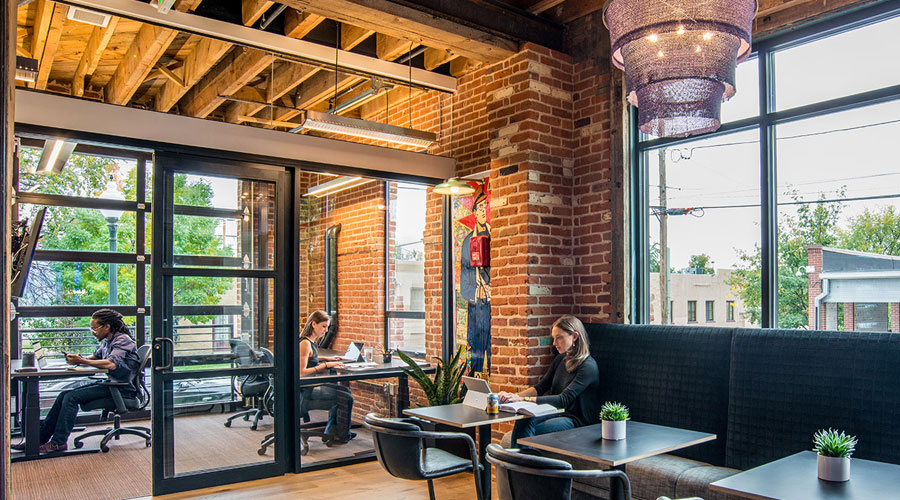 The industrial style of Shift Workspaces' Bannock offices is exceedingly Denver: It's outfitted with 50 unique pieces of art and wall coverings that were custom-made by more than a dozen local artists. Bannock is located just south of downtown and only one block from Cherry Creek. The blazing Wi-Fi also has full connectivity throughout the building — including the rooftop deck, where you can enjoy views of the city while taking a conference call or enjoying a complimentary beer.
Address: 383 Corona Street, Denver, CO 80218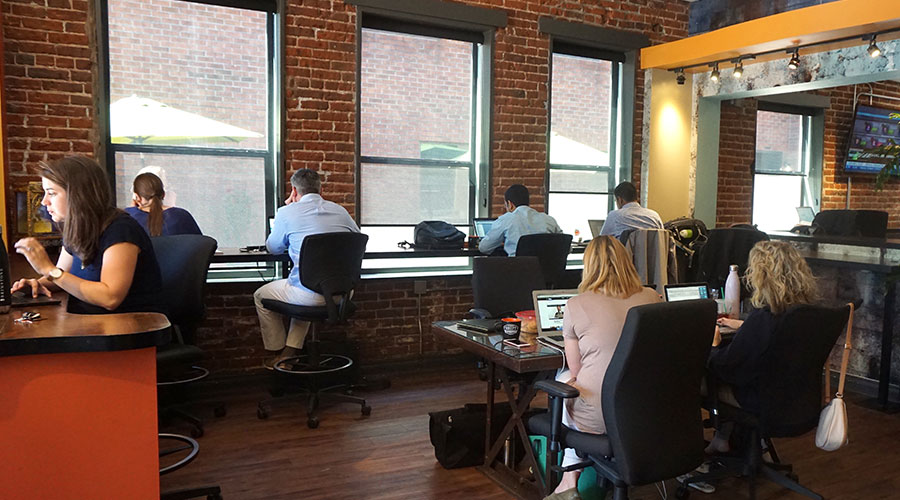 Just south of downtown Denver near Alamo Placita Park and Cherry Creek, these offices have turned into a community filled with small businesses, freelancers and startups — basically, an entire office filled with creatives! In addition to the professional office amenities, Shift also includes free yoga classes in its on-site fitness studio, as well as complimentary massages and an herbal tea bar to be enjoyed on its vibrant patio, of course.
Regardless of where your work takes you, these coworking spaces in Denver are sure to meet all the needs you have or will ever need. Creative, inspirational, and professional, coworking has certainly expanded beyond that of just freelancers and solopreneurs. Now, it's perfect for any company of any size.