The Best Cities for Generation Z Based on Affordability, Green Spaces, Fun Factor & More
Like the Millennials before them, Generation Z is gradually drawing increasing attention as growing numbers of the cohort are finding jobs and starting to make their presence felt in the economy.
And, given the flexibility offered by the remote work paradigm, Gen Z has unprecedented flexibility in choosing where they settle down. With this in mind, CommercialCafe set out to rank the top 20 best cities for Generation Z based on a variety of factors, ranging from affordability and unemployment to internet speed and recreational venues.
First up, with 7.6 parks per 10,000 residents — the highest ratio of all of the cities in the study — Atlanta claimed the top spot as the most promising Gen Z haven in the U.S. Additionally, A-town also rose to the top of the standings thanks to its relatively large share of Gen Zers of its total population; its high education enrollment among Gen Zers; and decent showings in terms of affordability, entertainment and unemployment.
The other two positions on the podium were occupied by Minneapolis and Boston, respectively. Both stood out for their great internet speeds, as well as the fact that Gen Zers aged 20 to 24 comprise more than 10% of their total populations. Plus, Minneapolis had the added bonus of affordability and available entertainment, while Boston's strong suits were in its readily available green commutes (with almost half of residents walking, biking or taking public transportation to work) and highly educated Gen Z population. As a result, all of the entries on the podium offer something different for young professionals who may be looking to resettle.
CommercialCafe also noted that most of the hotspots for Generation Z relocations were concentrated in the Northeast, Midwest and Southwest.
For example, Tucson, Ariz., at #4 was the highest-ranked Southwestern city with the largest share of adult-age Gen Zers (11.3%) of its total population. It also benefited from high internet speeds and low unemployment figures, thereby making it stand out as a potential in-migration hub with affordability indexes close to the national average.
Similarly, the next two entries — Raleigh, N.C., at #5 and Columbus, Ohio, at #6 — also had affordability as one of their strongest suits in attracting young professionals looking for their first job. Raleigh also recorded strong scores in internet speed, unemployment and Gen Z education, while Columbus had more parks per capita and recreational establishments.
The top 10 was closed out by West Coast tech hub Seattle; a duo of Texas metros in Austin and El Paso; and New York City — the largest city in the U.S where Gen Zers are sure to find at least a little bit of everything they're looking for. As you might expect, each city had its strong suits that attract certain categories of young people. For instance, Seattle and Austin have fabled startup cultures, with the former packing more green commuting options in exchange for less affordability. Meanwhile, El Paso has fewer entertainment options and lower internet speed than New York City, although it's clearly a more affordable option for those looking for more peace and quiet.
New York Nabs Top Scores in 3 Metrics
New York City's characteristics were highlighted by its score distribution: It had the fastest internet; highest number of entertainment options and restaurants; and largest share of green commutes. Still, lower scores in other metrics meant that NYC only reached #10 in the ranking.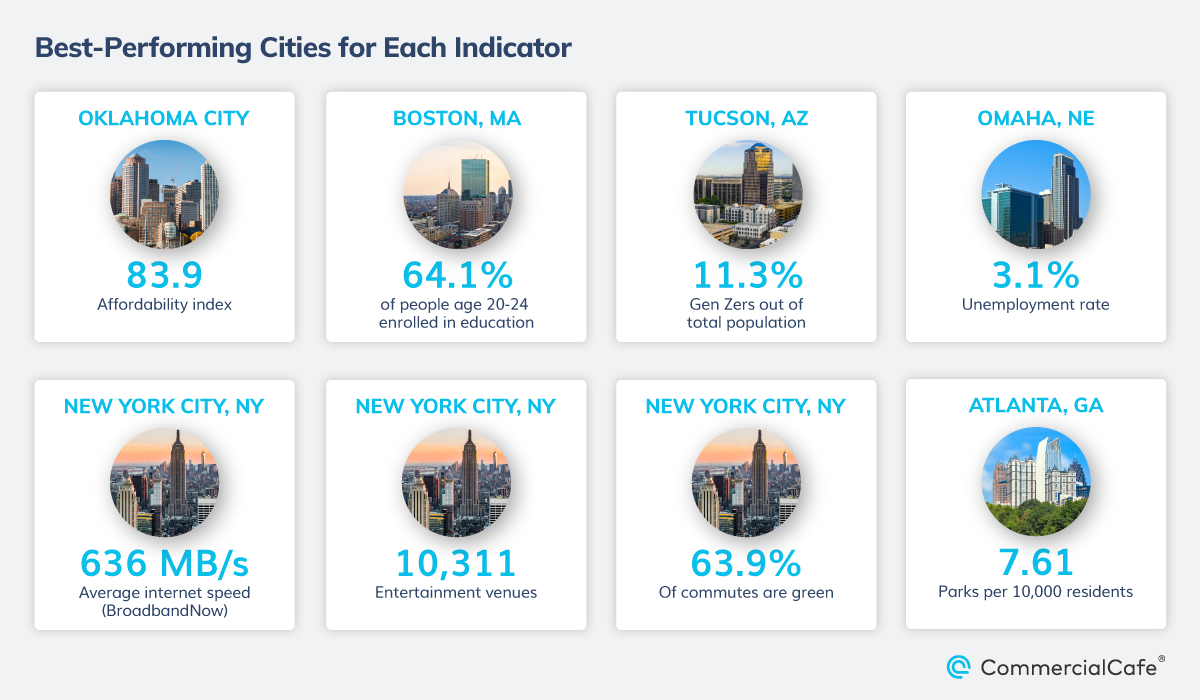 Not to be outdone, runner-up Boston had the most educated Gen Z population, while Atlanta had the most parks and Tucson had the largest share of Gen Zers of its total population.
Notably, two cities claimed the top scores in certain metrics without cracking the top 10: Omaha, Neb., reached #12 with the lowest unemployment of the 45 cities included in the analysis. Similarly, Oklahoma City reached #24 as the most affordable option on the list.
Check out the complete ranking of the best cities for Generation Z on CommercialCafe.
If you're a Gen Z entrepreneur looking for the best office space to start your dream business, check out our selection of offices spaces in the best cities for Generation Z based on the ranking: