By Eliza Theiss, Associate Editor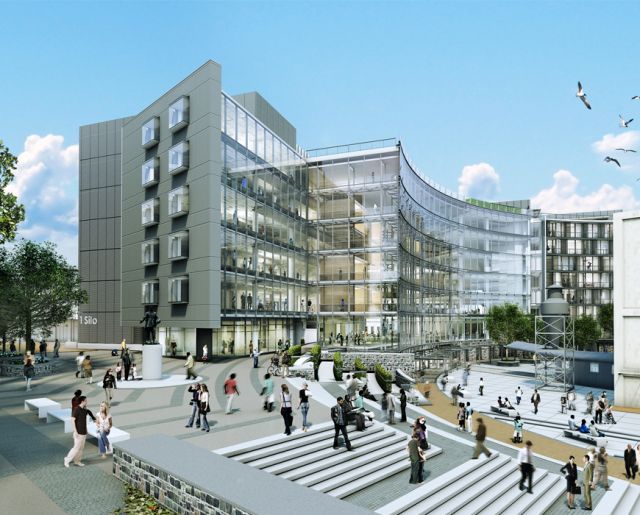 The rejuvenation of Cape Town's Victoria and Alfred Waterfront, South Africa's oldest working port reached an important milestone with the practical completion of the project's first phase, the No.1 Silo.
The commercial building is part of a 236,806-square foot waterfront mixed-use complex that also contains the No. 2 Silo, the development's residential component. No.1 Silo is also known as the Allan Gray Office building, after its main tenant, the privately owned South African management firm Allan Gray. The building boasts a six-star green rating from the Green Building Council for South Africa (GBCSA), and is the second office building in South Africa to receive the rating and also the largest. According to Future Cape Town, the nine-level project boasts 193,750 square feet of AAA grade office space. The development is also seeking a six-star 'As-Built' Green rating. In the meantime, it won the Office Development for South Africa category in the 2013 International Property Awards in the African regional competition. No. 1 Silo also has 5,382 square feet of retail and leisure space. International consultancy and construction company Mace, acting as project manager has handed over the project to client Victoria & Alfred Waterfront.
The complex's residential component, No. 2 Silo has been receiving its own accolades. The seven-level luxury multi-family project has been awarded a four-star Green Star SA Multi Unit Residential v1 Design Rating from the GBCSA, becoming the first South African residential project to be assesses with the GBCSA's version 1 design rating tool. The 37,673-square-foot residential component contains 31 high-end one- and two-bedroom condominiums offering city views, mountain views as well sea views. Amenities include a 360-degree rooftop pool deck complete with infinity pool, an atrium that runs from the lobby to the top of the building, concierge service, extensive CCTV system, manned security, card-controlled access, among others. With five levels completed, the first residents have recently started to take up residence in the waterfront residential building.
Further developments within the Silo Precinct include creating 339,000 square feet of below-grade parking as well as future green buildings, while also creating a public plaza. According to Mace, design is already underway for these projects and "construction is imminent".
The project manager faced multiple technical challenges during development, as one of the key point to the rejuvenation of the Silo Precinct, as well as the entirety of the Victoria and Alfred Waterfront is the preservation of historic buildings located within the area.
Costs for the development have not been made public. Project architects are Van der Merwe Miszewski Architects (VDMMA) and Cape Town-based Rick Brown Associates (RB+A), while WBHO, was contractor to the project.